The word "advent" is derived from the Latin word "adventus," which means "arrival." An advent calendar is no ordinary calendar. An advent calendar is used to mark the days leading up to the birth of Jesus Christ. These calendars count the days of anticipation of Christmas, i.e., 25th December.
Advent is a part of Christmas celebration activities, and it is a part of the liturgical year. The tradition is not recent but rather a centuries-old one. This tradition of keeping a count of the days leading up to Christmas began as a simple practice of striking off days on the calendar in the mid-nineteenth century among the German population. Over time, this tradition of advent calendars has evolved.
But first, please look at the ultimate guide to make a custom advent calendar interesting!
Step-By-Step Guide to Craft an Advent Calendar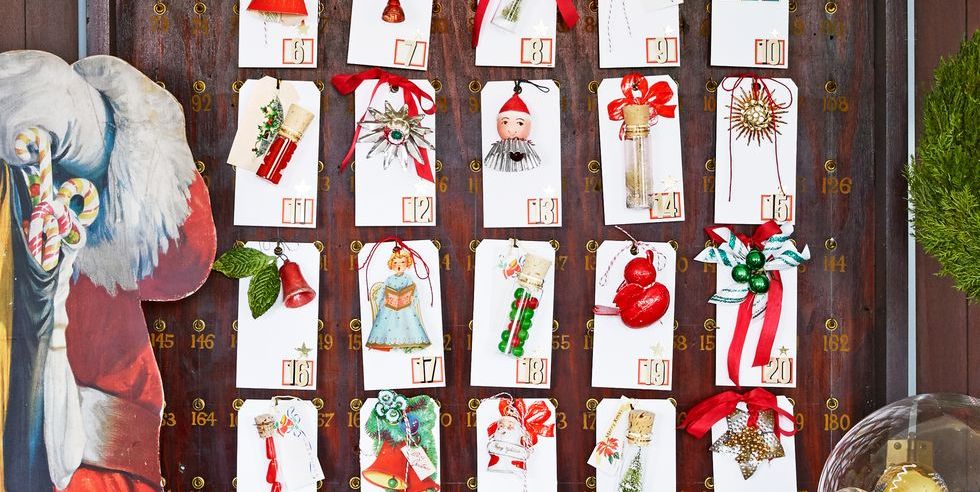 The following aspects should be considered while fabricating your advent calendar to get the maximum fun out of it:
1. Theme: The theme is the central idea around which everything else will be decided. Hence, choosing the theme is an important part. The theme can be traditional, personal, or even global.
2. Number of days: Decide the number of days you would want to do the countdown to Christmas.
3. Curating the advent fillers: Take help from the list below and make your amazing advent fillers list as per the number of days you have decided.
4. Collect the required material:  Make a list of everything you need and gather all the material before starting. Since this activity lasts for days, avoid using perishable items or use them initially to avoid unpleasant surprises.
5. Assemble the advent calendar:  Mark the numbers and fill each compartment with the chosen item.
Now that you know how to design your advent calendar, please look at the following innovative and fun ideas to develop an advent calendar for kids this Christmas season.
Awesome Ideas for 'What To Put in An Advent Calendar'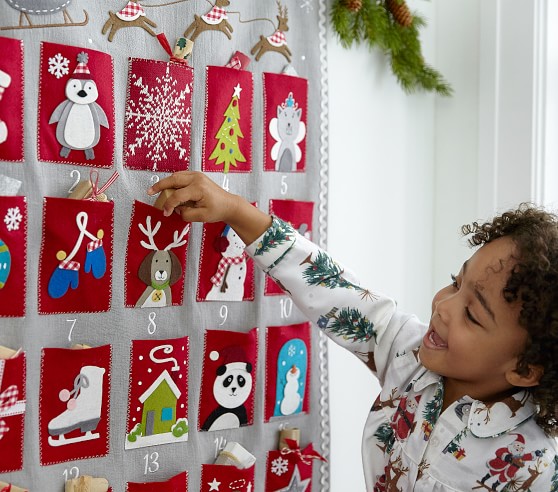 Miniature toys: Little figures, animals, or characters.
Stickers: Holiday-themed or their favorite characters.
Puzzle pieces: By Christmas, they'll have all the pieces to complete a puzzle.
Temporary tattoos: Festive or winter designs.
Beads and string: For making their jewelry.
Mini coloring books: Small pages for daily coloring.
Crayons or colored pencils: A new color every day.
Eraser shapes
Candy or chocolates: Classic calendar fillers.
Origami paper: With daily folding instructions.
Hair accessories: Like pins, hairbands, or bows.
Nail polish: Fun colors or sparkly ones.
Lip balm: In fun flavors.
Holiday socks: Tiny, cute designs.
Bubbles: Mini bottles.
Charms: To add to a bracelet or necklace over the month.
Stamps and ink pads: Holiday designs.
Glow sticks or glow-in-the-dark stars.
Craft supplies: Like googly eyes, felt pieces, or glitter.
Mini notebooks or journals.
Jokes or riddles: A new laugh every day.
Story snippets: Write a story and split it into 24 parts.
Seed packets: Like herbs, they can grow indoors.
Magnets: Fun or educational ones.
Balloon animals: In flat packages, to be inflated.
DIY ornament kits can be decorated and hung on the tree.
Keychains: Fun and quirky designs.
Finger puppets.
Recipe cards: For holiday treats, they can help make.
Bookmark: Especially if they love reading.
Temporary holiday jewelry: Like fun rings or necklaces.
Mini snow globe.
Costume jewelry: Like a tiara, rings, or bracelets.
Bath bombs or bath fizzes.
Magic tricks: Miniature magic sets.
Fortune teller fish: The classic novelty item.
Mini card games.
Holiday confetti or streamers.
DIY slime or putty ingredients.
Friendship bracelet materials: For them to make and share.
Mini candles: For older kids, with supervision.
Gift cards: Small amounts to their favorite places.
Miniature books: Classics or fairy tales.
Art supplies: Like watercolor sets or pastels.
Magic grow capsules: They expand in water.
Whistles or mini musical instruments.
Holiday pins or badges.
Cookies or cookie decorating supplies.
Mini puzzles or brain teasers.
Positive affirmations: Little notes to remind them of their worth and spread holiday cheer.
Personalized messages: Notes of love, encouragement, or memories.
QR codes: Leading to online stories, videos, or songs.
Tactile toys: Such as squishy or fidget toys.
Badges or patches: To sew or iron onto backpacks or jackets.
Mini kaleidoscopes.
Seashells or polished rocks.
Miniature postcards: From imaginary places or holiday scenes.
Legos: A set divided over days or individual fun pieces.
Holiday trivia cards.
Pressed flowers: Encased in clear bookmarks or ornaments.
Scented sachets: Cinnamon, pine, or peppermint.
Tiny terrarium kits.
Washi tape: Different patterns or holiday designs.
Mini DIY kite kits.
Miniature photo frames: With family photos or space for their own.
Silly putty or play dough.
Teabags or hot cocoa packets: For cozy winter nights.
DIY snowflake-making paper and instructions.
Pop-up toys: Jumping toys or poppers.
Solar dancing figures: Festive designs.
Gel window clings: Holiday-themed.
Buildable wooden models: Small kits they can assemble.
Wind-up toys.
Holiday-themed Mad Libs or crossword puzzles.
Magic 8 ball or decision dice.
Miniature lantern or flashlight.
Small magnifying glass.
DIY mask-making kit.
Rubber ducks: Festively dressed.
Reusable shopping bag: Folded into a tiny pouch.
Embroidery or cross-stitch samplers: Small ones for beginners.
Holiday-themed cookie cutters.
Beanie toys or plushies: Tiny ones.
Tangle-free parachute toys.
Glow-in-the-dark stickers.
Travel-sized board games.
Sand art kits.
Tiny homemade soap bars.
A latch hook or knitting mini kits.
Mini maze or labyrinth games.
Reusable straws: With a cleaning brush.
Loom bands or Rainbow Loom kit pieces.
Miniature photo album.
Spinning tops or yo-yos.
Holiday-themed earrings or jewelry.
Tiny cookbooks: With kid-friendly recipes.
Fun shoelaces: Glittery, neon, or patterned.
Decorative patches or iron-on.
Magic towels: Compressed towels that expand in water.
DIY pottery or sculpting clay kits.

Mini marbles: Colorful and fun to collect.
3D puzzles: Small, intricate designs.
Dress-up accessories: Tiny hats, gloves, or glasses.
Plantable paper: With embedded seeds.
Enamel pins: Collectible and trendy designs.
Tiny fairy lights: Battery-operated string lights.
Peel-off masks or face stickers.
DIY bird feeder kits: Small and easy to assemble.
Miniature treasure maps: For imaginary hunts.
Rub-on transfers: With holiday designs.
Pencil toppers: Fun shapes and designs.
Microfiber screen cleaners: Cute animal shapes.
Magnetic poetry: Holiday-themed words.
Small geodes: To crack open and discover crystals.
Peg dolls: Painted or plain for DIY customization.
Tiny tarot or oracle cards: For imaginative play.
Foldable paper fans: With festive designs.
Miniature harmonica or whistle.
Coin purse or mini wallet.
Collectible coins or currency: From various countries.
Bouncy balls: Glow-in-the-dark or glittery.
Small notebooks with lock and key.
Fun fridge magnets: DIY kits or pre-made.
Seed bombs: Wildflowers or herbs.
Modeling balloons: With how-to shape instructions.
Finger skateboard or tech deck.
Juggling balls: For budding performers.
Hidden gem digging kits: Miniature versions.
Pop sockets or phone grips: Fun designs.
Fabric markers: For decorating clothes or shoes.
Silly string: Miniature cans.
Mini scratch art cards: With a stylus.
Small puzzle cubes or brain teaser toys.
Felt-tip scented markers.
Inflatable miniature beach ball.
Pocket mirrors: With fun back designs.
Kazoo or mini recorder.
Tiny digital clock or stopwatch.
Reusable silicone cupcake liners.
Collapsible water cups or bowls.
Mini water guns.
Glow-in-the-dark moon and stars set.
Reusable hand warmers.
Miniature travel sewing kits.
Snap bracelets: With festive designs.
Instant snow powder: Add water.
Pocket-sized etch-a-sketch.
Tie-dye or color-changing pencils.
Clip-on book lights.
Hidden message pens: Write with invisible ink, then reveal with light.
Expandable sponge animals: Place them in water and watch them grow.
Pocket-sized trivia cards: Themed around holidays or general knowledge.
Clip-on animal tails: For imaginative play.
Cute zipper pulls: For bags or jackets.
Mini kaleidoscope-making kit.
UV beads: Change color in sunlight.
Build-a-scene stickers: Progressive scenes over the month.
Dried fruit or nut packets: A healthy treat.
Decorative buttons: With fun designs or characters.
Small crystal growing kits.
Chalkboard tags and chalk: For them to create their designs.
Travel-sized lotions or hand sanitizers.
Stretchy toy animals or creatures.
Scented bookmarks.
DIY snowman kit: Tiny buttons, carrot nose, etc.
Miniature animal figurines: Dinosaurs, farm animals, etc.
Small spy glasses or magnifying sheets.
Cute band-aids or plasters: Fun patterns and characters.
Velcro dart balls and targets.
Mini DIY dreamcatcher kits.
Color-your-own stickers: White designs ready to be colored.
Mini tic-tac-toe or board games.
Travel-sized puzzles.
Solar-powered dancing flowers or characters.
Sticky wall walkers.
Patterned duct tape or crafting tape.
Miniature fairy or gnome doors: Stick to baseboards.
Handheld maze games.
Bracelet-making beads.
Gel window stickers.
Mini matchbox cars or vehicles.
Pocket-sized constellation or star guide.
Tiny pinwheels or wind spinners.
Jump ropes or skipping ropes.
Miniature DIY snow globe kits.
Glow in the dark paints or pens.
Photo challenges: A new one for each day.
Miniature plant or cactus: With care instructions.
Small-themed puzzle erasers.
DIY scented sachet kits.
Themed washcloths or face towels.
Pocket-sized nature guides.
Clip-on earrings or jewelry.
Miniature landscapes: For building imaginary worlds.
Pop beads: Snap together jewelry beads.
Temporary colored hair gel or spray.
Miniature decorative bells or chimes.
Foldable paper boats: With a small pool or tub for floating.
Solar print paper: To capture sunlight images.
Cellophane magic color viewers.

Finger paints Small individual pots.
Themed cookie stencils: For festive cookie decoration.
Pocket volcanoes: Add water to watch them fizz.
Wooden spinning tops: With festive designs.
Miniature space shuttle or astronaut figures.
Thermal stickers: They change color with heat.
Collapsible paper binoculars.
Travel-sized scented candles: For older kids, with supervision.
Character shoelace charms.
Pom-pom makers: Small ones for crafty kids.
Festive-themed drink coasters.
Reusable ice cubes: Fun shapes or colors.
Crystal prisms: For light play.
Retro peg games.
Coin purses: In fun, kid-friendly designs.
Scented drawer liners or sachets.
Puzzle balls.
Color bath drops: Non-toxic tablets that color bath water.
Holiday-themed rubber bands or elastics.
Folding paper airplanes: With flight challenges.
Miniature fairy or dragon wings: For imaginative play.
Metallic or glitter hair ties.
Mood rings.
Handheld fan: Battery-operated.
Miniature flags: From different countries.
Temporary pastel hair chalk.
Jacks and ball set.
Zodiac constellation cards or stickers.
Emoji erasers or stationary.
Miniature travel posters: These can be of imaginary or real places.
Push pop fidget toys.
Themed chapstick or lip gloss.
Self-inking holiday stampers.
Flash tattoos: Metallic or colorful.
Pop-up puppet toys.
Edible jewelry: Candy necklaces or rings.
Holographic or color shift pencils.
Origami fortune tellers.
Wooden nesting dolls: Holiday-themed.
Iridescent or themed shoelaces.
Bubble bath packets: In fun shapes.
Collapsible frisbees.
Magnetic puzzle pieces: Collect to make a whole image.
Mini USB-powered fairy lights.
Festive-themed headbands or hair clips.
Puffy stickers or 3D stickers.
Travel-sized kinetic sand.
Themed eye masks or sleep masks.
Coin-sized labyrinth games.
Miniature magic trick books or sets.
Summing It Up
Those days are history when advent calendars used to be just about chocolates and candies. Today, there are innumerable creative ways to celebrate advent calendar activity.
Whether you are fabricating your calendar or wish to add to the existing one, the list mentioned above will surely stir your creativity, and you will have an unforgettable holiday season.
Whether it is about options for toys, puzzles, and crafts or fun activities for the whole family, this list has something for everyone. The list encompasses a huge variety of ideas to choose from.
Use this list to mix and match things up, and have a blast this advent season!