If you are thinking of planning an attractive birthday party for your child, then a unicorn party theme is what you need. We've gathered some of the best unicorn party ideas to help you create a wonderful celebration that will amaze the kids. Unicorns, with their colorful manes and majestic horns, have captured children's interest everywhere.
A unicorn-themed party can turn your child's birthday into a wonderful day. We'll show you how to convert your party area into a unicorn wonderland. From shining unicorn decorations to tasty unicorn-themed snacks, we've everything you need. Check different ideas such as creative unicorn bags, stunning unicorn cakes, entertaining unicorn games, and more.
If you're set to add a unicorn vibe to your child's birthday party celebration, then these ideas will help you plan an unforgettable day for your little one and their friends.
Let's start preparing for a unicorn-themed birthday party!
1. Unicorn-Themed Birthday Cake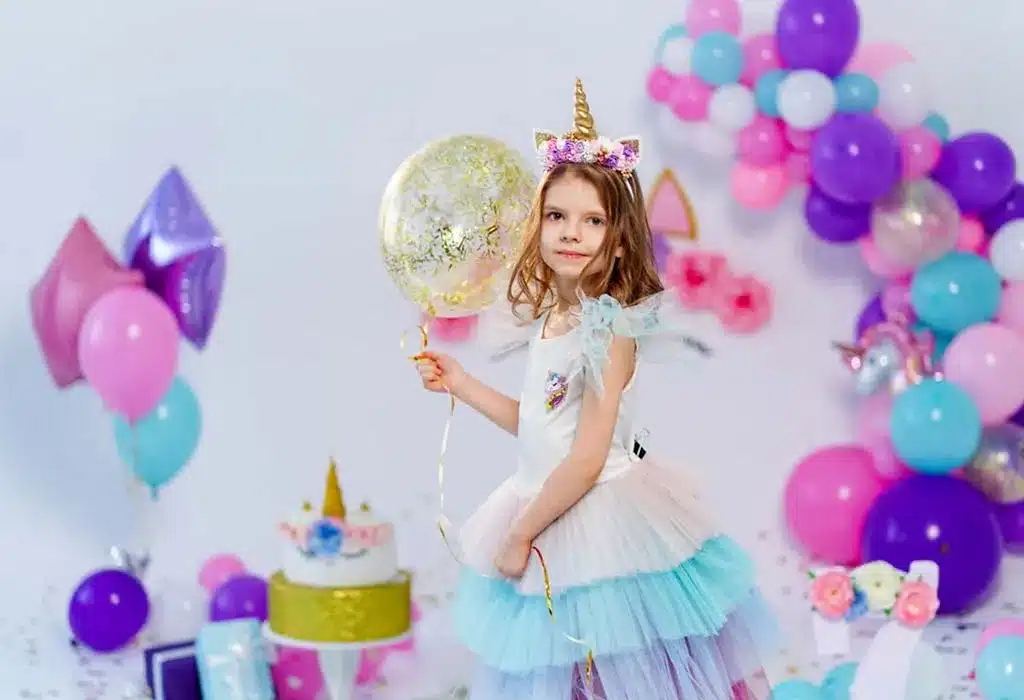 One of the most wonderful parts of unicorn party ideas is the unicorn-themed birthday cake. This cake is made to amaze everyone, whether they're kids or grown-ups. It's usually covered in bright, pretty colors and edible sparkles and has a unicorn horn on top. But it's not just about looks; it's also delicious inside, with layers of moist sponge cake and tasty frosting. It's a cake that looks like it has real unicorns. Both kids and adults will be amazed by how beautiful it is. And for the birthday person, seeing this playful masterpiece at their unicorn-themed party will make them incredibly happy.
2. Unicorn Gift Bag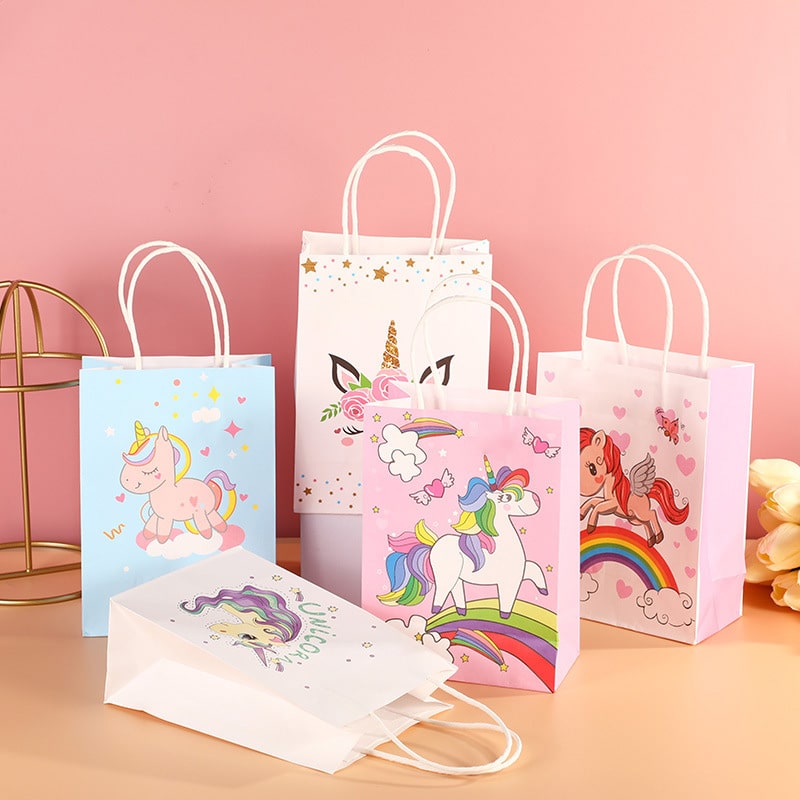 Unicorn party ideas aren't complete without unicorn gift bags filled with unique treats and fun things to make the party even more fantastic. These bags contain unicorn toys, stickers, and even sparkly accessories. They're also decorated with unicorn pictures, including shiny horns and colorful hair. These bags are great for the kids at the party so they remember the birthday party. They not only make the children happy but also show appreciation for them being a part of the special celebration.
3. Unicorn Party Hats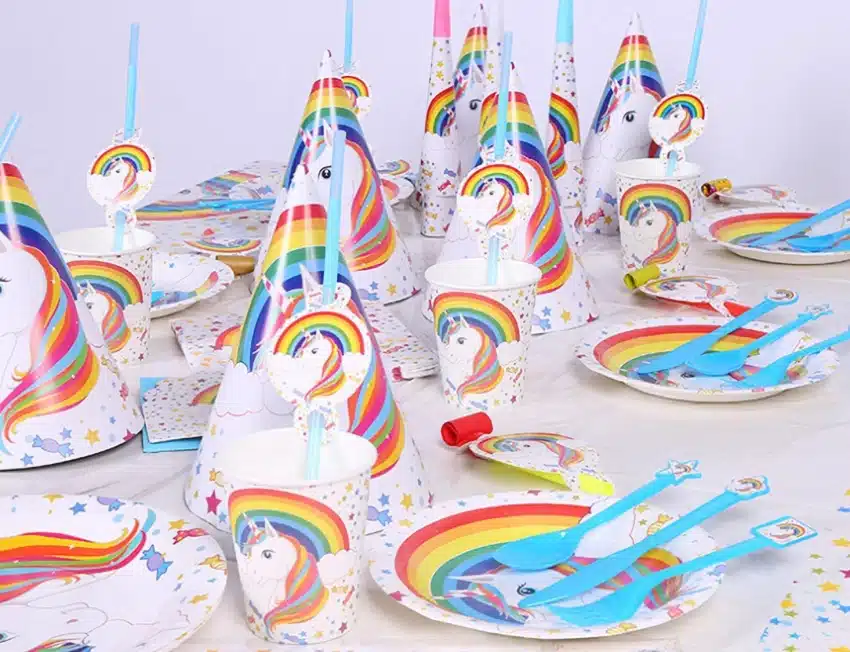 When it's time for the little ones to dress up for the party, you need unicorn party hats. These fairy hats look like the horns of a majestic unicorn, with shiny spirals and pretty colors. They make the party more fun and delightful; it seems like everyone becomes a unicorn for the day. These hats are easy to wear, comfy, and can fit all head sizes so that everyone can join in the unicorn fun. They're not just cool accessories; they also make the whole party feel even more homely and pleasing for everyone.
4. Unicorn Bark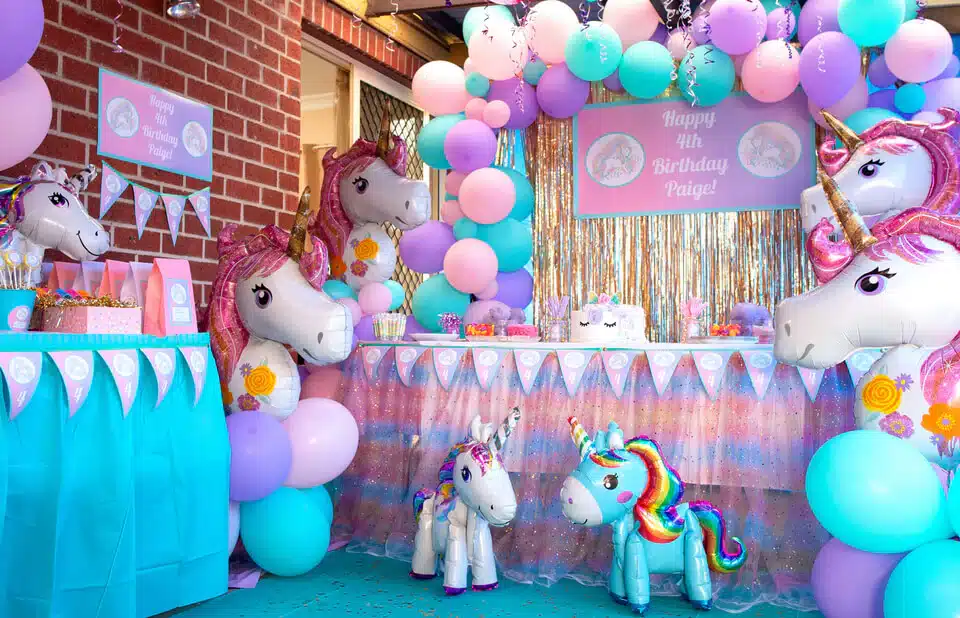 Unicorn Bark is a fantastic treat that's perfect for unicorn-themed parties. It's made by melting colorful chocolate or candy and swirling them together to make a cool swirled look.
Then sprinkle it with pastel-colored powder to make it even more attractive. Unicorn Bark comes in small pieces that are easy to eat, so it's great for kids at a birthday party. Both kids and adults will desire its lively colors and shimmering finish. You can even make it match your party's colors. So, it's a flexible addition to your unicorn-themed party treats. For more decorative ideas, go through unicorn party ideas.
5. Unicorn Flower Crown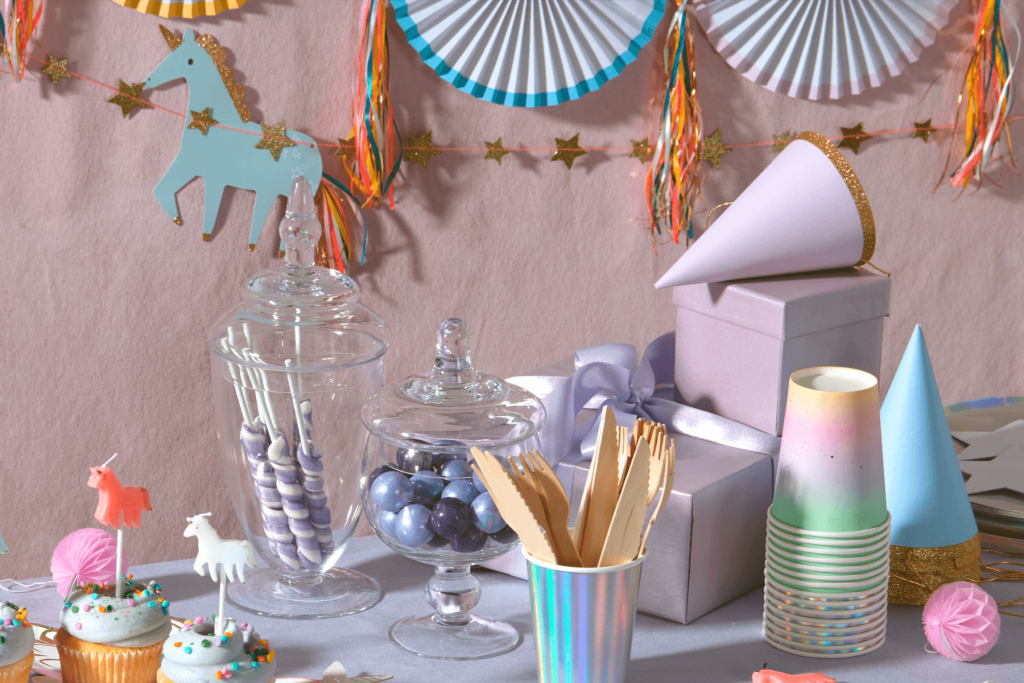 Add a touch of pleasing attraction to your unicorn-themed party by offering Unicorn Flower Crowns to your guests. These pretty accessories are a perfect fit for any celebration. Unicorn Flower Crowns are crafted using fake flowers in soft, pastel colors and are decorated with small imitation pearls or beads to make a dreamy environment. They are adjustable to comfortably fit children's heads, making them ideal for a kid's birthday bash. You can even set up a craft station where party attendees can personalize their flower crowns, adding a fun and interactive aspect to your unicorn-themed event. These crowns not only make wonderful party favors but also double as fantastic props for photos, allowing everyone to feel like a unicorn princess for the day.
6. Unicorn Doughnuts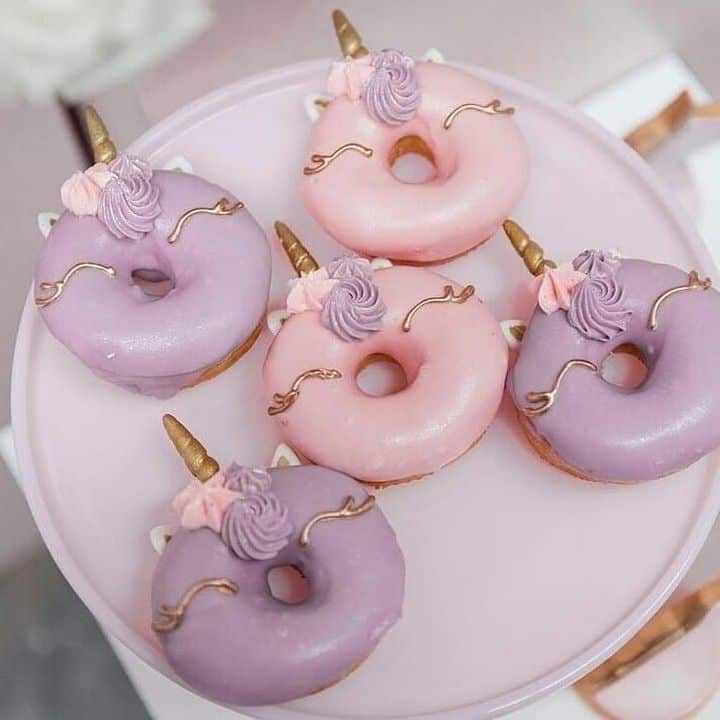 Unicorn Doughnuts are another top-notch addition to your unicorn-themed party. With the help of unicorn party ideas, you can find more ideas that make the best combination of these doughnuts. These doughnuts are the same as regular doughnuts but with a fairylike twist. They're covered in pretty pastel icing and decorated with edible unicorn-themed toppings such as horns, rainbow sprinkles, and sparkling edible glitter. You can even match their colors to your party's theme to make everything look even more fantastic. Kids will love these pleasant treats, and they're sure to be a hit with both children and adults at your unicorn-themed birthday bash. To make them even more impressive, you can display them on a tiered dessert stand as the centerpiece of your party table.
7. Unicorn Ice Cream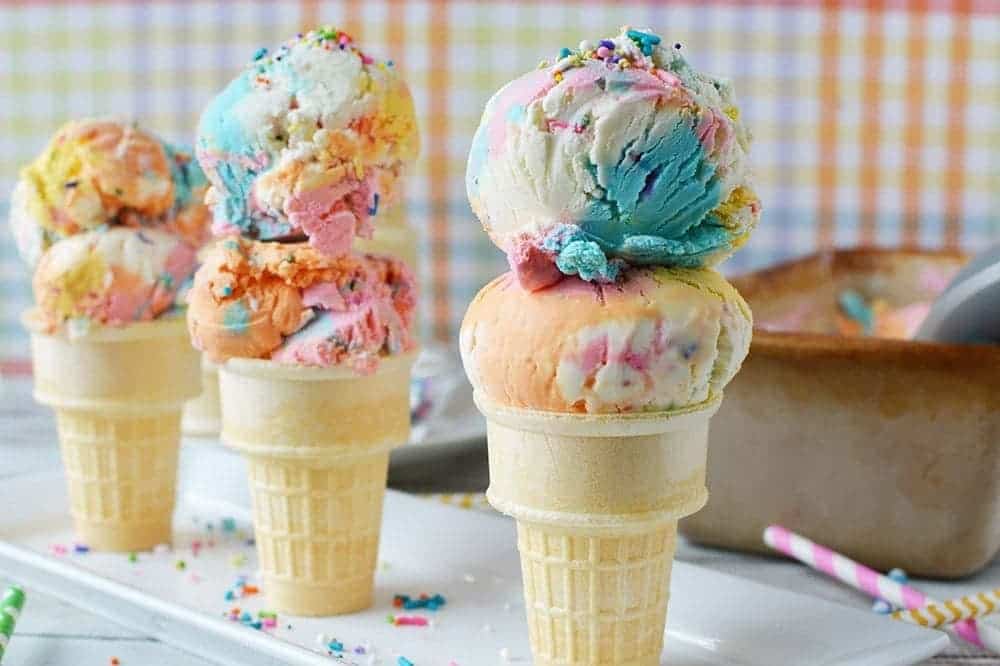 Unicorn parties are all about making your child's birthday celebration fun. What's a better way to do that than by serving Unicorn Ice Cream? This unique ice cream is a delightful treat that both kids and adults will desire. It's not only pretty to look at but also incredibly tasty. Unicorn Ice Cream comes in various soft, pastel colors. You'll find swirls of lively pink, purple, blue, and more, making an attractive unicorn-inspired appearance. It's made with the best ingredients, so it's super creamy and melts in your mouth. Whether you scoop it into cones or bowls, Unicorn Ice Cream is the ideal dessert for your unicorn-themed party.
8. Unicorn Cupcakes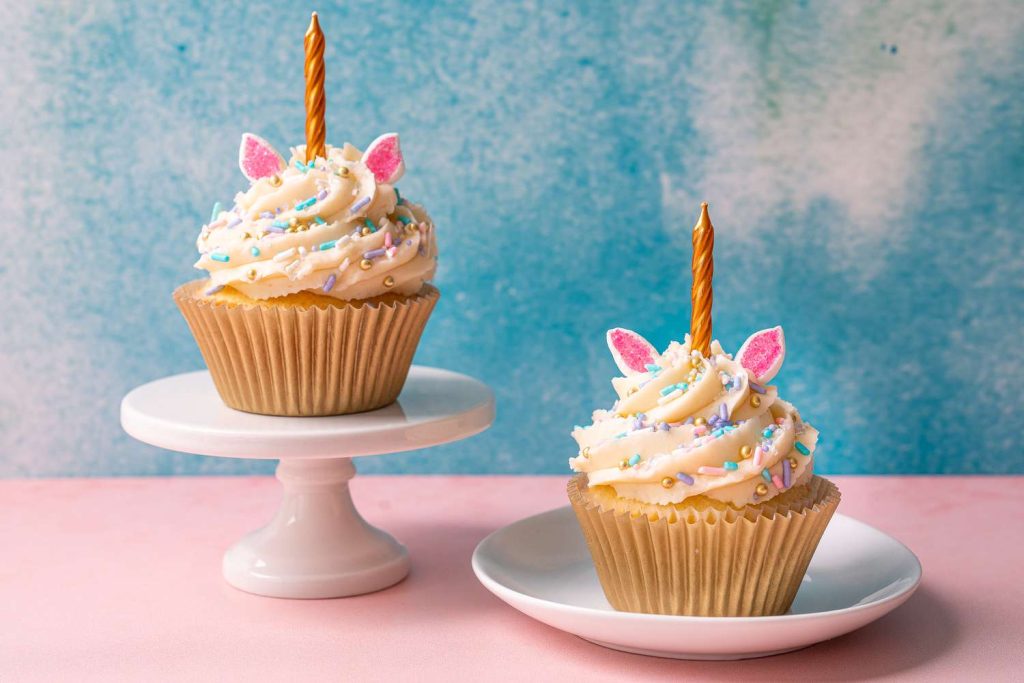 Unicorn cupcakes are a fantastic addition to any unicorn-themed party. They're not just delicious but also super amazing. These cupcakes can easily steal the show at your dessert table and are loved by party guests of all ages. These Unicorn Cupcakes usually have frosting in soft, dreamy colors like pink, purple, and blue. The frosting is often sprinkled with edible glitter and sprinkles, adding a beautiful touch that kids really love. But what makes unicorn cupcakes extra unique are the unicorn horn and ears on top. They're usually made from fondant or candy and are expertly shaped to resemble iconic unicorn features.
9. Unicorn Pinata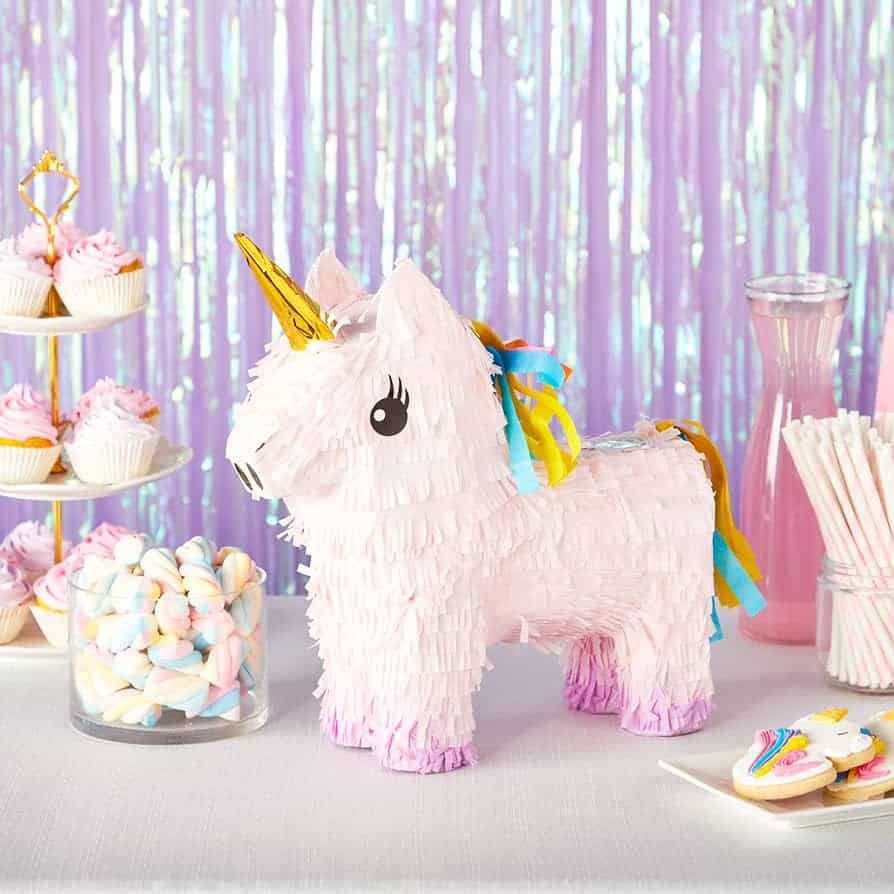 No unicorn party can be complete without a Unicorn Pinata. This classic party game brings a lot of excitement and fun that kids enjoy. It's not just about the candy inside; it's about the thrill of trying to break it open and find the hidden things. Unicorn pinatas come in different sizes and designs, but they all have a unicorn theme. They are usually made from colorful paper or cardboard. They are decorated with bright colors and cute details, such as the unicorn's hair, horn, and expressive eyes, making it a delightful decoration even before the game starts. During the party, kids take turns trying to break the pinata open with a stick or bat while they're blindfolded. The cheers from the guests make it an exciting activity.
10. Unicorn Party Dress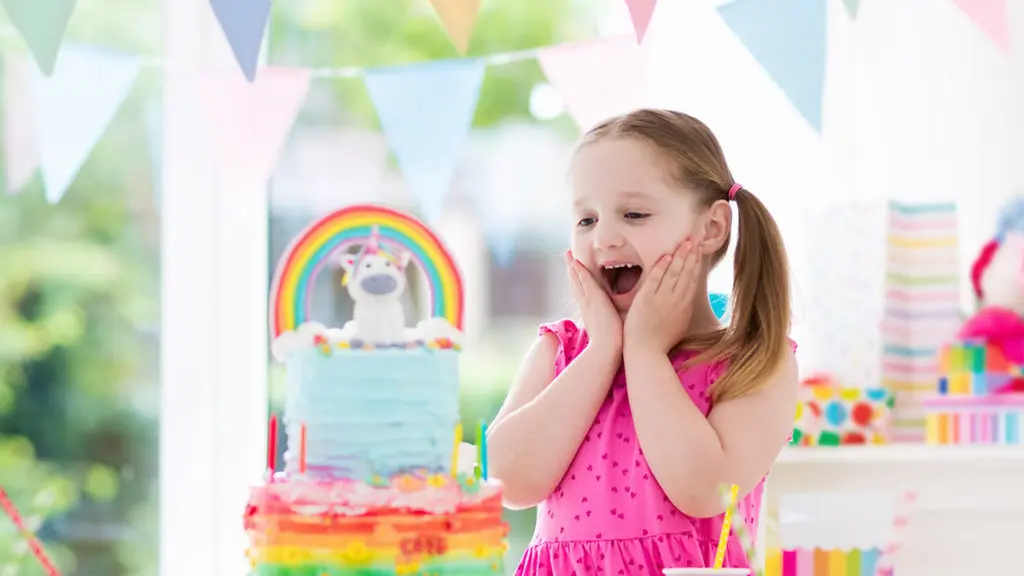 For your little one's unicorn-themed birthday party. Think about unicorn party ideas, and go with the unicorn dressing for a unicorn party. This special outfit is a fantastic addition to the celebration. Unicorn Party Dresses come in various styles and colors, often featuring soft colors such as pink, purple, and light blue. They usually have unicorn designs, sparkles, and shiny bits to ensure your child stands out at the party. Many of these dresses also have a unicorn horn headband or a purse shaped like a unicorn to complete the delightful look.
11. Unicorn Cake Pops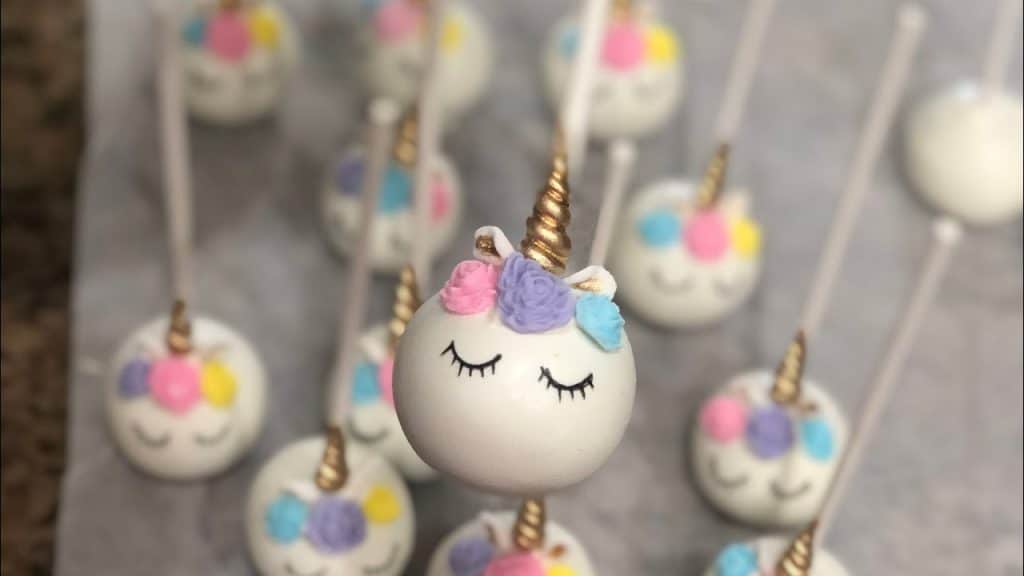 Unicorn Cake Pops are the perfect unicorn party ideas; these tiny treats are for your unicorn-themed party. They're little bits of cake that taste amazing and look attractively unicorn-like. To make them, we mix a small bit of cake with frosting and shape it into unicorn heads or horns. Then, we dip them in colorful candy coatings that can match your party's colors. We finish them off with edible decorations such as sparkly things, fondant ears, and candy eyes to make them look like real unicorns. These treats not only taste fantastic but also add an outstanding touch to your dessert table. Both kids and grown-ups will be fascinated by their pleasing appearance, so they're a must for your unicorn party.
12. Unicorn Toast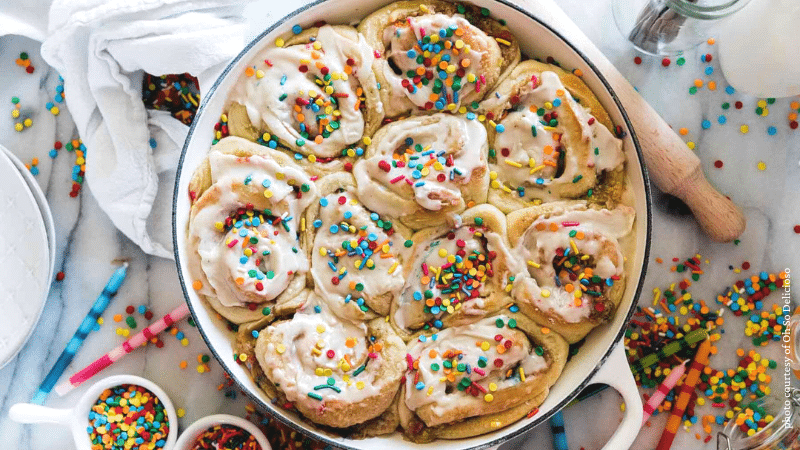 Unicorn Toast is a super fun and colorful way to bring some unicorn vibes to your party snacks or breakfast. It's a work of art that both kids and grown-ups will totally love. To whip up some Unicorn Toast, here's what you do: Grab a slice of bread and spread either cream cheese or Greek yogurt on it as your base. Then, get creative with natural food coloring to make pretty pastel spreads. To give it that full unicorn vibe, don't forget to sprinkle on some decorations, such as colorful sprinkles, edible glitter, and fruit slices to mimic the unicorn's features. You can even shape a small piece of toast into a unicorn horn if you feel fancy. Unicorn Toast is a super fun and unique way to kickstart your day or enjoy a tasty snack at your unicorn-themed party.
13. Unicorn Confetti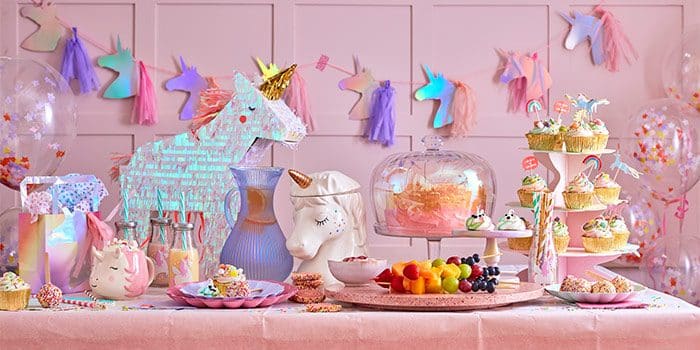 To make your unicorn-themed party decorations exceptional and fascinating, consider adding Unicorn Confetti. It's a small but impactful touch that can really boost the overall party environment. Use unicorn party ideas, and go for Unicorn Confetti, which is basically tiny, colorful bits of paper or shiny foil. They come in different shapes, such as unicorns, stars, and rainbows, all in pretty pastel colors. You can scatter them on your party table, put them in invitations, or even use them to fill see-through balloons for a playful vibe. The sparkly Unicorn Confetti can quickly turn your party area into a wonderland. Kids will love the glittery details, and it's a simple and budget-friendly way to improve your unicorn-themed party.
14. Unicorn Photo Booths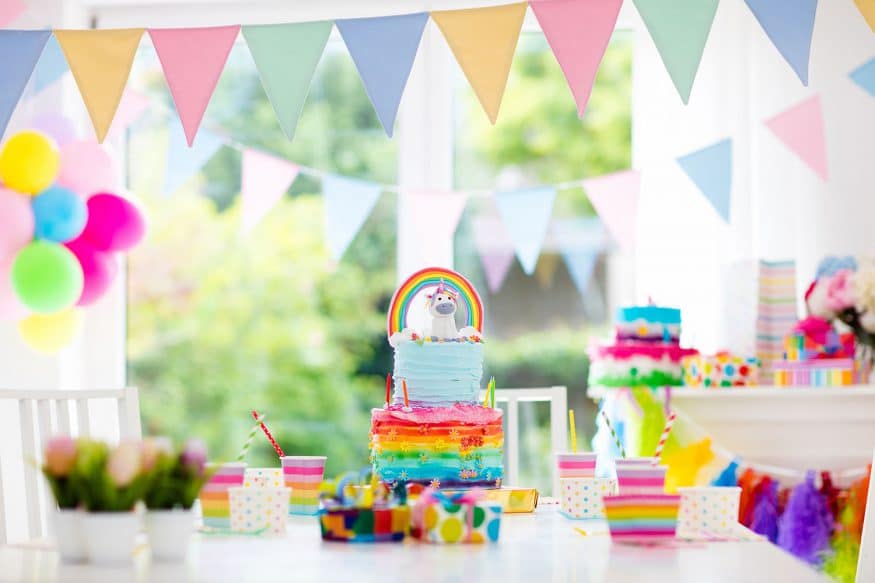 Make fascinating memories at your unicorn-themed party with Unicorn Photo Booths. These fun setups not only entertain but also let guests keep unique moments in the form of playful photos. A Unicorn Photo Booth comes with a backdrop full of unicorn designs such as rainbows, stars, and, of course, unicorns. You can also use pastel streamers and balloons to make the environment even more beautiful. We provide various unicorn-themed props such as headbands, horn props, and colorful wigs to inspire guests to get creative with their poses. Having a photo booth at your unicorn party adds interactive fun.
15. Unicorn Video Games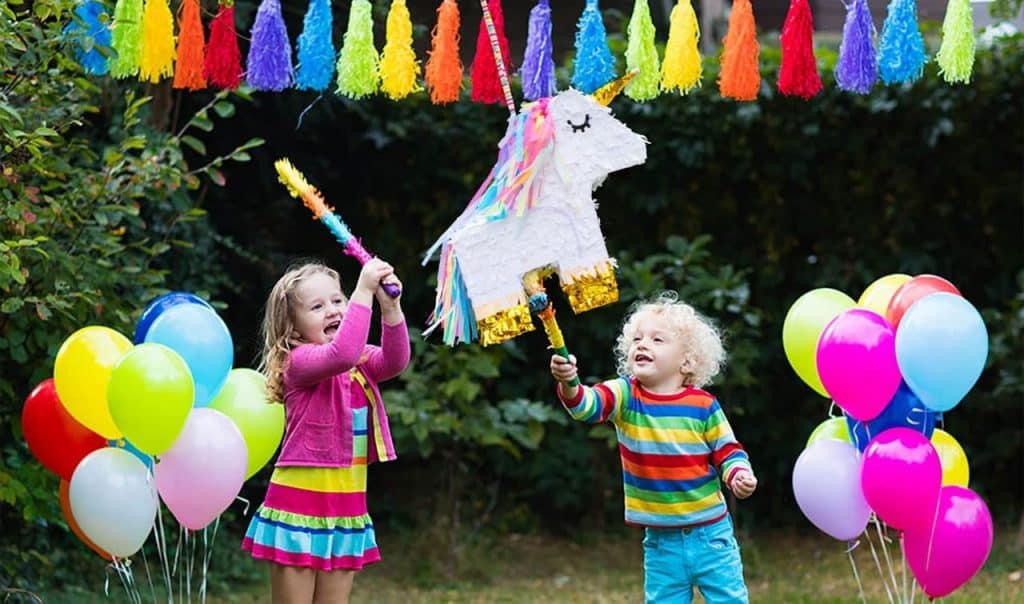 Unicorn Video Games add a cool, modern twist to your unicorn-themed party, making it super fun for kids and even some grown-ups. Our unicorn party ideas help you to choose which game is best for you. These games are ideal for older kids or teenagers at your party. You can find unicorn-themed video games online or for gaming consoles. Some let you find unicorn worlds, make your unicorn character, and go on exciting adventures. Others have unicorn puzzles and challenges. You can make a gaming area with consoles, computers, or tablets for your guests to play these unicorn video games. Unicorn Video Games ensure that older kids and teenagers have a blast at your unicorn party.
16. Unicorn Balloons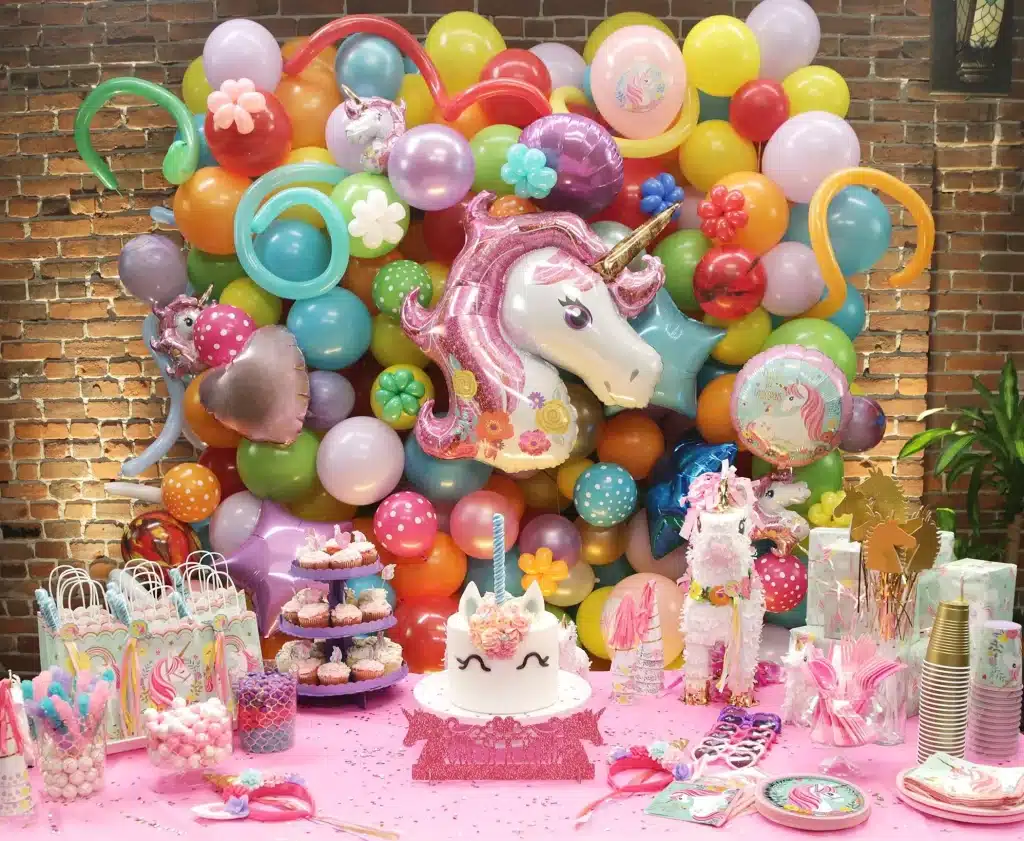 Use unicorn party ideas; go with Unicorn Balloons, which are a must for a unicorn-themed party because they instantly make the environment attractive. These balloons come in different shapes, sizes, and designs, like large unicorn-shaped foil balloons, soft pastel latex balloons, and balloons with unicorn and rainbow designs. You can fill them with helium so they float and add glamour to your party. You can use Unicorn Balloons in many ways, such as centerpieces, arches, or backdrops for your party area. They can also be tied to chairs, placed at the entrance, or given as party favors to kids. Unicorn Balloons are flexible and stunning, turning your space into a unicorn world and setting the mood for a fascinating celebration that everyone will love.
17. Unicorn Goblets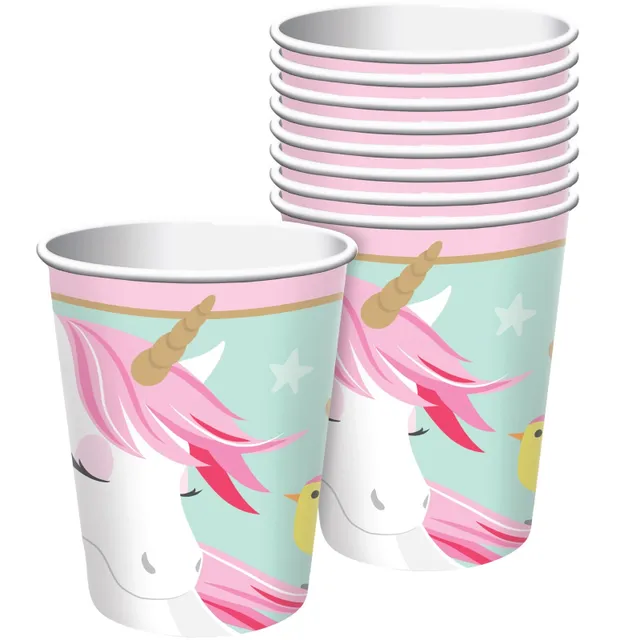 Add a feeling of attraction to your unicorn-themed party with Unicorn Goblets. These special cups do more than hold drinks. They bring a sprinkle of fascination to your party table. With our unicorn party ideas, we will help you to choose unicorn Goblets. Unicorn Goblets are usually made from safe and sturdy materials and come decorated with all things unicorns. They often have stems shaped such as unicorn horns, pretty pastel colors, and complex designs like stars, rainbows, and unicorns. These goblets are ideal for serving drinks like sparkling punch, unicorn lemonade, or whatever you like. Having Unicorn Goblets at your party means even the cups join in on the theme, making your unicorn celebration feel complete.
18. Unicorn Wall Ring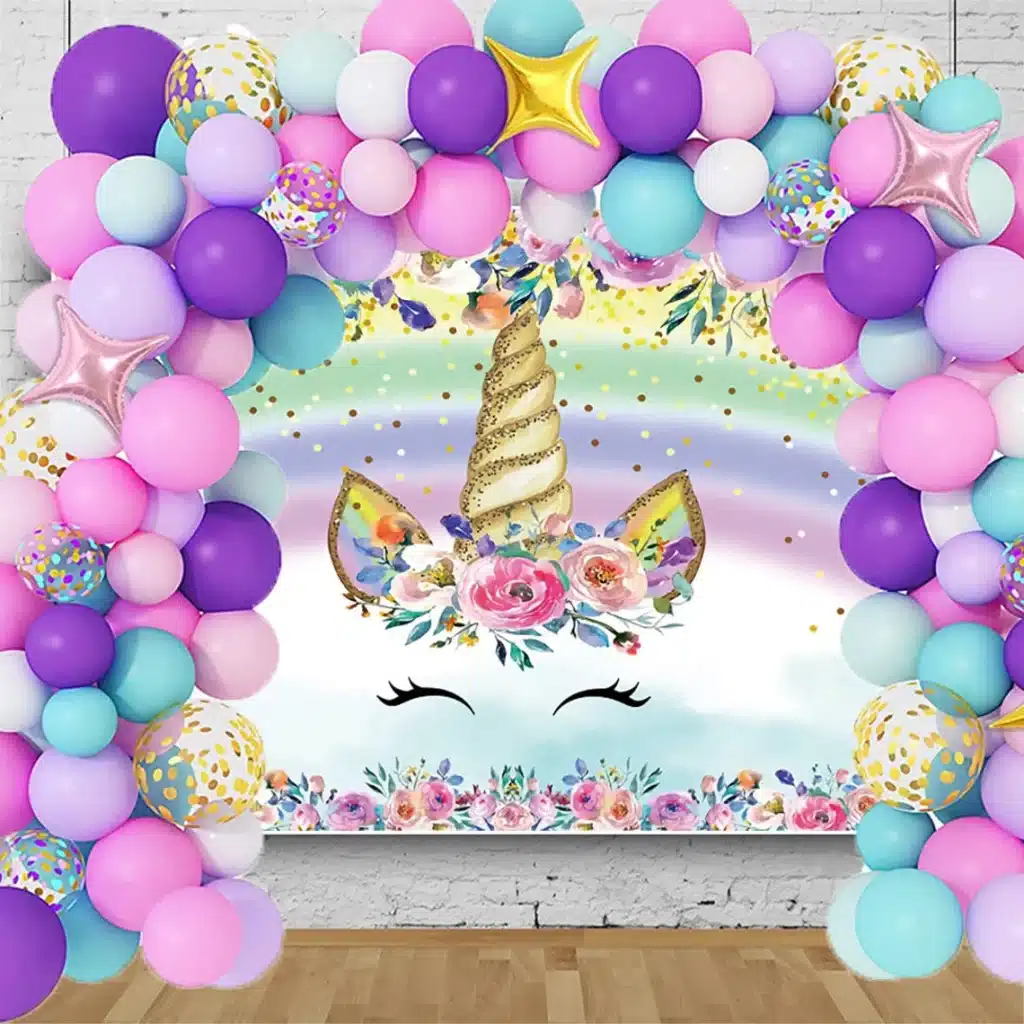 Improve your unicorn-themed party with a Unicorn Wall Ring. A fanciful decoration that will instantly attract your guests. These unicorn party ideas help you to decorate in the form of a circular hoop decked out with artificial flowers and bright greenery. Also, add pleasant unicorn-inspired elements like horns, ears, and pastel ribbons. You can hang it on a wall to create a fascinating backdrop for your party space. You can also place it behind the dessert table or use it as a backdrop for your photo booth. Not only does it perfectly match your unicorn theme, but it also makes for stunning photo opportunities.
19. Unicorn Lemonade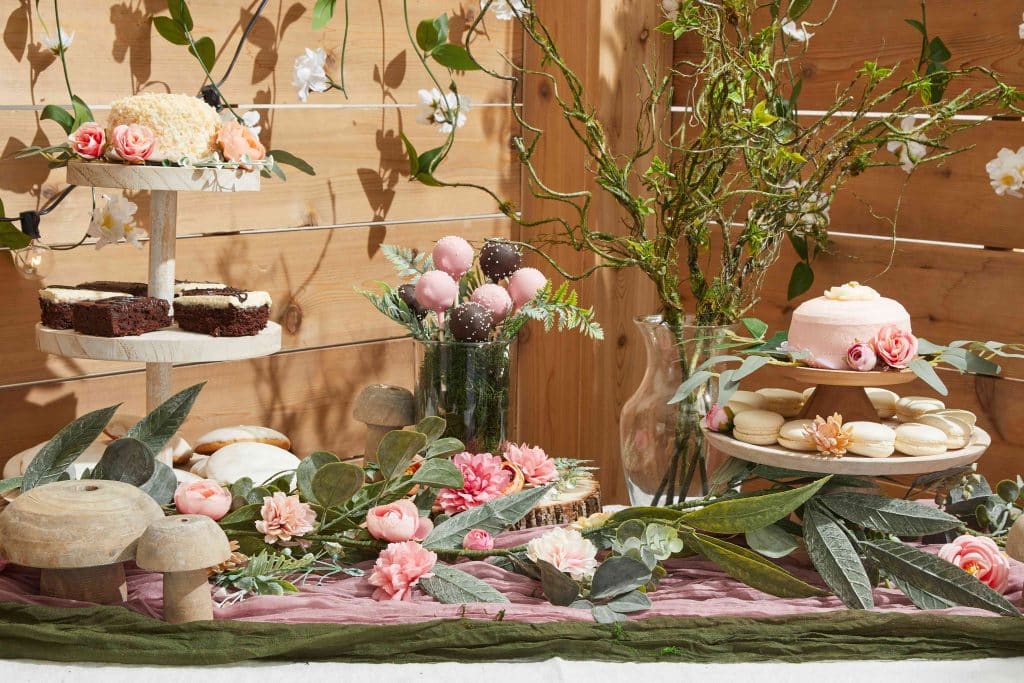 Satisfy the thirst of your young party guests with Unicorn Lemonade. A delicious and colorful drink that goes perfectly with a unicorn-themed party. To make Unicorn Lemonade, mix lemonade with different fruit juices and colorful extras. Commonly used options include pink lemonade, blue raspberry, and pineapple juice, which create a rainbow of flavors. You can also make it look even more like a dream by adding slices of colorful fruits such as strawberries, blueberries, and kiwi. To complete the unicorn theme, serve Unicorn Lemonade in Unicorn glass with colorful strawsand edible glitter. It's a sweet and refreshing choice that both kids and adults will love.
20. Unicorn Shirt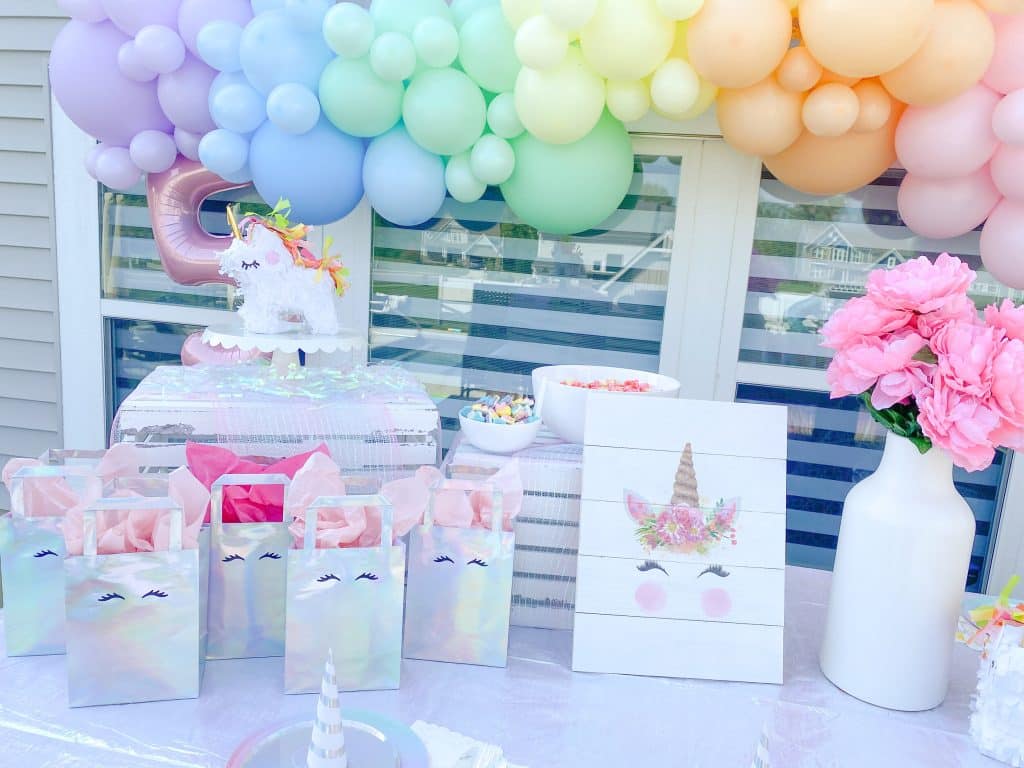 Make sure the birthday child feels extra special at the unicorn-themed party by dressing them in a Unicorn Shirt. This unique shirt not only makes them the center of attention but also adds a personal vibe to the party. Unicorn Shirts are specially designed with unicorn pictures, sparkles, and bright colors. Some may even have words like Birthday Princess or Unicorn Queen to celebrate the big day. With the help of unicorn party ideas, you can also get shirts with the child's name on them, making their outfit even more memorable. Wearing a Unicorn Shirt lets the birthday child feel like the most important person at their party. It's a great keepsake they can wear not just on their special day but also afterward, creating lasting memories of their unicorn-themed celebration.
Conclusion
Organizing a unicorn-themed birthday bash for your kids can be a truly fascinating experience. These amazing unicorn party ideas provide you with plenty of options to craft a celebration that will leave your little ones and their people shining with delight. Whether it's unicorn decorations, lively snacks, engaging games, or fun crafts, you can have many choices at your disposal.
Remember to make the party as per your child's preferences, whether they're into rainbows, glitter, or particular colors. While planning activities and serving food, prioritize safety and simplicity. Don't miss the chance to capture precious moments with many photos and maybe even set up a unicorn-themed photo booth. The true vibes of a unicorn party lie in the joy and happiness it brings to your child and their friends.
So, enjoy yourselves, and most importantly, capture the moments you create together.