Are you looking for a fun-learn activity for your toddler? The sensory bin can be an ideal option to serve the purpose. They are practical, exciting, and convenient options to improve your kid's sensory functions and provide them with hands-on experience. With these bins, kids can experience the senses like touch, sound, sight, smell, and feeling. Also, it is a flexible activity that can include various interesting materials that make it easy to engage kids in it.
Today, many playschools use interesting sensory boxes or bins for kids' education. But you can also create beautiful and unique sensory boxes at home for your kids. You can DIY or buy several sensory bin setups for your little one.
Here we will discuss the 30 best sensory bins you can try for your junior.
What is a Sensory Bin for Kids?
Sensory boxes have become a crucial part of the child's learning process. Before we discuss top sensory bin ideas for kids, let us learn what a sensory bin is at first. Sensory bins are portable shallow boxes or containers that contain a filler material (sand, corn, flower, colored water, etc.) and several measuring objects like spoons and cups. The sensory box contains interesting fillers that work for various senses: sight, touch, feel, touch, and smell.
Exciting Sensory Bin Ideas for Kids
You can get thousands of interesting sensory bin ideas, including corn, sunflower, and garden bed to clouds, colored water, and more.
Below we will list the top 30 sensory bins you can try for your kids.
1. Sensory Bins with Water and Edible Beans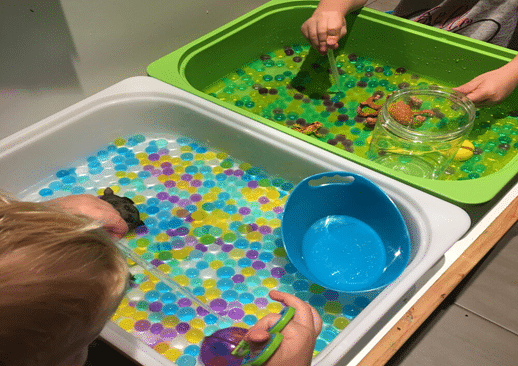 Sensory bins with water and edible beans are one of the most popular and easy-to-create sensory bin ideas to try. You can get readymade sensory boxes with edible, colorful jelly beans. Also, you can create your sensory bin with edible beans and water. Get a shallow box or container as your bin, and bring some measuring tools like spoons, cups, and bowls. Now use your kid's favorite jelly beans and get some water. Your sensory bin with water and edible beans is ready. Give it to your kid and play along to help them enjoy the game.
2. Hot Chocolate Sensory Bin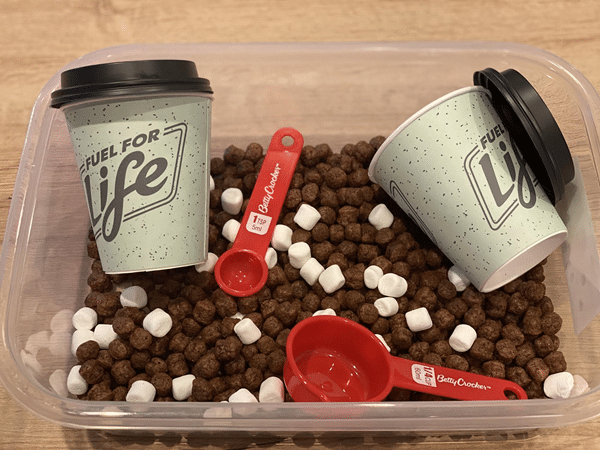 The hot Chocolate Sensory bin is another beautiful and alluring idea that any kid will love. A hot chocolate sensory bin is a wonderful option for your little kid to explore their senses and enjoy the game with friends and family. All you need to do to create a hot chocolate sensory bin is take a shallow plastic container with colorful cups and bowls. Prepare hot chocolate and pour it into the container, and it's ready to give your kid a fun ride of test, smell, and feel.
3. Rainbow Rice Sensory Bin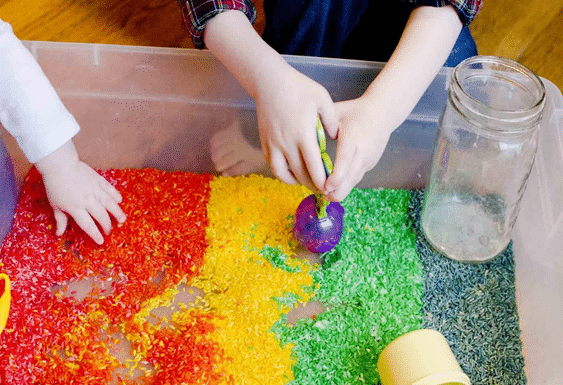 Kids love rainbows and colorful things. So a rainbow rice sensory bin is an ideal option to develop your senses with this sensory game. It is also easy to prepare at home. Mix food colors with rice and let them dry. Once the rice is dried, pour it into a bin or container; add spoons, cups, funnel, bowls, etc., and give the sensory bins to your kid. Your kids will love this colorful sensory bin with rainbow-colored rice.
4. Assorted Loose Beans Sensory Bin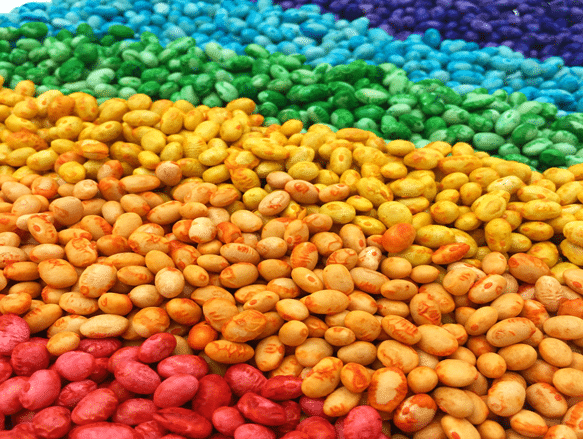 If you are looking for something exciting and easy for your kid's sensory activities, you can try assorted loose beans sensory bins. Assorted loose beans are available in the market that you can buy. You can also arrange your assorted loose beans for sensory bin filler. Collect all available dried beans at home and fill the bin with them. Then add some measuring tools and present them to your kid for fun play.
5. Beans and Bugs Sensory Bin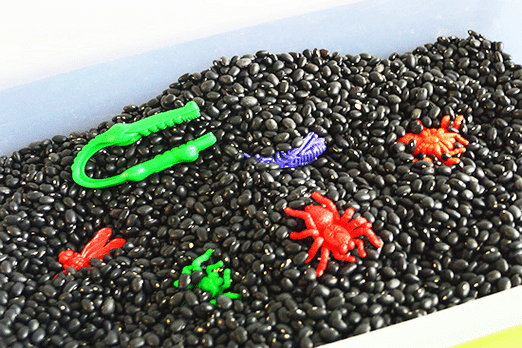 Beans and bug sensory bins are also great options to help your kids to develop their senses. It also offers an excellent opportunity to help your kid learn about insects and bugs through play. If you have artificial bugs at home, mix them with dried beans. Pour the mixture into the bin and add measuring tools to complete the setup. Give them to your child and let them play. They will learn a lot from this activity.
6. Space Sensory Bin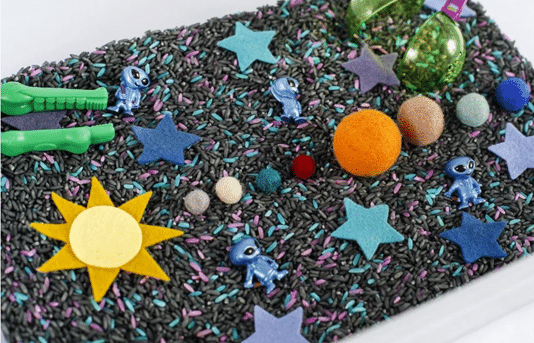 Space sensory bins are both creative and thoughtful. They are one of the unique sensory bin ideas. If your child loves space, stars, and planets, then it will be an ideal option to try. You can find various space-themed sensory boxes for your child. You can get radium, glass, and plastic space sensory bins for your child. A AINOLWAY Outer Space Water Bead Sensory Bin can be a great choice to buy. The filler with stars, moon, spaceship, and other space objects is alluring and creates an out-of-the-world setup for sensory games.
7. Water and Pom Pom Sensory Bin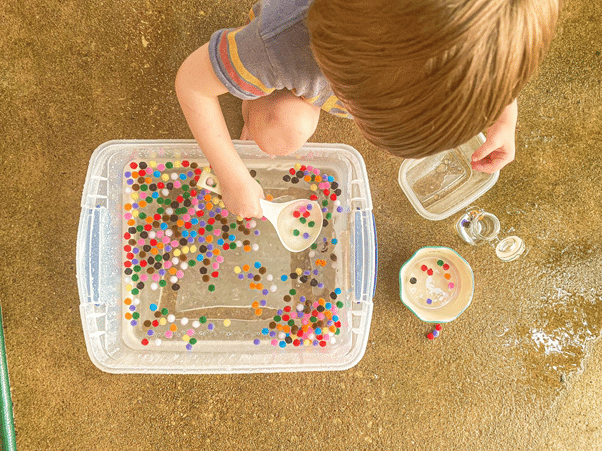 Another incredible and easy-to-DIY sensory bin idea you kids will love is the water and pom sensory boxes. Like other sensory bins, water, and pom sensory boxes also require a shallow container and measuring tools. Only the filler material changes. The water and pom sensory tub uses water and colorful pom poms as filler material. The colorful and bright pom poms floating on water create a beautiful sensory bin setup.
8. Shredded Paper and Little Birds Sensory Bin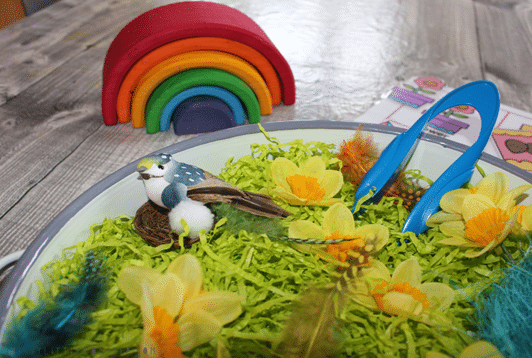 The shredded paper and little bird sensory are ideal for indoor gaming and help to add up to the senses with a crinkled paper sensation. You can create this sensory tub with shredded paper and artificial miniature birds. But if you find it time-consuming and challenging to DIY shredded paper and little birds' sensory bins, you can opt for market sensory boxes with the same theme. Also, you can replace water with shredded paper in any sensory bin for a similar effect.
9. Pond Sensory Bin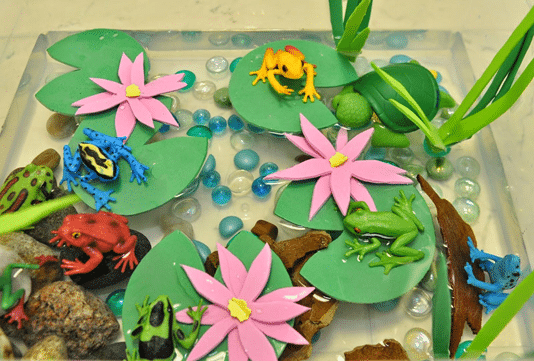 The pond sensory bin is ideal for summer and spring outdoor activities for your kids. This is another interesting DIYable sensory bin idea you can build at home with minimal items. You can make it large or small depending on the number of kids using it at once. Find a suitable tub and water and measuring tools to create a pond sensory tub. In addition, you can also include artificial water plants, fish, and frogs to make it more realistic.
10. Zoo Sensory Bin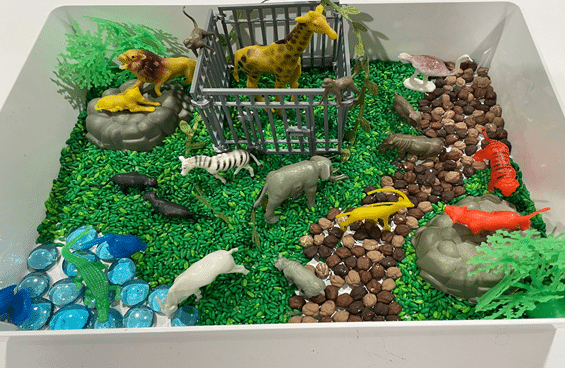 Zoo sensory bins are also one of the popular sensory bin ideas that most kids find interesting. Zoo-themed sensory boxes are available online as well as in local stores. But if you want, you can also create your unique zoo sensory bin with artificial animal toys. Plus, you can add shredded papers, water, or thermal balls to add more variations for sensing. It is also a great game to teach your kids about different animals.
11. Farm Animal Sensory Bin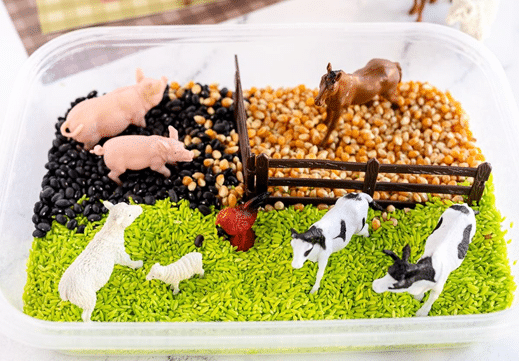 Farm sensory box is a fully loaded fun game that will also help your kids to grow their sensory system. Rainbowfun Carolart Farm Sensory bins are well-designed and equipped with farm animals. The gated farm setup with artificial animals and their shades creates a perfect sensory bin for kindergarten kids. The farm-themed sensory boxes also work as a building and management pay set that helps your kids to grow their building and management skills. You can add pebbles and artificial grasses for an outdoor sensory gaming setup.
12. Gardening Sensory Bin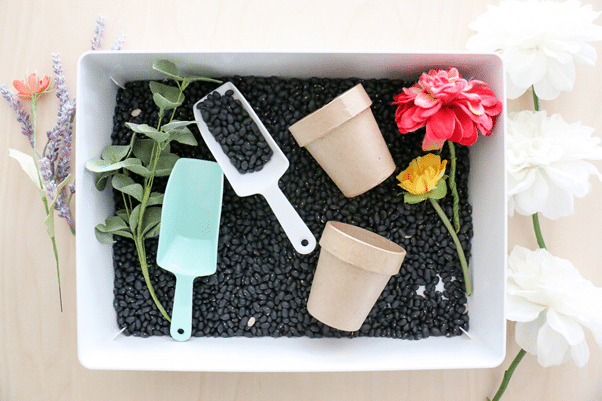 Looking for some sensory bin ideas that can boost your child's practical daily life skills? You can try the gardening sensory bin setup. You can buy DIY gardening sensory bins online or create your version with DIY supplies. A gardening sensory box usually comprises artificial/natural clay, plastic plants, plant pots, and flowers. Creativity for Kids Sensory Bin: Garden and Critters are an ideal option with a gardening theme. You can make a gardening sensory bin with a wood pallet, sand, small plastic pots, and paper flowers.
13. Corn Pit Sensory Bin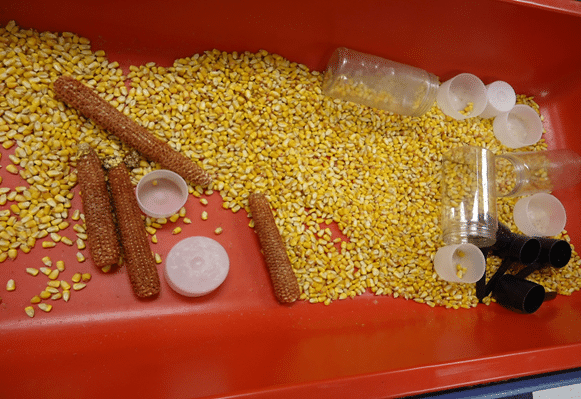 Corn pit sensory bin is a fun sensorial game where your child can explore their touch, sight, smell, and taste all in one place. You can create an innovative corn pit sensory tub with loose corn seeds. Pour corn seeds into a tub with minimal depth and put some measuring cups in it. Give this corn pit sensory tub to your child to play with. You can play with them or invite some of their friends for a fun-filled learning experience.
14. Cloud Dough Sensory Bin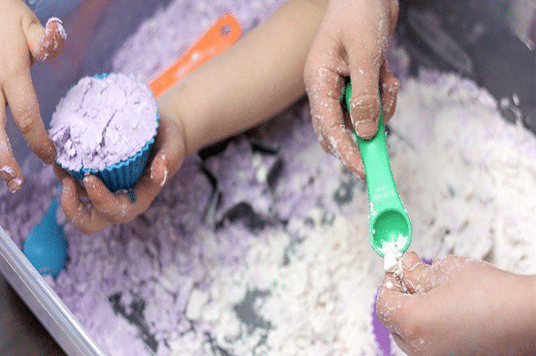 Another DIYable sensory bin that you can gift your kids for a fun-learn activity. Most kids love Cloud Dough sensory bins for their unique texture and colors. All you need to create a cloud dough sensory bin is flour, oil-based food coloring, and vegetable oil. Take flour and vegetable oils in the 8:1 measurement and add some food coloring. Then give the tub to your child and help them to make colorful cloud dough.
15. Shaving Cream Sensory Bin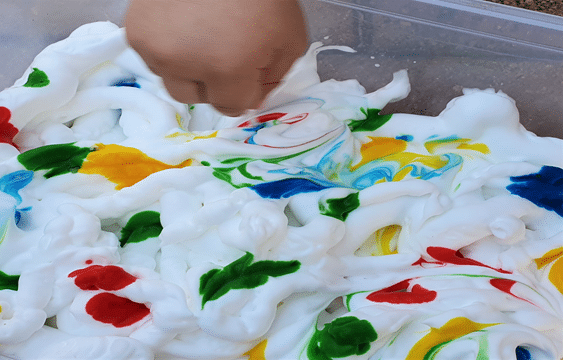 Besides the fun cloud dough, you can also try shaving cream sensory bins for your toddler. It is easy to create and gives your kid a fun play station to explore. Kids love the homey textures of shaving cream. Pour shaving cream into a flat container and let your kid play with it. You can also add some drops of food color here and there on the shaving cream to make it more interesting.
16. Insect Sensory Bin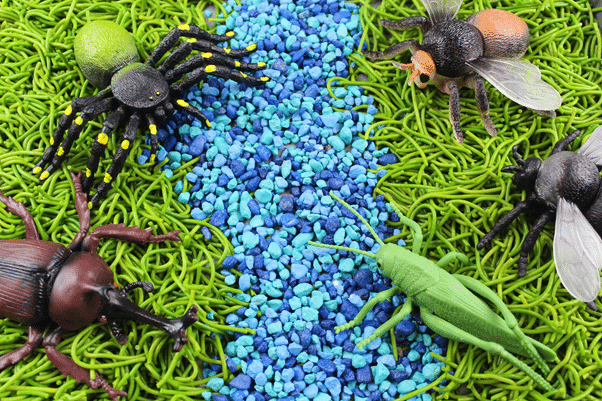 Give your child a chance to explore the world of insects with their sensory bin. You can buy insect-themed sensory bins or create one at home. To create an insect sensory bin, take any sensory bin and replace the filler with artificial insects and brown rice. You can also use black beans if you do not have brown rice. It will create a natural ground-like environment and make the setup more realistic.
17. Dinosaur Sensory Bin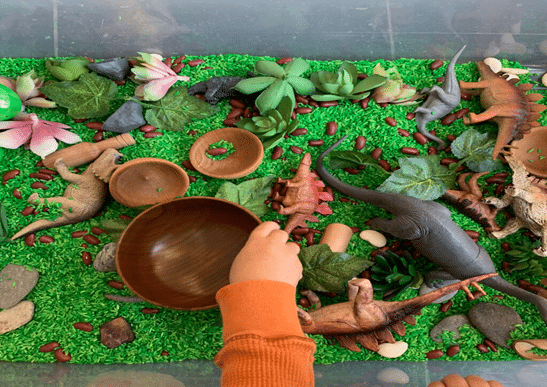 Does your little one have a special interest in dinosaurs? Then a dinosaur sensory bin will be an ideal option to try. The readymade dinosaur sensory bin is perfect for your little one to become an archaeologist. The bin contains dinosaurs, fossils, palm trees, and other things to create an ideal archeological survey site. Pour sand into one box, place the toy dinosaurs, and give your child to play, sense, and explore. You can try Carolart Dinosaur Sensory Bin for your kid, which is fully equipped and comprises many exciting items for children.
18. Beach Sensory Bin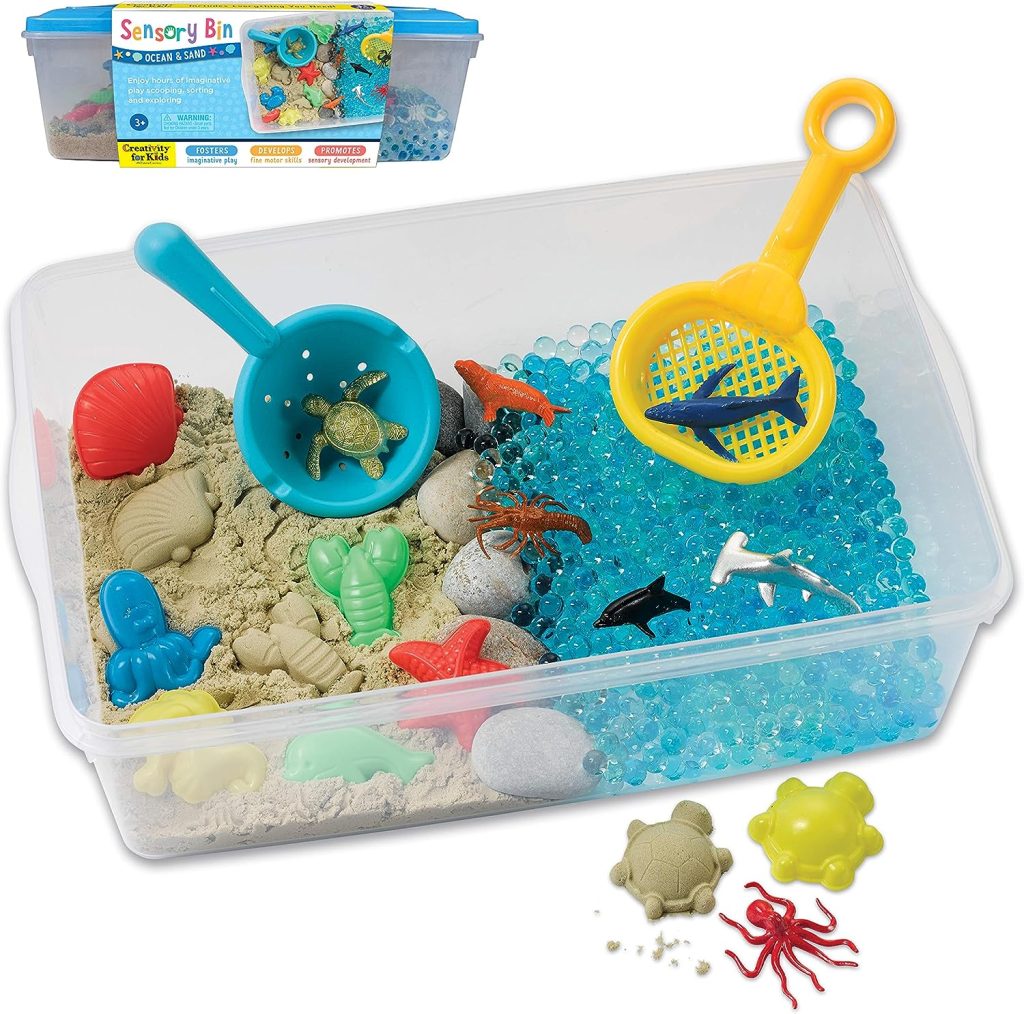 The beach sensory bin is also ideal for summer outdoor activities. Beach-themed games are always a favorite among kids, and very few will dislike the setup. You need a flat and shallow tub, flour, gelatin, food color, oil, and coconut to create beautiful beach sensory bins. But if you lack time and energy, you can purchase a ready-made sensory bin with beach or coastal themes for your little one.Creativity for Kids Sensory Bin: Ocean and Sand is an excellent option to gift your child.
19. Car-themed Sensory Bin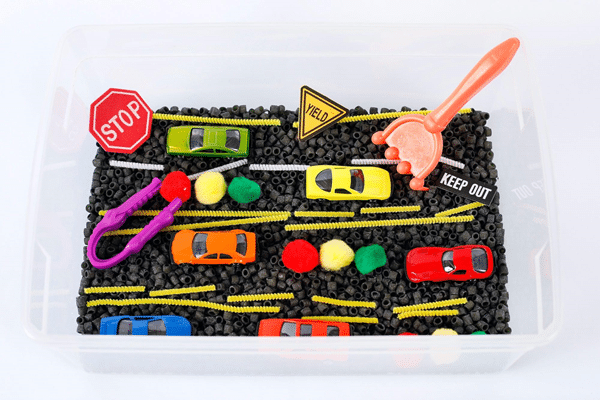 A car-themed sensory bin is also an excellent option to sharpen your child's sensory experience. You can get various types of car-themed sensory bins for your kid, from car racing tracks to car and road traffic. Most car-themed sensory boxes use black beans for roads, plastic balls or pom poms for traffic lights and small yellow straws for road lines. Bring a readymade car-themed sensory set and let your child play and learn.
20. Color-water Pouring Station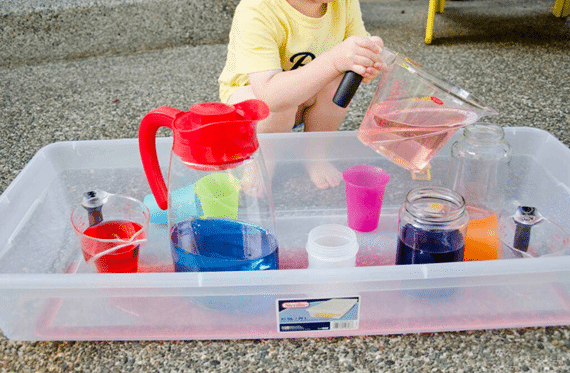 If you are searching for spring outdoor games for your toddler, then you can add the color water pouring station to your list. The color water pouring station is a fun play station to give your child a thrilling sensory experience. The bright-colored waters are alluring and create a space for your kids to develop their imagination and creative skills. Give your child the pouring station and some vibrant color water like blue, purple, green, yellow, and orange to play with.
21. Rainbow Jell-O Sensory Bin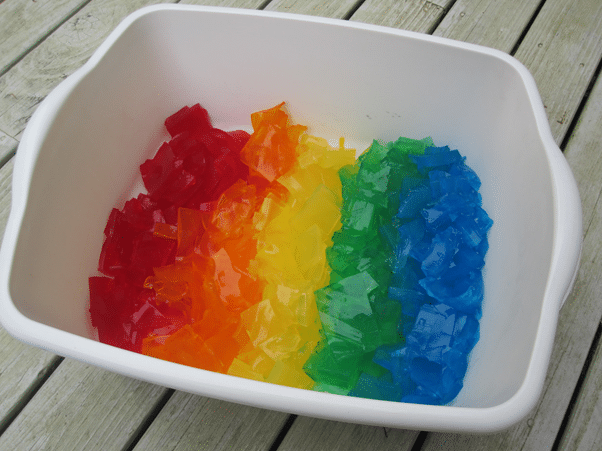 The rainbow Jell-o sensory bin is one of the fun sensory bin ideas. The rainbow colors with jelly textures create an ideal sensory game setup for your kid. The readymade rainbow Jell-o packs are available online and offline in stores. Take rainbow or transparent jelly packets and add food color to them. Prepare rainbow-colored jellies, slice them into cubes, and mix them in a shallow container. Your kids will love to play with these rainbow-colored jellies that are also edible.
22. Fall Sensory Bin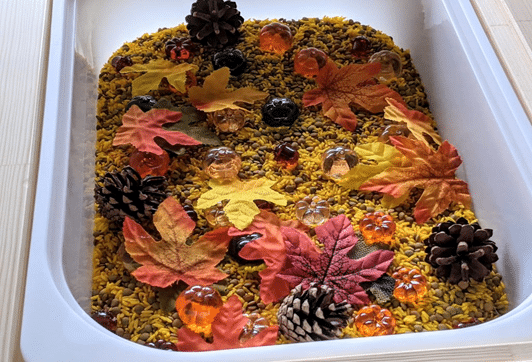 Fall-themed sensory bins are great for enhancing your kid's sensory abilities. Also, you can use this sensory box to teach exciting things about the fall season. A fall sensory bin can contain almost everything you can think about fall from grains, apples, pumpkins, fallen leaves, dried twigs, plums, and so on. You can buy artificial fall-themed sensory bins or create a bin with available ingredients around your home. Gift it to your kid and add some bowls and spoons to play.
23. Spring Flower Soup Sensory Bin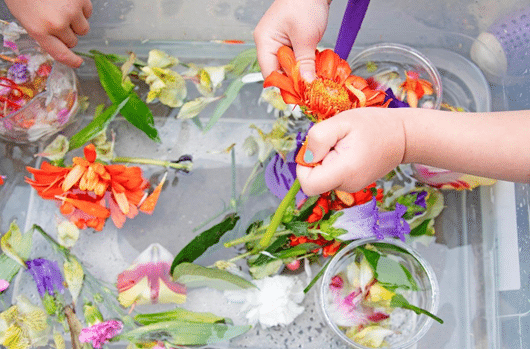 Spring flower soup sensory bin is a great option if you are looking for a spring outdoor sensory game for your child. A spring flower soup sensory bin can motivate your child to get their hands in it for play. Creating a flower soup sensory bin is easy and simple. Take a medium-sized tub, pour water, and float flowers on it to make a spring flower soup tub. Give your kid the tub and a tray of spring flowers to play with the spring flower soup.
24. Sunflower Sensory Bin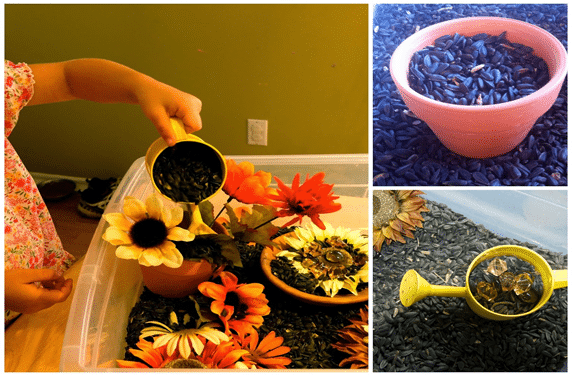 Sunflower sensory bin is close to the gardening sensory bin. The only difference is that this tub is specially designed to help your kid pretend they are planting some most beautiful sunflowers. You can find various sunflower-themed sensory bins for your child. You can also use black beans/brown rice for soil and original sunflowers or crochet sunflowers for potting. Place plastic pots and artificial spades on the tub for your kids to play with.
25. Real Snow Sensory Bin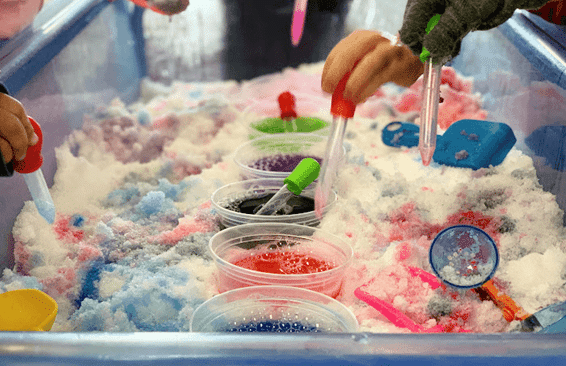 Children love to play with snow. But you cannot take them outside now and then. You also avoid taking kids outdoors when it is too cold. Real snow sensory bins are ideal for keeping children engaged. You can add real snow to bring in the winter vibe. You can also add your kid's favorite toys in the snow. They will enjoy this activity. Try to put some scoops and other equipment. They will enjoy making little snowmen, trees, stars, etc.
26. Edible Sweet Winter Sensory Tub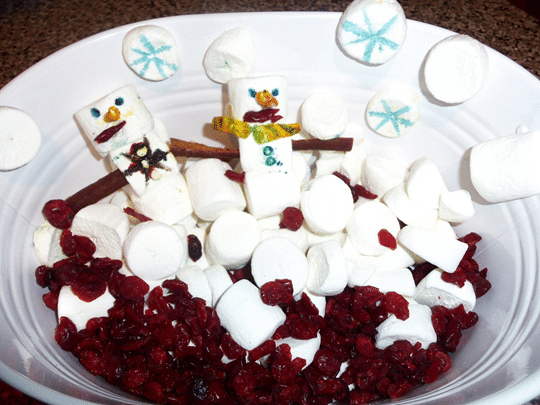 Kids enjoy playing with various sensory bins. And they love to discover edible things in the bin. Winter sensory tubs are perfect for adding something sweet. You can fill the bin with white shredded paper. And decorate it with colorful gems and pom poms. Finally, add jelly beans, candies, and chocolate. Help your kid identify different colors. They can also find edible items by searching the tub. You can easily try this idea at home with a few arrangements.
27. Large Sensory Bin For Group Activity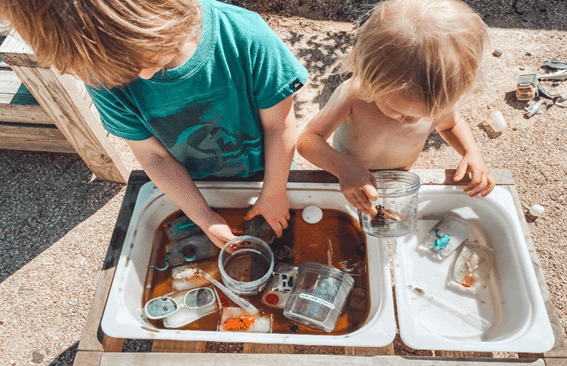 Large sensory bins are ideal for group activities. You can organize a large sensory bin for your kid and their friends. It is helpful if your child has a sleepover at home. You can make a dry sensory bin. You must use colored rice, beans, or corn to create a dry bin. Water bins will be suitable in summer. You can try flower soup, cloud dough, and many other ideas. You can also use this sensory bin if you have multiple toddlers and young kids at home. A large sensory bin will also do well for two or three tiny kids.
28. Christmas-themed Sensory Bin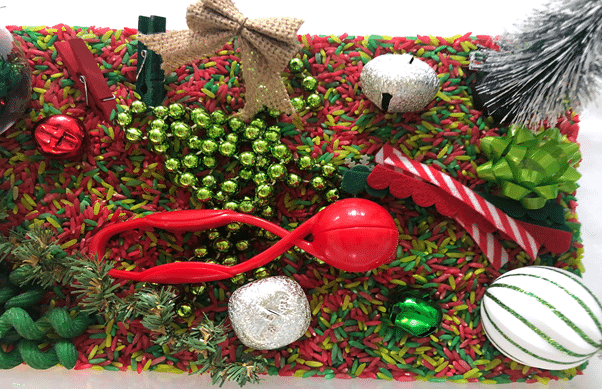 Everyone loves the festive season. But the little fellows enjoy it more than others. That is why a Christmas-themed sensory bin is perfect for the holiday season. You can easily find cute little items for your Christmas bin. Use objects like Christmas trees and stars to decorate the bins. There is a whole line of festive sensory bins for your kids. You can try bins representing St. Patrick's Day and Easter, among others.
29. Fishing-themed Sensory Box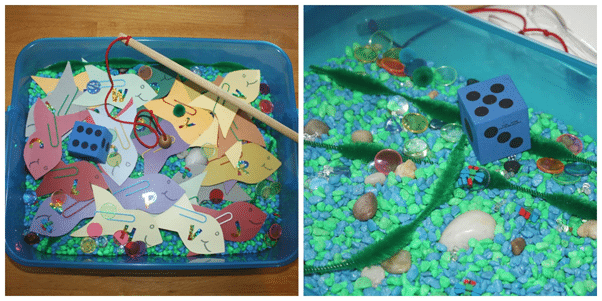 Help your child to play with sensory bins and develop their fishing skills. A fishing-themed sensory box is an ideal option if your child loves fishing games. You can find various fishing-themed sensory boxes online. They contain beautiful fishes, water creatures, fishing nets, and other items to create a perfect fishing setup. You can number the fish to use them to teach your child mental counting skills and basic calculations.
30. Birthday Sensory Bin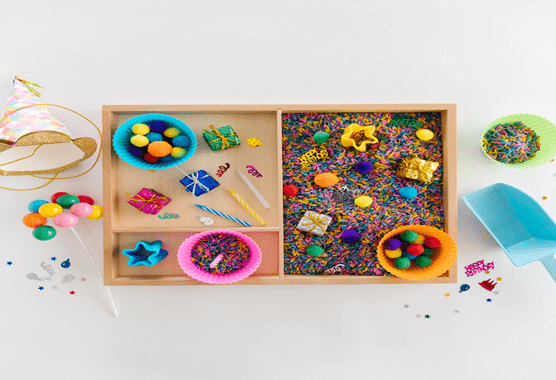 Birthday-themed sensory bins are also a major hit among kids and toddlers. A birthday sensory bin has a thick rice base that displays candies, chocolates, and other birthday goodies. You can also add alphabets and ask your child to spell their names on the rice. Placing a birthday-themed sensory bin next to your child's birthday gift station is a great way to encourage your kid and their friends to play and learn.
Conclusion
A sensory bin is a great tool to teach your child several things connected with their sensory system. Most sensory bins include unique and exciting objects that easily grab kids' attention and engage them without an external push. Kids enjoy the game and enthusiastically explore their senses through sight, touch, smell, and taste.
You can find endless options for sensory boxes to develop your child's sensory function and help them learn about new things with joy. You can buy water, farm, dinosaur, or birthday-themed sensory bin for your kid or DIY Fall-themed rainbow rice or cloud dough sensory bins at home.
So, what are your choices? If you haven't tried anything yet, the above-mentioned sensory bin ideas are for your kid.