Art and Crafts are one of those activities that are super fun and are immensely loved by kids. Teaching your little munchkins something new is tricky, but transforming it into a fun activity brings liveliness. Activities that teach your kids to reuse old materials and make something new from them help them learn crafts and a lot of life values easily.
Pipe cleaners' crafts are one of the best crafts. Because they are cost-efficient, they come in multiple colors, and we all know how much kids love colorful things. They are very easy to be bent, making them the best choice for the craft activity.
We have listed the 25 best pipe cleaner crafts ideas you can make with your kids by having fun and interesting sessions.
Where to Buy Pipe Cleaner?
You can buy pipe cleaners easily from any nearby store, art and crafts store, stationery shop, dollar store, and Walmart as well. You can even order a lot of pipe cleaners online from Amazon. Below are the links to some of my favorite pipe cleaners from Amazon:
Pipe cleaners are one of those fascinating craft materials that no one can ignore, and we can vouch for it. Their vibrant colors and perfect characteristic feature of being the perfect craft material is what makes them everyone's favorite. Stationery boxes are filled with many craft materials, but the most stuffed box that we have in my whole collection is of Pipe cleaners. They are the absolute perfect match for art and crafts activities.
Best Pipe Cleaners Crafts with Your Little Munchkins
1. Pipe Cleaner Flower Rings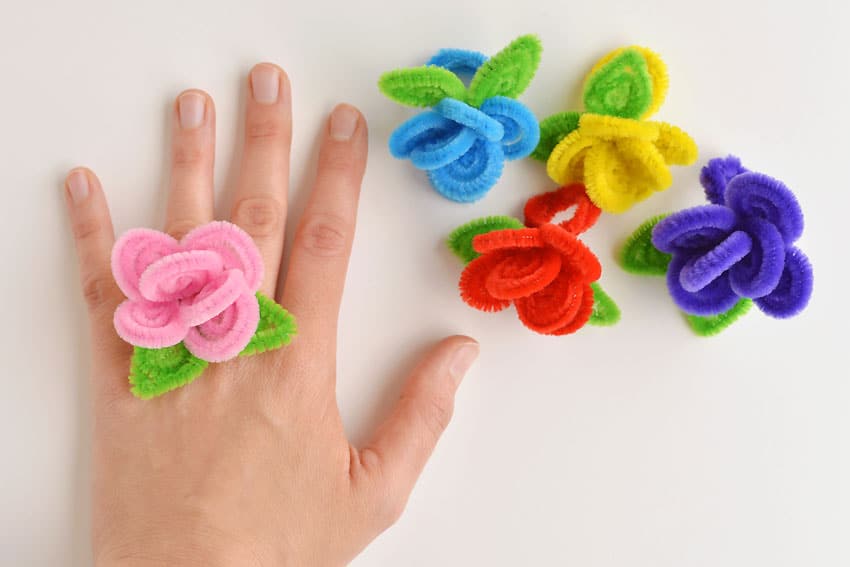 Let's make the beautiful craft of a flower ring with pipe cleaners. Make this masterpiece from pipe cleaners with your little munchkins. Items needed for this pipe cleaner art are nothing more than just seven chenille Pipe Cleaners. All you have to do is make petals from six chenille pipe cleaners and make the stem of the flower from the one pipe cleaner left. Make different flower rings for different seasons and occasions.
2. Pipe Cleaner Butterfly Ring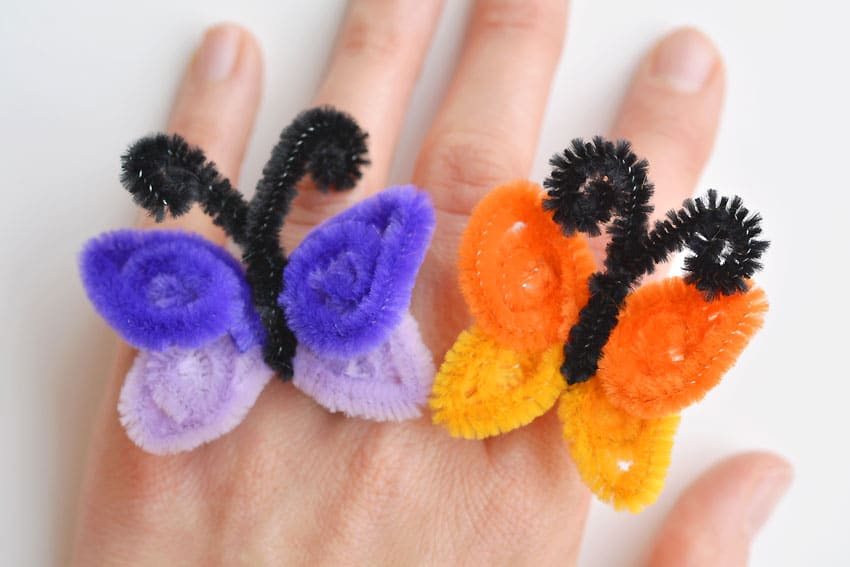 Well, this is one of those crafts that seems tough but actually is the easiest one. This pipe cleaner craft needs nothing much but just 3 pipe cleaners of different coordinating colors and a pair of scissors. Take two pipe cleaners and roll them together, then take the size of your finger and join the ends by crossing to have the size of your finger. Then distinguish those 4 ends, the bottom two and the top two, and roll all the ends and give it a butterfly shape. Then join one more pipe cleaner on the top to make it look like a realistic butterfly sting.
3. Pipe Cleaner Beaded Flowers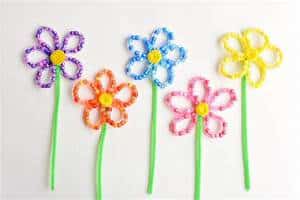 This Pipe cleaner takes nothing less than 10 minutes to be made. All you need is three pipe cleaners and a few colorful beads. This pipe cleaner craft is going to look amazing for the decoration of the table in your house. The best part about these flowers is that you don't need to change them every 3 days. All you have to do is, take a pipe cleaner, cut it into 4 equal sizes, then put the beads in them and roll them like a flower petal. Then attach these petals with another pipe cleaner that will be the stem. And lastly, roll one pipe cleaner and fix it in the center of the flower.
4. Pipe Cleaner Beaded Dragonflies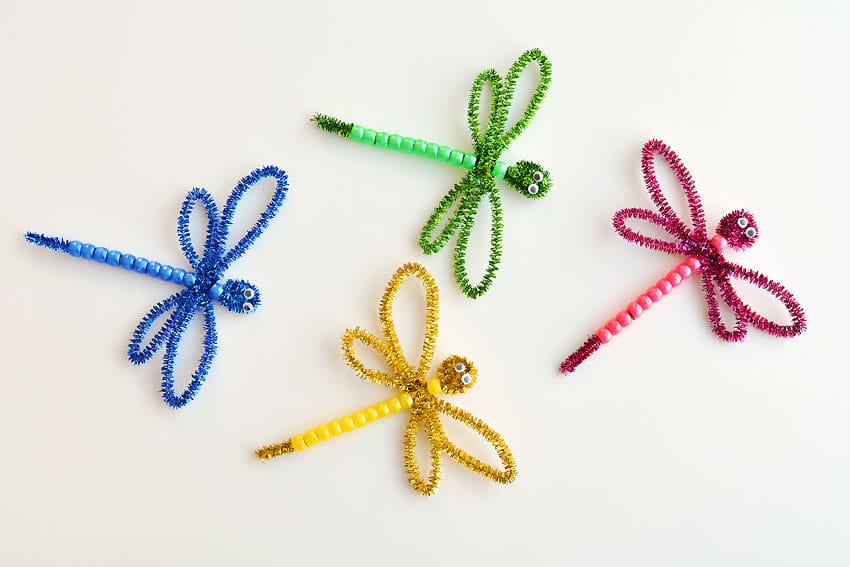 Crafts that are made up of simple materials are just love! One such pipe cleaner craft is the beaded dragonfly. You should have three sparkly pipe cleaners, a pair of googly eyes, some colorful beads, and a pair of scissors. Circle the sparkly pipe cleaner and then fix their centers together and do the same with one more pipe cleaner. Then take another pipe cleaner and put beads in it and then fix those wings that you made through pipe cleaner above the beaded portion. Then roll out the leftover portion of the beaded sparkly pipe cleaner to make the face. Attach the googly eyes to that face. And here you have your Pipe Cleaner Beaded Dragonfly.
5. Pipe Cleaner Tall Spiders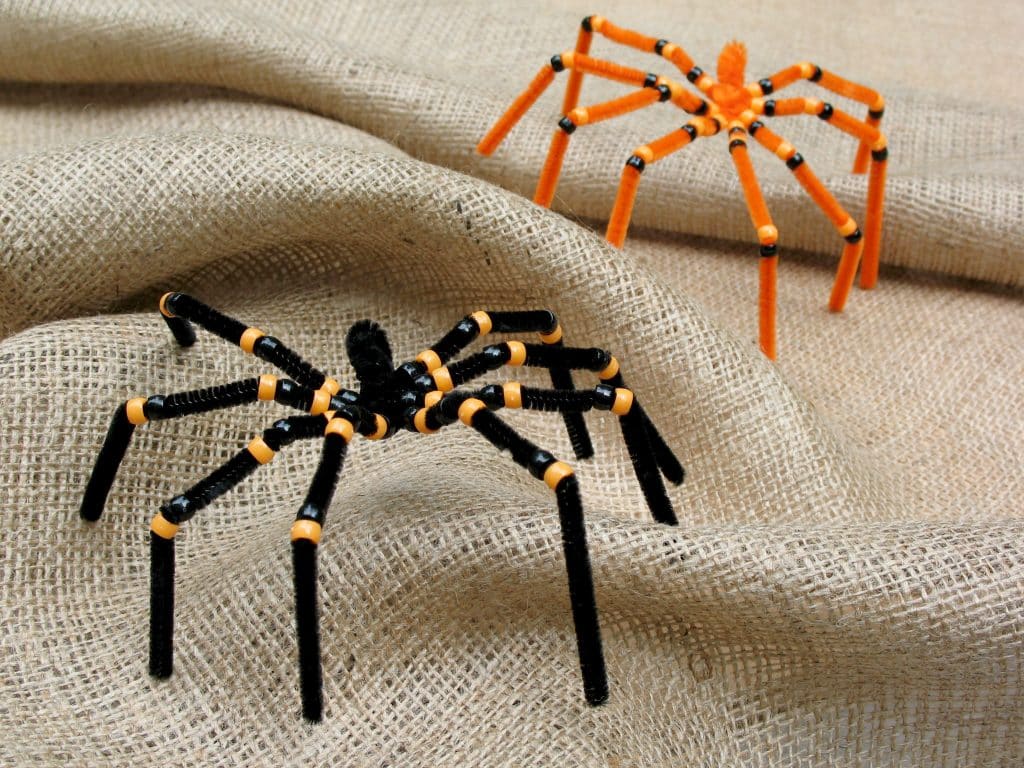 This pipe cleaner is perfect for Halloween to scare your kids. This craft can even be a good one for young entomologists. These magnificent tall skinny spiders are made up of just pipe cleaners and a few plastic beads. These can be made center home pieces or can fit well with the theme kids' room or even simply in the kids' room for fun. Take 4 pipe cleaners and bend in the middle and twist the fold several times to make the spider's body. Separate the pipe cleaners to make the legs. Slide a couple of beads onto each leg and slide on 2 more beads. Bend the legs 1.5 inches from the last joint and slide on two more beads. Adjust the legs properly, and here is your pipe cleaner craft of skinny tall spider ready!
6. Pipe Cleaner Bejeweled Rings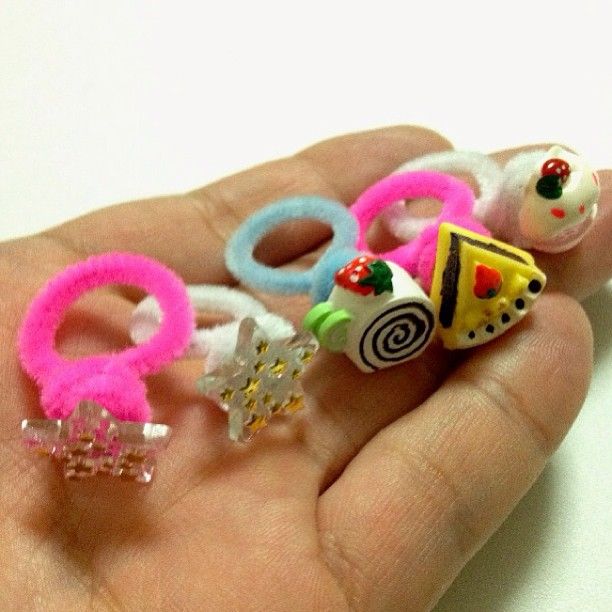 This kind of kid-friendly pipe cleaner craft is a perfect fun and useful activity for kids. All you need is a pipe cleaner, a beautiful stone, and a hot glue gun. Fix a length of pipe cleaner around your finger and then twist the ends to secure the measurement of your finger. Then remove it and hot glue a beautiful gem or stone of your choice. Your beautiful pipe cleaner bejeweled ring is ready for you to wear with your beautiful daughter.
7. Pipe Cleaner Feathered Birds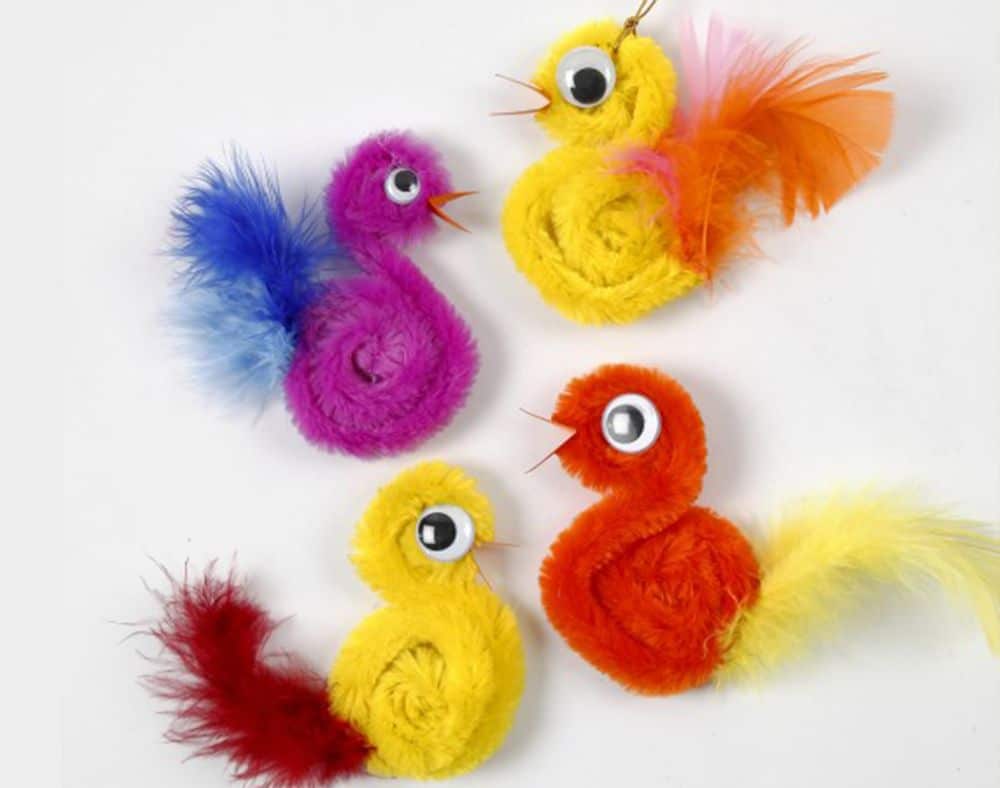 Well, birds are loved by kids, and when it comes to colorful birds, then no questions asked. This pipe cleaner craft is going to be the next favorite one of your kids. You need a pipe cleaner, beautiful feathers, googly eyes, and a hot glue gun. Just a couple of colorful chenille pipe cleaners, and you have a perfect base for a cute little chick. Add a feathered tail to it. Then add one googly eye to finish the task. Your beautifully cute chick is ready to be the new favorite thing to decorate at home.
8. Pipe Cleaner Fishing Game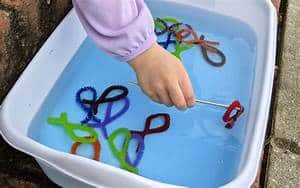 Making beautiful crafts from pipe cleaners is super fun. But have you ever thought of creating a game out of it? Yes, you heard it right. You can make an awesome fun game with the Chenille pipe cleaner. This is a fun fishing game that you can make easily as a pipe cleaner craft with your kids. Kids can easily twist out the pipe cleaners to make fish out of them. Then tie a magnet to a makeshift pole to "fish" at the kitchen counter. To make it even more organized, you can set up a pool in a container or small-sized tub and then play this game in it. How fun!
9. Pipe Cleaner Swirled Lollipops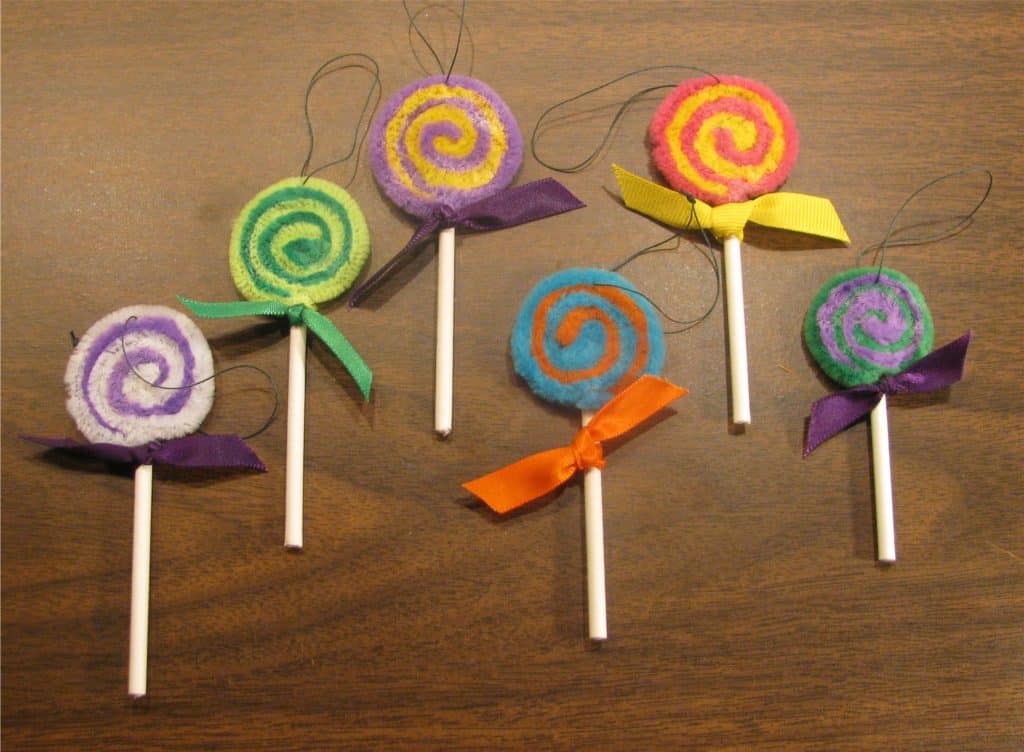 Crafts that not just make your kid's time pass easily but also help you achieve your goals for their betterment are the best ones. Pipe cleaner crafts are indeed super fun, but what's even more fun is watching your kids indulging in them. With these pipe cleaner-swirled lollipops, your kids are going to stay controlled in their sugary sweets because this is surely going to satisfy their sweet tooth or at least distract them for a little longer. All you need to do is, twist a couple of colors of pipe cleaners together and then glue them with a wooden stick or a paper straw. And your sweet and colorful candy is absolutely ready to distract your kid's sugary cravings.
10. Pipe Cleaner Crafts Crown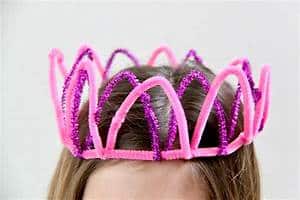 It's time to take the dress-up game to the next level today. Wondering how? Well, it is super simple, easy, and fun. Just with the help of some easy homemade accessories, you can take the dress-up time with your kids to the next level and can have a fun time with them. Kids, along with you, can make beautiful crowns by just gluing a couple of sparkly pipe cleaners together to give it a shape of a crown. To add some more magic to it, you can also add some pipe cleaner craft stars or other things and can glue them on top of it. This is surely going to make your daughter and son feel like the real prince and princess of your castle.
11. Pipe Cleaner Monster Finger Puppets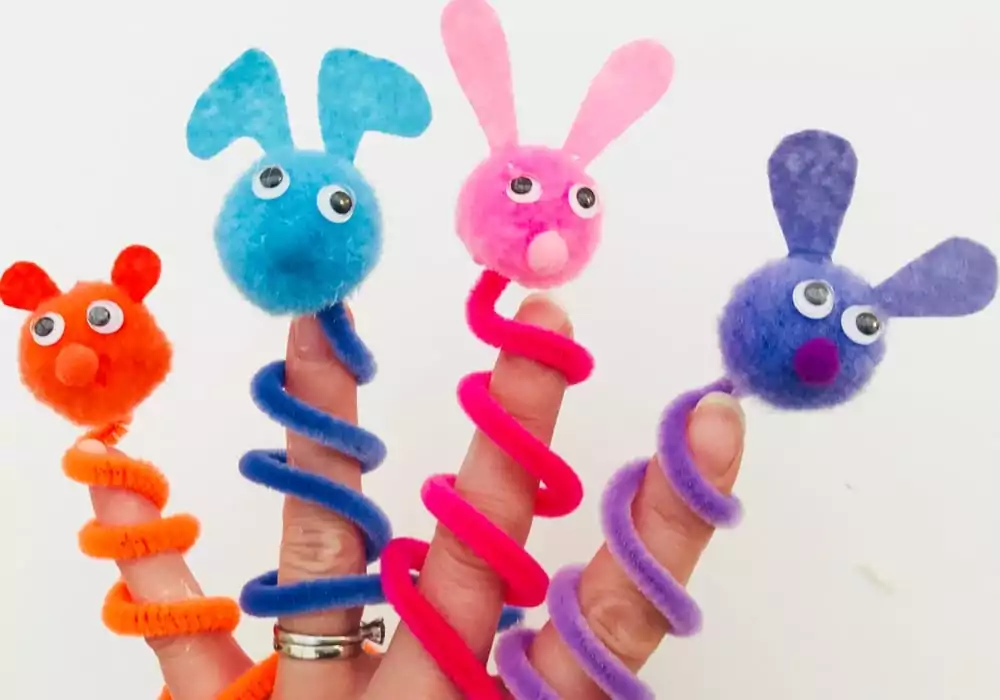 You won't even imagine that this pipe cleaner craft can be so easy to make. The best part about it is that it can be made within 10 minutes without unnecessary hassle. You will need a color pipe cleaner, a pom pom, a pair of googly eyes, and of course, a hot glue gun. First, take the colorful chenille pipe cleaner and wrap it thrice around your finger. Then for the second step, we have to make ears with the remaining pipe cleaner after those finger-sized rounds. Then stick the pom pom just below the ear to make it look like a whole face. Then for the final touch, stick the googly eyes on the pom pom. Here are your cute pipe cleaner monster finger puppets ready to play and have fun with!
12. Pipe Cleaner Pencil Topper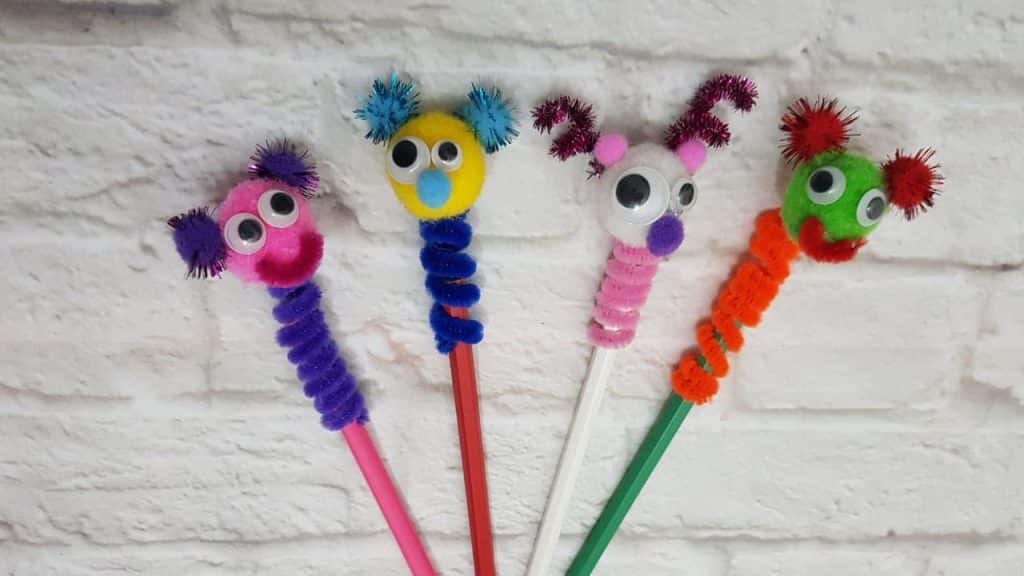 These pencil toppers are somewhat similar to finger puppets. The procedure to make this pipe cleaner craft is super easy and fun. It is not just going to be fun-filled by making them but also a forever fun element for your kids' stationery. You need colorfully attractive chenille pipe cleaners, pom poms, googly eyes, a hot glue gun, and pencils. Now for the procedure, take the pencil and a pipe cleaner and wrap the pipe cleaner four or five times on the top of the pencil; once wrapped and rounded tightly pipe cleaner will retain its shape of it. Then from the remaining portion of the pipe cleaner, round them. Then stick the pom-pom over the rounded portion and stick shortcutted sparkly pipe cleaners such that they look like ears. For the final work, stick the googly eyes on the pom pom, and your funny and interesting pipe cleaner pencil toppers are ready.
13. Pipe Cleaner Rainbow Craft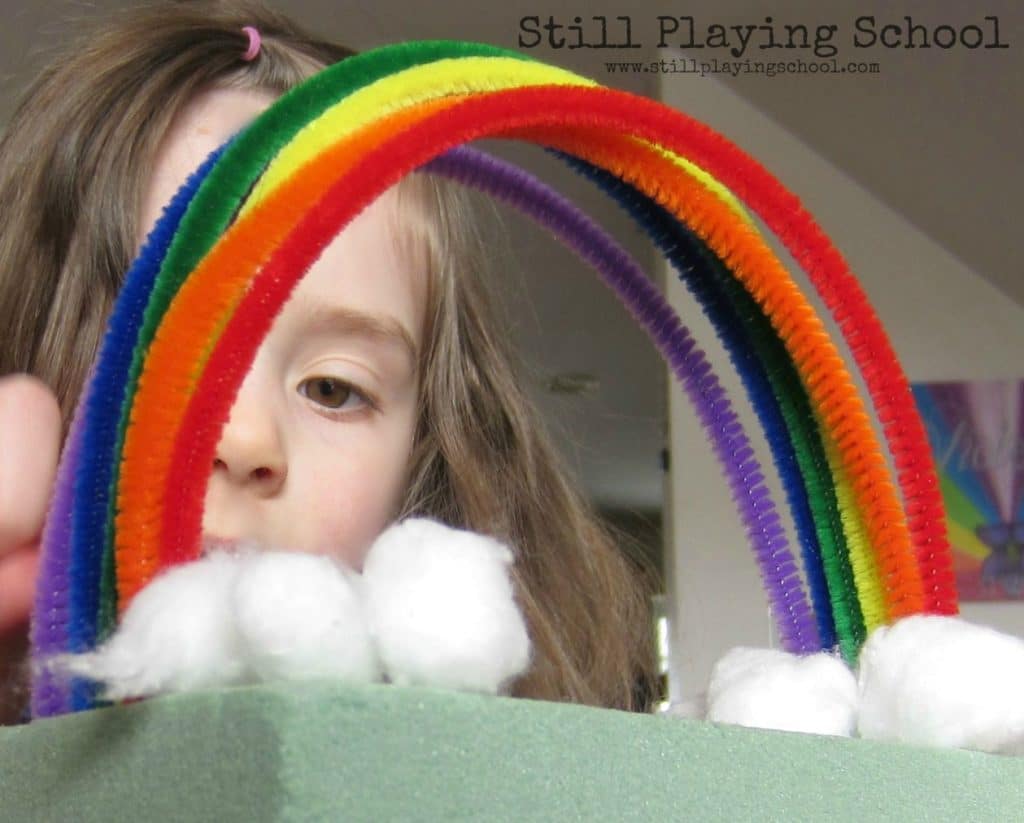 Colors are what attract kids the most. In the early stage of learning, it is very important for kids to know different colors in different ways. When it comes to colors, how can we miss the Rainbow? So, here is one fun-learning pipe cleaner craft for your kids to learn and understand the most beautiful creation from the combination of different colors. Seven rainbow color pipe cleaners, some cotton, a cuboidal foam, and a hot glue gun. Take the pipe cleaners and bend them in the shape of a semi-circle same as in a rainbow. Then, arrange the colors in the correct order and stick them with the foam and some cotton balls as clouds on both ends altogether. Your fun-learning pipe cleaner craft is ready to make your kids learn and have fun together.
14. Pipe Cleaner Beaded Sparkle Hearts
Hearts are one of the most aesthetic crafts that you make with pipe cleaners. Some crafts look tough and completed, but trust me, they are as easy as tough they look. You will need colorful pipe cleaners, beads, and ribbon. Now for the process, Firstly, put the beads in the pipe cleaner. Once done with that, then secondly bend that pipe cleaner into the shape of a heart. Here is your beaded heart ready. If you wish to hang these beautiful beaded hearts, then you can knot a side of the ribbon on top of the heart and then the other end of the ribbon wherever you want to hang it.
15. Pipe Cleaner Pom Pom Caterpillar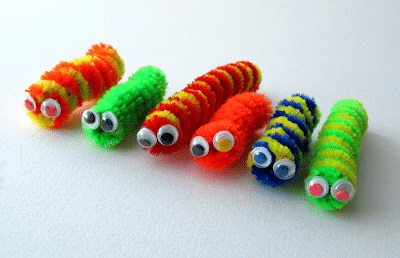 Pompoms seem like one of the best friends of pipe cleaners since they together make one of the best pipe cleaner crafts. Now it is time to create some friendly bugs using colorful pompoms, googly eyes, colorful pipe cleaners, and a hot glue gun. Take colorful pompoms and stick them together in a line. Then stick the shortcutted pipe cleaner on the first pompom like a cute caterpillar antenna. Then stick googly eyes on the first pompom, and here you have the pipe cleaner pompom caterpillar ready to play with your kids.
16. Pipe Cleaner Coffee Filter Dancers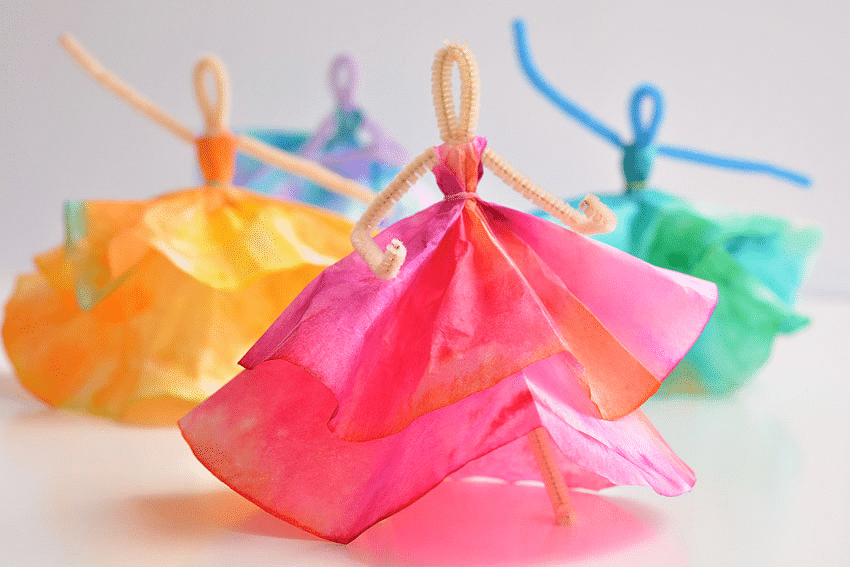 These coffee filter dancers are so pretty. The color, the shape, they look like a whole masterpiece. You will need coffee filters (preferably of 10 to 12-cup sizes), washable markers, 2 pipe cleaners, tiny elastic, and a pair of scissors. Firstly, take two coffee filters, one on top of the other one, so that when you sketch one, the other one also gets the same color, and you will have two identical colored coffee filters to make a dress. Color the coffee filters with the markers and use your favorite colors, how you want the dress to look like. Using a dropper, slowly drop water all over the coffee filter; no need to worry since the filters are water-absorbent. Once completely soaked, stop adding water, and make sure you don't overflood it with water. Now let them dry! Now using the pipe cleaners, make the shape of a thin person, making the arms wide, legs in a reverse V shape, and the spinal in between, and not to forget the neck area.
17. Pipe Cleaner 3D Water Color Flowers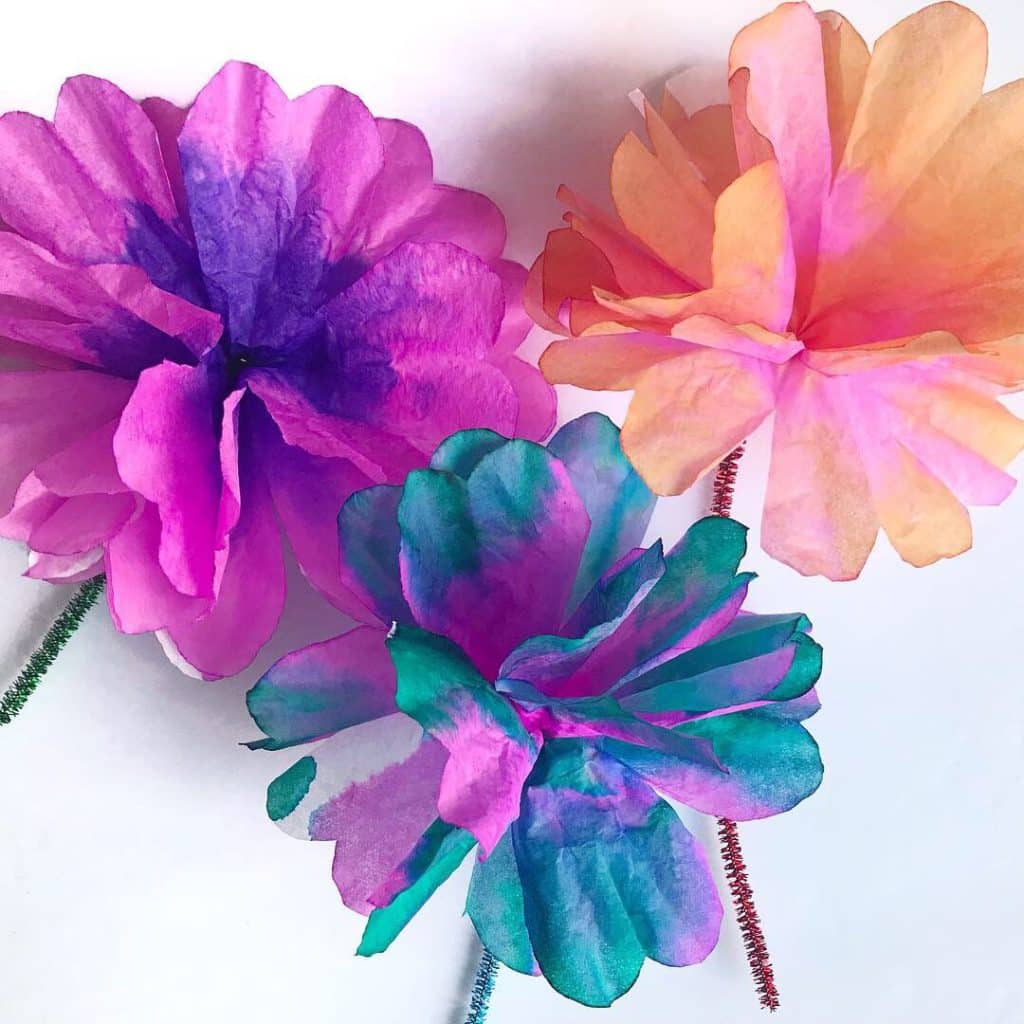 There is a never-ending to the coffee filter and pipe cleaner crafts. Once you start having fun making these effortless crafts, then there is no going back. You will need coffee filters, water markers, pipe cleaners, and tiny elastic. Now take the coffee filters and keep two of them like one over the other. Now color the coffee filters with the water markers. Take the dropper and drop the water droplets over the filter paper. Stop dropping once it absorbs it all. Then let it dry. Once they are totally dry, fold them and cut the tip of it. The cut should be small because when you open the paper, you will see the actual size of the cut. Then take the pipe cleaner and put the paper in it and tie it with the tiny elastic. Add the other identical paper over it and cut its edges as the design of a fancy flower. Your pipe cleaner 3D Water Color Flowers are ready!
18. Pipe Cleaner Water Bottle Love Bugs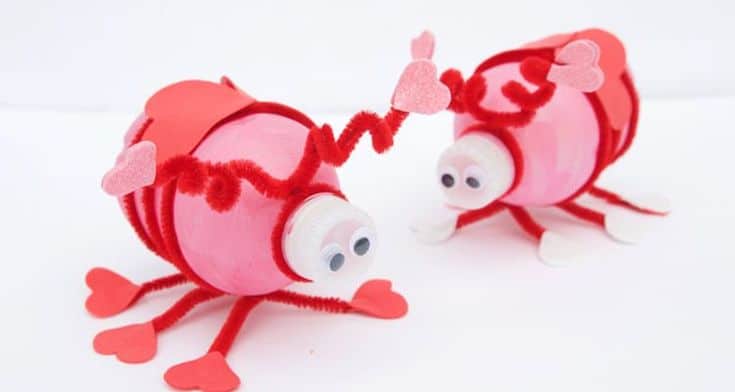 For this pipe cleaner craft, you will need small water bottles, foam heart stickers (both large and small), red pipe cleaners, pink craft paint, Googly eyes, glow sticks, a hot glue gun, and a paintbrush. Firstly, paint your little bottle with a single coat of light pink color so that the bottle can be painted, but the light can also glow in the dark through it. Wrap three red pipe cleaners around the bottle. Twist them in the center at the bottom to make the legs of the bug. Stick the heart stickers through the hot glue gun on the ends of the pipe cleaners to make their feet. Stick two large heart stickers on the top to make the wings. Wrap two more pipe cleaners on the neck of the bottle and paste two more stickers on the ends of those wrapped and rolled pipe cleaners.
19. Pipe Cleaner 3D Water Color Butterflies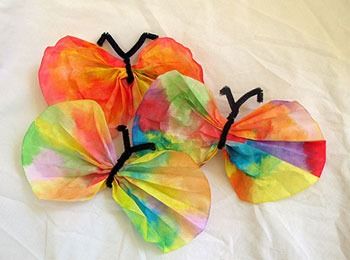 Honestly, coffee filter and pipe cleaner crafts have become my personal favorite. Their effortless procedure and awesome results have made me a fan. So, all you are going to need is two coffee filter papers and keep one over the other, then color them with water markers. After this, drop water droplets on the paper until it absorbs and then stop dropping. Let it dry. Once they are dry, you will get two identical colored coffee filter papers. Then take a color-coordinating pipe cleaner. Now, fold the coffee filter papers like the paper fan folding procedure. Then keep them in the middle of the pipe cleaner and then knot the pipe cleaner. After that, roll the extra pipe cleaner as the antenna of a butterfly. Once done then, open the paper and give them the shape of the upper and lower part of the butterfly. Here you have your beautiful pipe cleaner 3D watercolor butterflies.
20. Pipe Cleaner Teddy Bears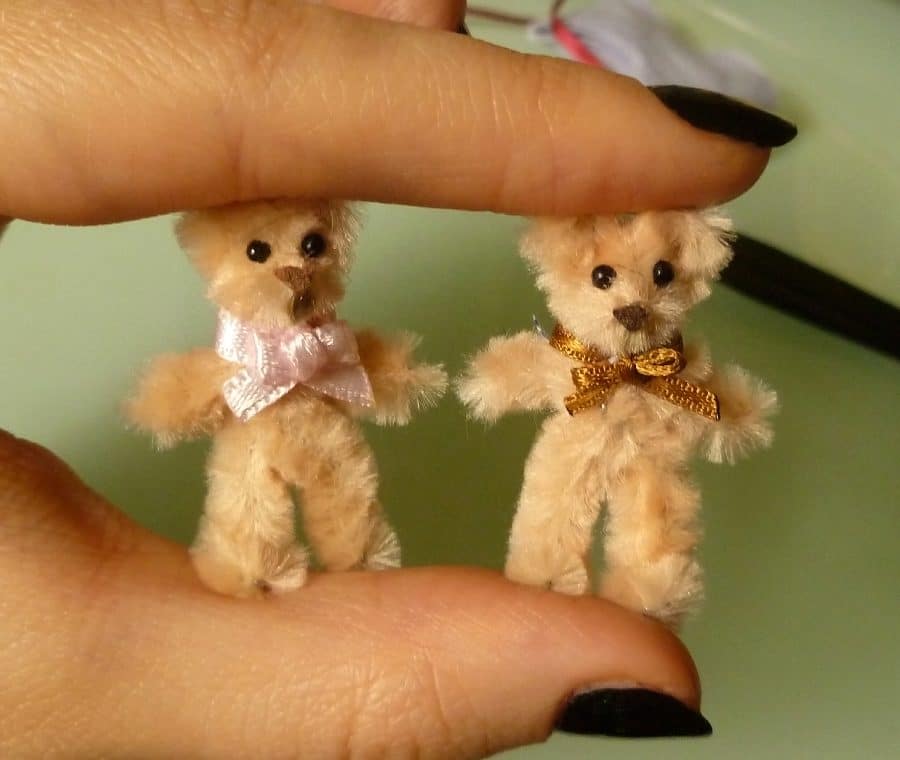 Let's make some pipe cleaner teddy bears for our little munchkins and teach them how to make them as well. For this pipe cleaner craft, you will need pipe cleaners, obviously, googly eyes, pompoms of different sizes, a hot glue gun, and a pair of scissors. Let's start by cutting the three pieces of pipe cleaner. 2-inch pieces for the arms, 3-inch pieces for the legs, and 6-inch pieces for the body. Twist the 2-inch pipe cleaner around the 6-inch piece of pipe cleaner as arms of the body. Wrap this body pipe cleaner around the end of your pencil or pen. Take the 3-inch piece of pipe cleaner and wrap it with the end of the wrapped pipe cleaner as the legs of it. With the help of a glue gun, stick the small pompoms on the ends of the arms and legs to make the paws. Then stick one big pompom on the top of the face and two small ones on either side of the face to make the ears. For the final touches, stick the googly eyes, and here is your cute teddy bear.
21. Pipe Cleaner Sunflowers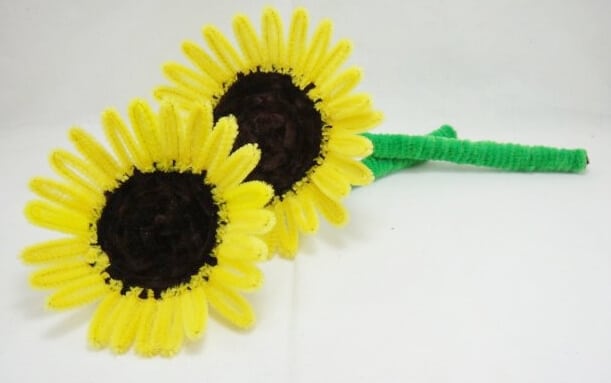 Sunflowers have their own charm. Making beautiful sunflowers with a pipe cleaner as the pipe cleaner crafts is going to be super fun and energetic. Let's get it started. So, for this pipe cleaner craft, you will need yellow and green pipe cleaners, popsicle sticks, black buttons, green craft paint, a hot glue gun, small flower pots, black paper, and floral foam. Bend ⅓ of a yellow pipe cleaner, twist the same pipe cleaner at the end, and make another bend to form two petals. Repeat this with the other two left pipe cleaners to form the rest of the petals. With the help of a glue gun, attach the pipe cleaner petals together at the center. Using another yellow pipe cleaner, repeat these two steps and make smaller petals out of that one pipe cleaner. Now glue the smaller petals over the larger ones. Attach the black button on the center of this flower where they all are attached. For the stem, paint a popsicle stick with green color paint.
22. Pipe Cleaner Sherlock Gnomes Wooden Spoon Puppets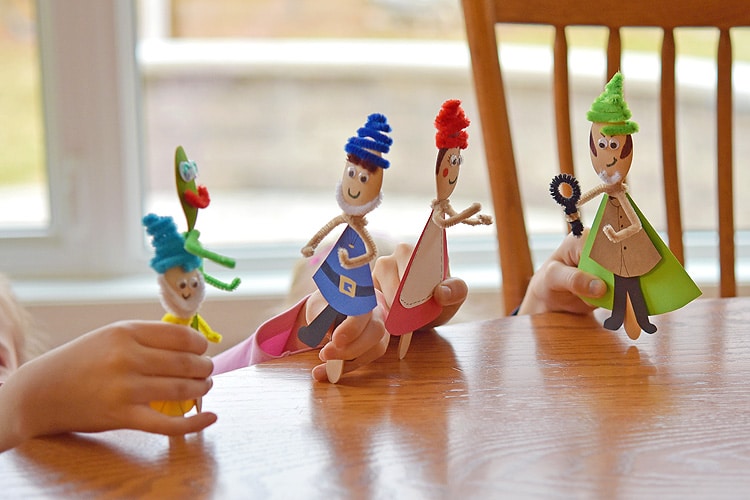 Sherlock Gnomes is a very cute yet fun, family-friendly movie that showcases the value of teamwork. Let's make some pipe cleaner craft related to these awesome movie characters. You will need wooden spoons, pipe cleaners, a hot glue gun, googly eyes, colorful papers, and sketch pens. All you have to do is, draw the faces of the characters on the wooden spoons. Then take the pipe cleaners and cut them 3-4 inches and then wrap them around the wooden spoons as the arms. Now sketch and cut the papers in the shape of the characters of the movie. Then stick those dresses on the wooden spoons. Now wrap the pipe cleaners as the beard or cap of the characters according to their appearances in the movie. For the final touches, stick the realistic-looking googly eyes on them. Here you have interesting pipe cleaner Sherlock Gnomes wooden spoon puppets to play and interact with your kids.
23. Pipe Cleaner Pop Bottle Firefly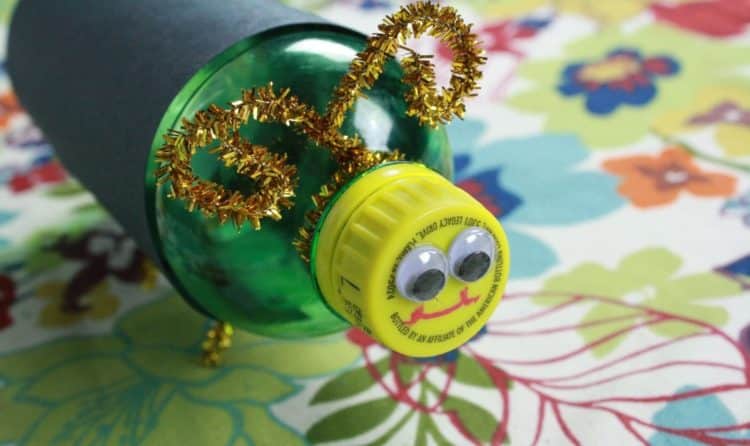 These lighted fireflies are surely going to make your kids go from "WOW" to "HOW." So, let's make this pipe cleaner craft with them to let them know the answer to their how. For this craft, you must have water bottles or pop bottles, tissue paper, glow sticks, pipe cleaners, google eyes, foam sheets, mod podge, a foam brush, and a glue gun. Firstly, cut a sheet of tissue paper into 1-inch strips, brush a layer of mod podge onto the center of the bottle, now stick the strip of the tissue paper onto the mod podge, wrapping it around the bottle. Now, brush another layer of mod podge on top of the tissue paper. Once dry, then add three pipe cleaners around the center of the bottle on top of the tissue strips. Twist each one around the bottom to make the legs. Cut two wing shapes from the foam sheet and stick them on the top of the tissue strips to make them look like wings.
24. Pipe Cleaners Crystal Stars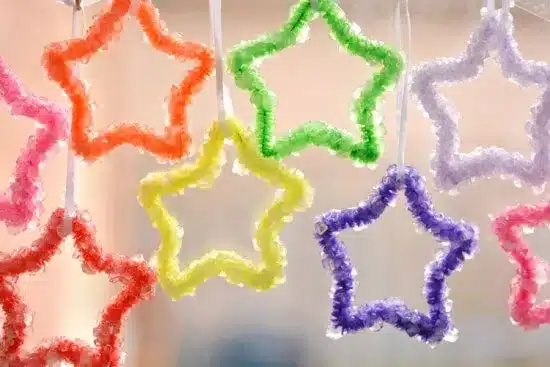 Crystals are the fantasies of every child. That magical shine is what attracts them the most. Let's make the pipe cleaner crystal stars and let the magic begin. For this pipe cleaner craft, you should have borax, water, pipe cleaners, a star-shaped cookie cutter, thin ribbon or string, popsicle sticks, and mason jars. Starting from making a star with the pipe cleaners. Take the star-shaped cookie cutter and then wrap the pipe cleaner around it to make it the same shape and then cut the extra pipe cleaner and tie the ends of the star-shaped pipe cleaner. Then take a string and knot the stars with it, and then hang them inside the jar with the help of the wooden stick and the string. Mix the borax and boiling water together until the borax is completely dissolved. Then put this mixture in the jars that have stars hanging in them.
25. Pipe Cleaners Beaded Pumpkins for Halloween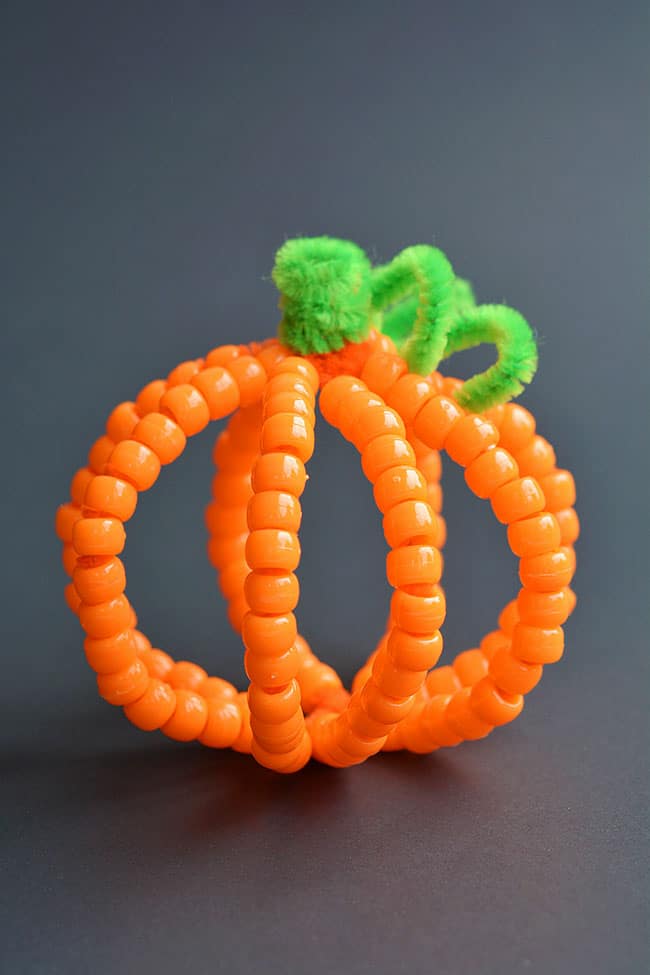 The cutest ever pumpkin is what you are going to have for this year's Halloween at your house. For this cute pumpkin, you will need orange pipe cleaners, green pipe cleaners, orange beads, and a pair of scissors. That's all. Now starting with the orange pipe cleaners, you will need to put the beads in the 6-7 orange pipe cleaners and then join all of them together from end to end and give them a round shape together. Then tie the ends of this round-shaped pipe cleaner beaded ball. After that, take the green pipe cleaner and cut it short. Then attach this green pipe cleaner on top of the round beaded pipe cleaner ball as the green cut-shorted stem of the pumpkin. And here you have your Halloween special pipe cleaner beaded pumpkin ready within 5 minutes.
Summing It Up
All in all, now that you have come to the end of this blog after you went through the top 25 amazingly awesome pipe cleaner crafts, here are some tips for the summary. When you start to make such crafts with your kids, especially then, you must keep these tips noted in your mind. You can make anything from pipe cleaners, from flowers to rings to Christmas trees to any animal, anything! There are tons of pipe cleaner ideas that you can make, but we have brought the best ones for you.
That is it from our end, and we hope that these activities are going to gift you and your kids fun-filled and super-learning hours together.