Don't you think Elf on a Shelf has developed into a cherished holiday custom in many homes, bringing happiness and humor to both kids and adults? These playful little elves are known for their imaginative and fun actions as they roam around the house during Christmas.
The beauty of Elf on a Shelf resta is not only in the joy and laughter it offers but also in the love and connection it builds among family members as you begin this endearing practice. As you spend priceless time together that you will cherish for years to come, cherish those moments.
This post will go through 35 hysterically amusing Elf on the Shelf ideas to get your creative juices flowing and make you smile.
So let's look at 35 funny Elf on the Shelf ideas you can try this Christmas season.
List of Interesting Elf on a Shelf Ideas
1. Spa Day for Elf on a Shelf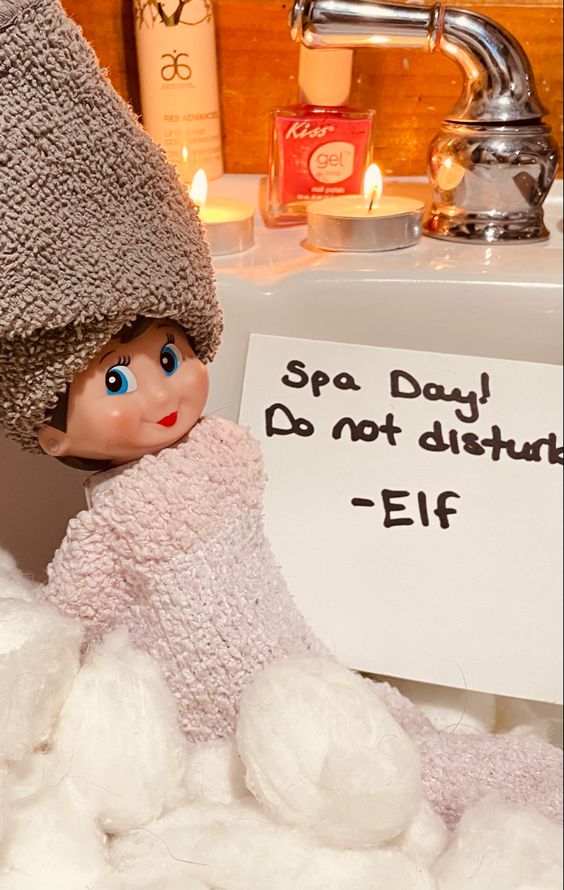 Give your little Elf some much-needed pampering! For your Elf to relax and unwind, create a little, opulent spa hideaway with a plush robe, cooling cucumber eye slices, and a soft towel. Set the mood with a soft cotton ball massage table so your Elf can indulge in a luxurious spa treatment and impress everyone with their self-care skills.
2. Elf on the Shelf for Filmmaker Action, Camera, and Light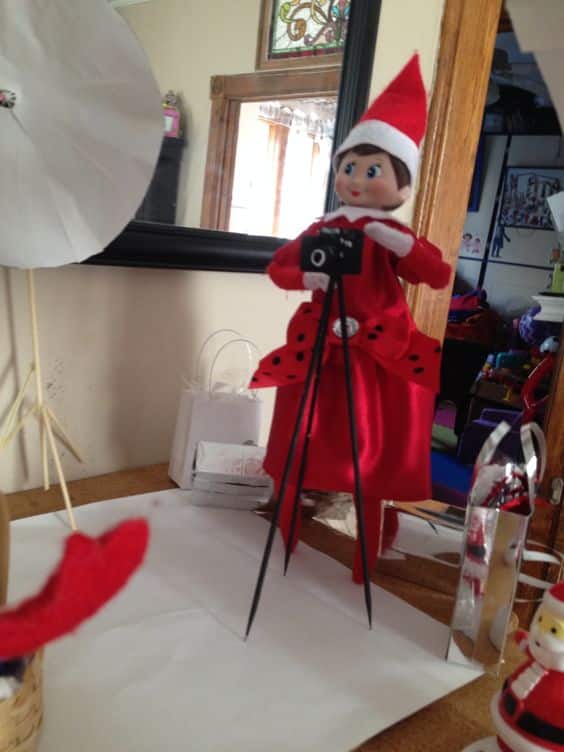 As your Elf evolves into a brilliant movie director extraordinaire, spread out the red carpet. Gather a cast of passionate toy actors and outfit them with a miniature director's chair and megaphone for their upcoming blockbuster "movie scene." Watch as they direct their small "cast" with unrestricted creativity and display an entertaining sense of direction.
3. Elf on a Shelf "Fishing" for Goldfish Crackers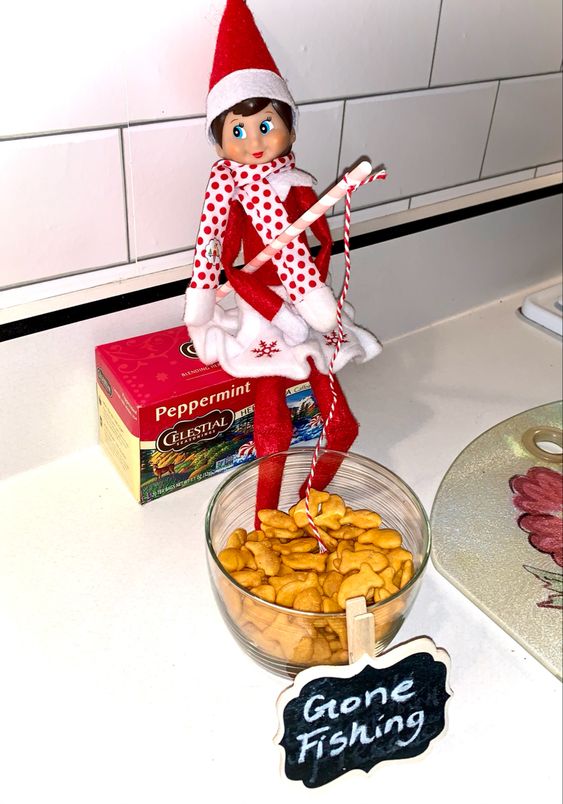 Prepare yourself for a fishing experience unlike any other! Make your Elf a miniature fishing rodout of twine and a paperclip for the hook, then send him "fishing" for tasty goldfish crackers in a tiny bowl of water. It's a hilarious and enjoyable combination that will have everyone laughing out loud.
4. Elf on the Shelf Dresses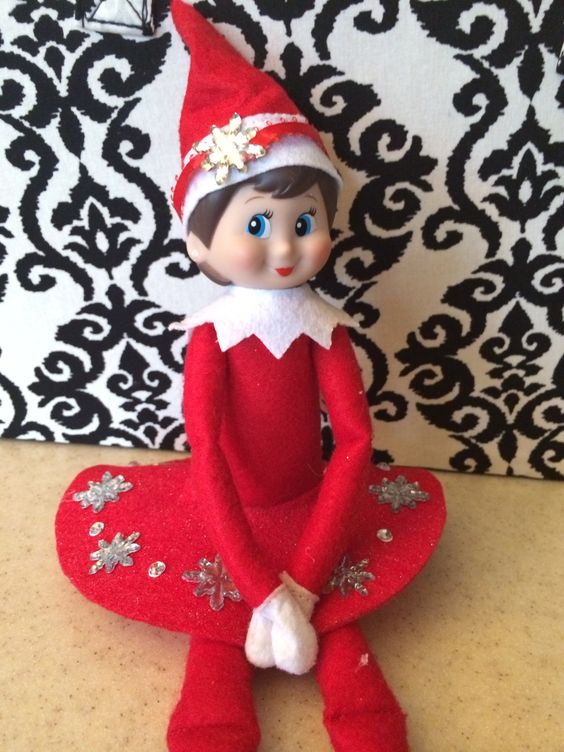 Go on a beautiful fashion adventure and unleash your inner fashionista elf! Raid the doll clothing closet and let your Elf wear various attire, from eccentric costumes to elegant gowns. Their dress-up antics will undoubtedly make people grin, leaving the entire family in awe of their incredible style.
5. The Late Night Snack On The Shelf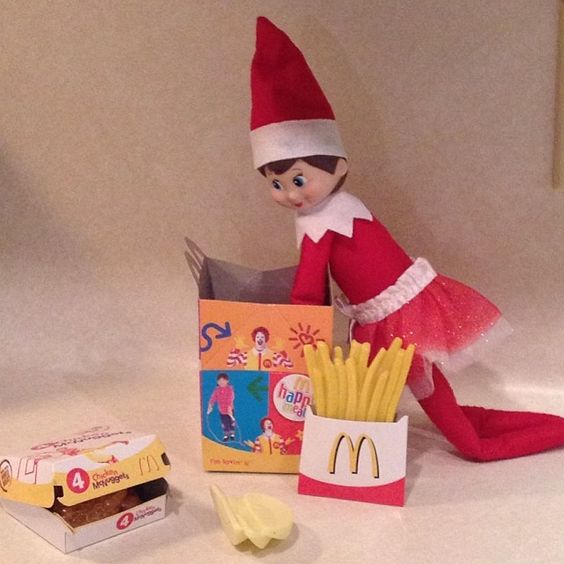 They were caught indulging while unaware of it! Create a little kitchen for the scene and surround your Elf with candy wrappers to make it look like they went on a late-night snacking binge. Everyone will laugh at their guilty expression and wonder what other mischief they have been up to.
6. The Toilet Paper Shenanigans of Elf on a Shelf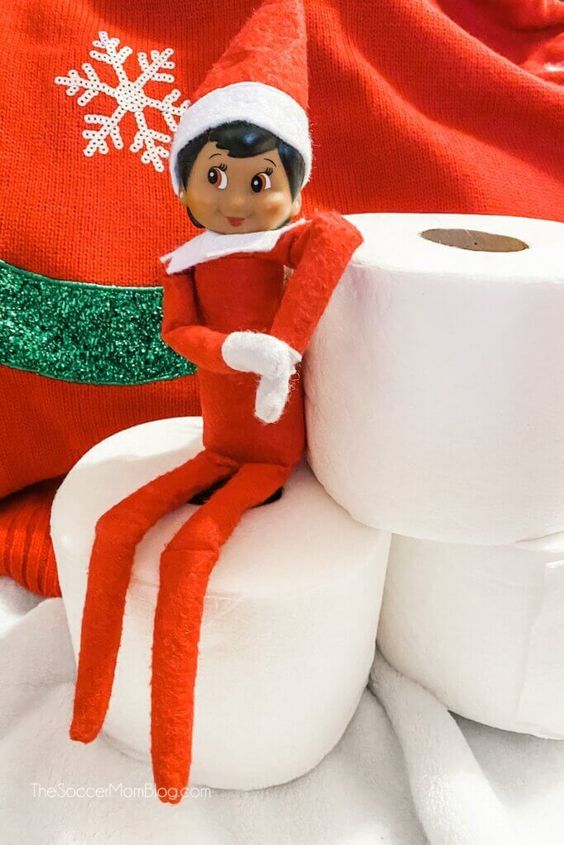 Fun with toilet paper at its best! If you wrap them in a toilet paper roll, your elf will become a hilarious mummy elf. Everyone will be amazed at your devious little friend's cunningness as they chuckle at this adorable trick.
7. The High Flying Adventure of Elf on a Shelf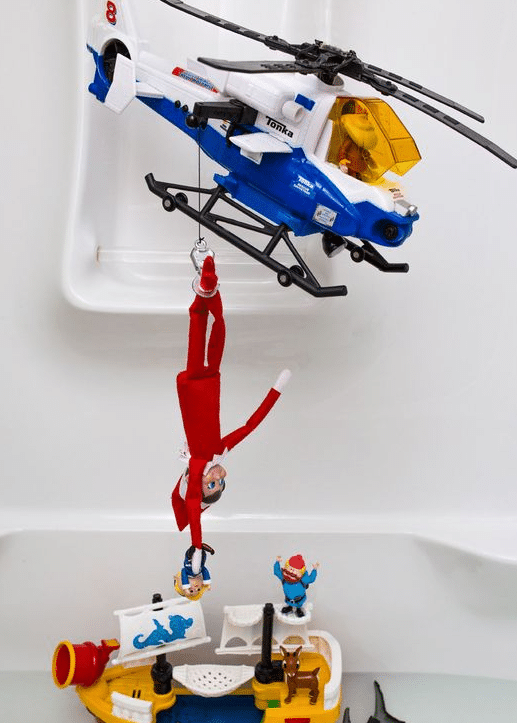 You're about to be in awe of your elf's aerial tricks! Make a magical illusion of your elf flying through the air or zip-lining from one corner of the room to the other using a fishing line or thread. The entire family will be amazed and entertained by this aerial display, inspiring laughter.
8. Snowball Battle of the Elf on the Shelf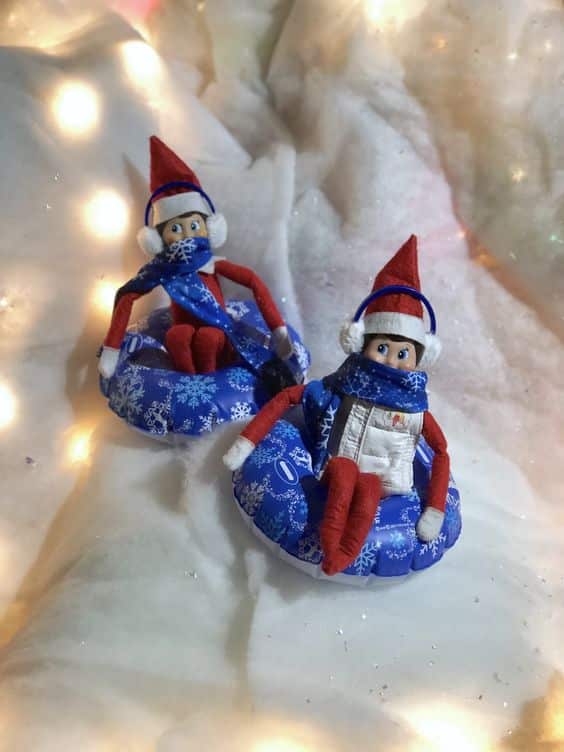 The snowball fight can start immediately! Put your elf in the middle of a snowy battleground you've made with other toys, ready to join the action. Thanks to their exuberant enthusiasm and humorous aim, it will be a snowball spectacle for the ages.
9. The Artistry of Elf on a Shelf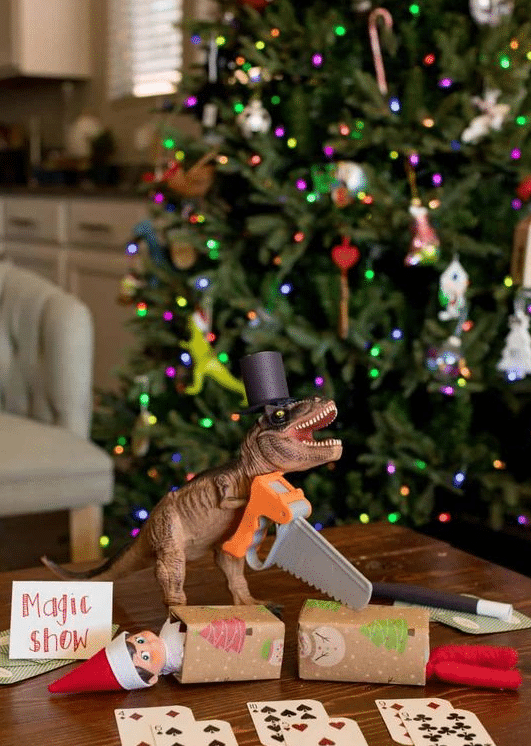 Get ready for some works inspired by elves! Watch as your elf draws a comical doodle on a miniature canvas when you give them some miniature painting supplies, such as a tiny easel and paintbrushes. Everyone will be in awe of their creative abilities seeing their artistic attempts.
10. Banana's Minion Makeover from Elf on a Shelf
Bring your elf into the zany realm of minions wearing blue and yellow clothing and having goofy eyes. Like the lovely tiny sidekicks from cherished movies, they'll be prepared to spread smiles and laughter.
11. The Rock Band of Elf on a Shelf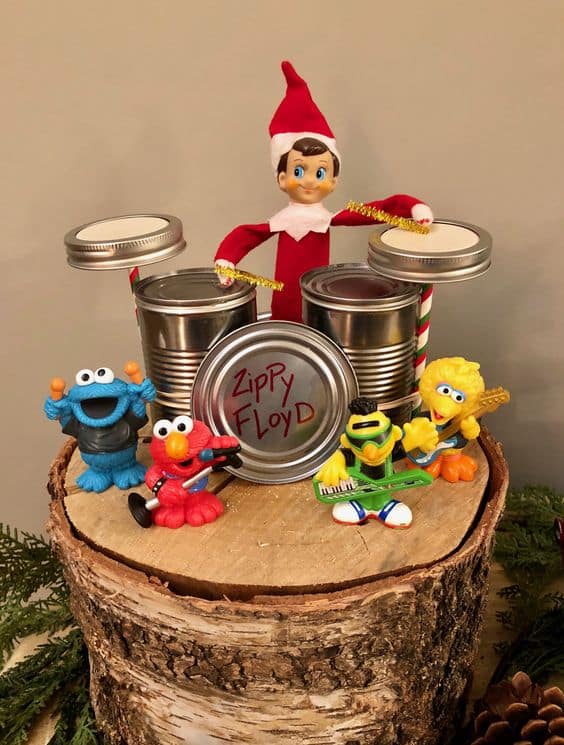 The main singer should be your elf, and it's time to rock and roll! Set up a toy band with musical instruments, and let your elf perform while displaying adorable charm. Everyone will be moved to dance to the sounds of the festive season by their explosive performance, which will be a showstopper.
12. The Ski Adventure of Elf on a Shelf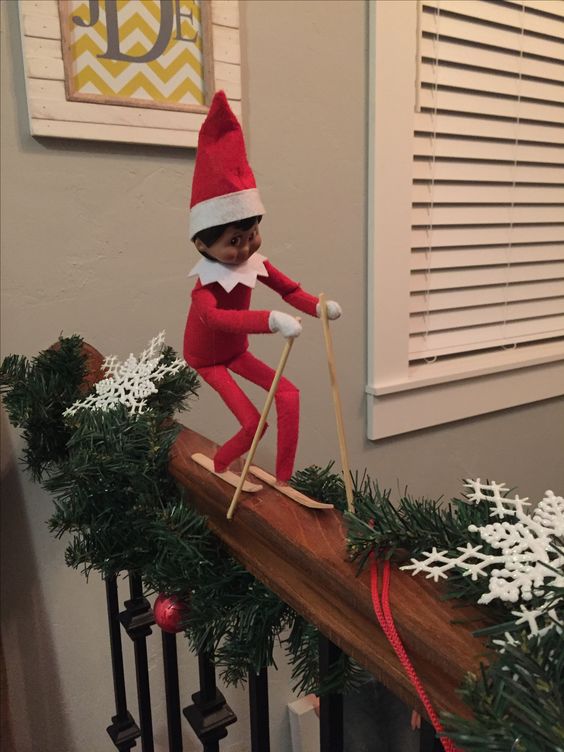 Your elf is prepared to tackle the slopes now that ski season has arrived! Create miniature skis from popsicle sticks, then use a cardboard ramp to create a snow-covered hill. Enjoy seeing your elf go on an exciting ski ride while showcasing their best skiing skills.
13. Spot Where Elf on Shelf Hides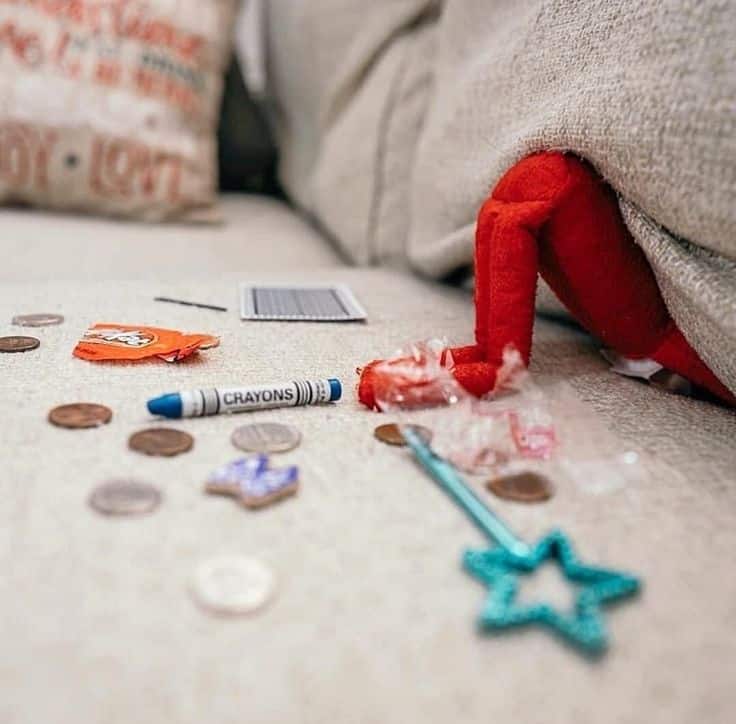 With your elf, play a game of hide and seek! Put your eld in hilarious and unexpected hiding places for the family to discover, such as a cereal box or kitchen cabinet. The search-and-find adventures, intrigue, and humor will keep the holiday excitement high.
14. Bungee Jumping for Elf on a Shelf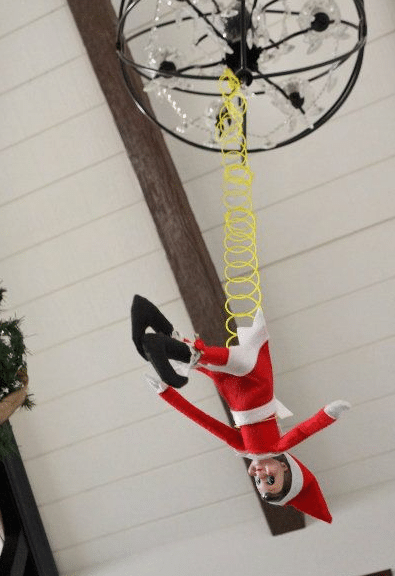 Are you prepared for a thrilling ride? Put a line around the waist of your elf and let them bungee jump from a high shelf. Everyone will be on the edge of their seats during the jump, and the humorous landing will cause laughter to reverberate throughout the entire room.
15. Shopping Spree for Elf on the Shelf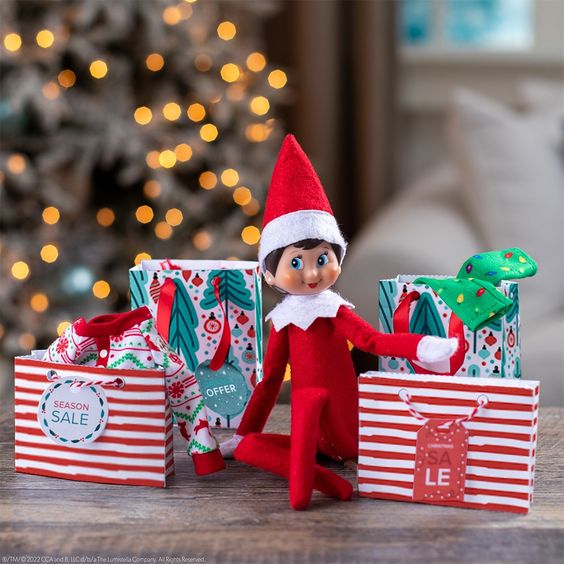 Time to go shopping till you drop! Display a variety of toy items while setting up a miniature shopping scenario. The highlight of their shopping trip will be your elf, who will flaunt their exquisite taste and shopper prowess.
16. Magic Track of the Elf on the Shelf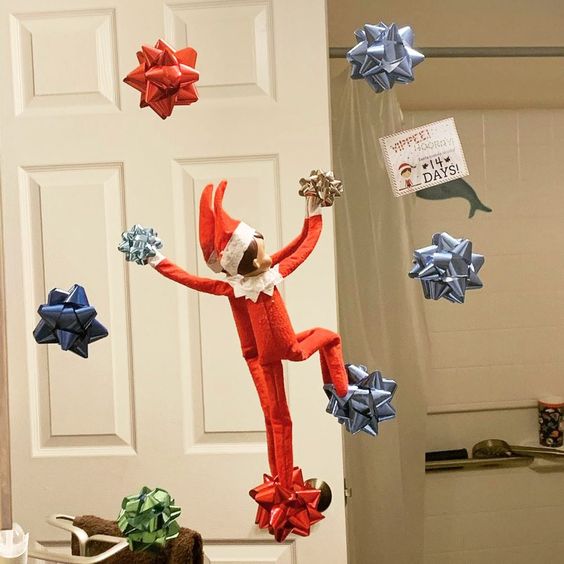 Be ready to be mesmerized by your elf's magical abilities! Make it appear that your elf is putting on a magnificent magical illusion for their toy buddies by placing them in front of a deck of cards. Watch as everyone is astonished and enthralled by the elf's mesmerizing act, and then abracadabra.
17. Pillow Fight From Elf on a Shelf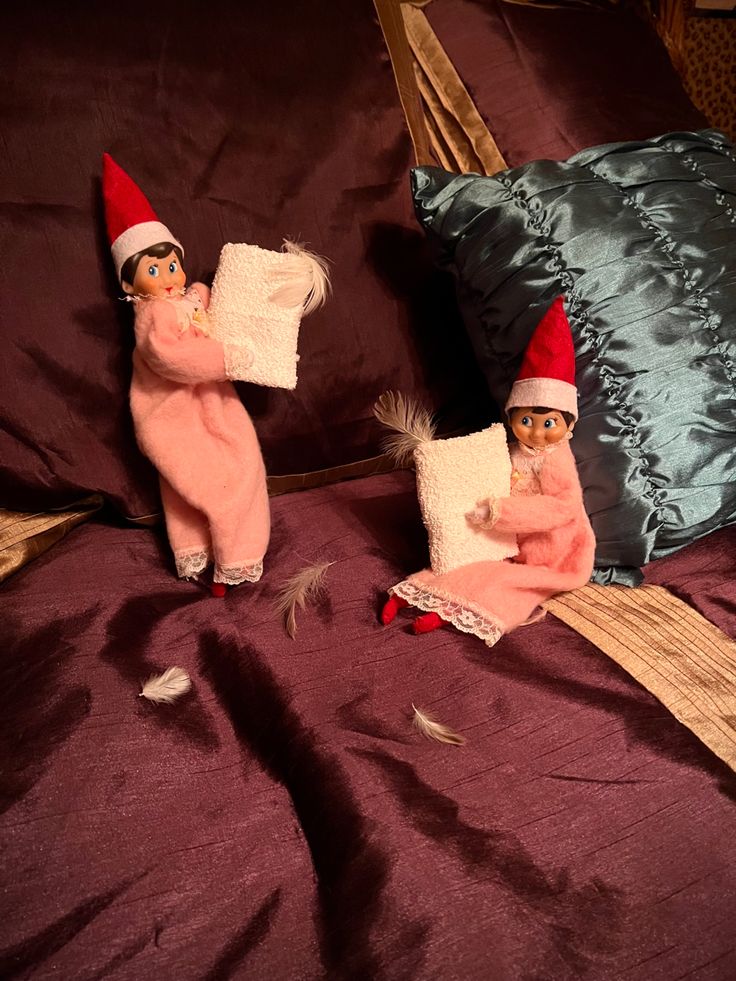 A pillow fight extravaganza is on! Set up a humorous setting where your elf holds a small pillow and appears engaged in a fierce battle with other toys. Their sly smirk will catalyze a hilarious pillow fight.
18. A Toothpaste Mishap with an Elf on a Shelf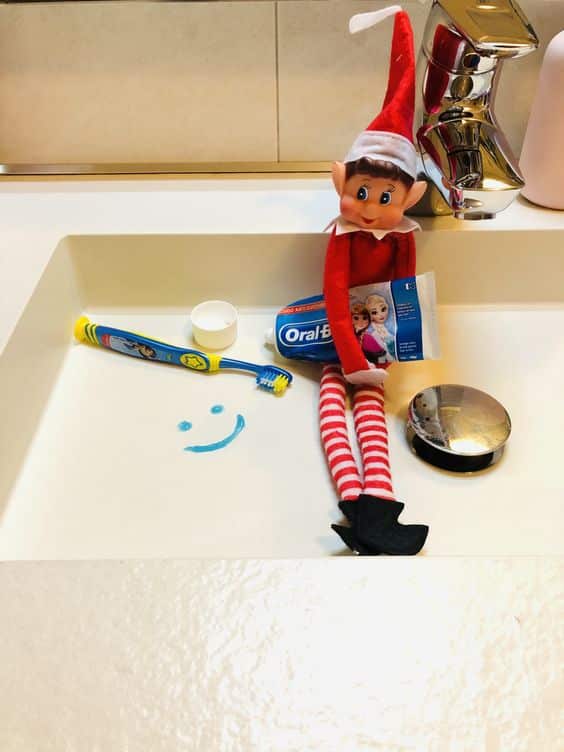 Oh my, a dental emergency! Make it appear that your elf had a humorous toothbrushing disaster by staging a scene with toothpaste all over their mouth and a toothbrush in their palm. Everyone will laugh at this charming scene because of the elf's cute toothpaste mishap.
19. Time for the Gardening Elf on a Shelf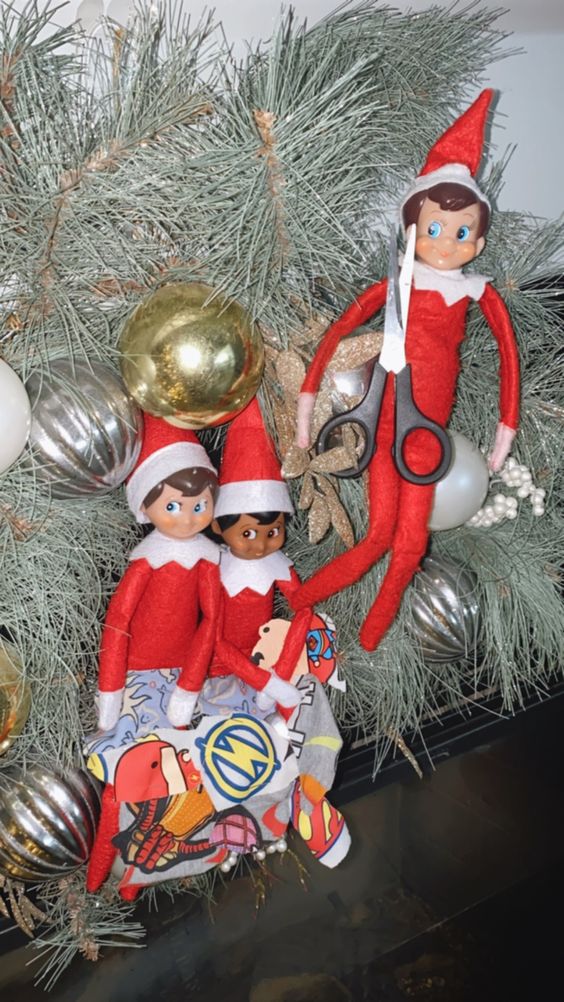 Prepare your green fingers! Give your elf some gardening equipment and a watering container so they may care for their miniature plants with cute zeal. Your elf tending to their miniature garden will make people smile and feel good.
20. Fashion Show for Elf on a Shelf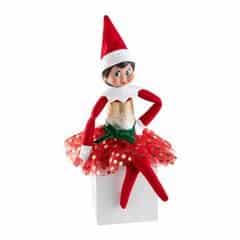 It's time for a fashion spectacular, so strike a pose! Construct a runway with tape and tissue paper where your elf can walk in various stylish attire before an admiring crowd of toys. They'll be the talk of the town thanks to their fashionable outfits.
21. Playing Games with Elf on a Shelf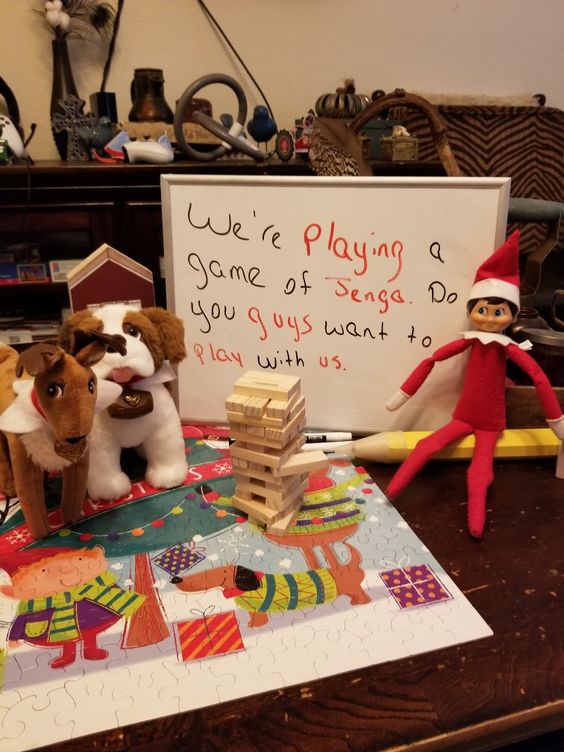 Start the games now! Plan a full-filled game night with additional toys, and let your Elf serve as the charming host. It will be a game night to remember, full of fun and friendly rivalry thanks to their infectious enthusiasm.
22. Band-Aid Mishap with The Elf on The Shelf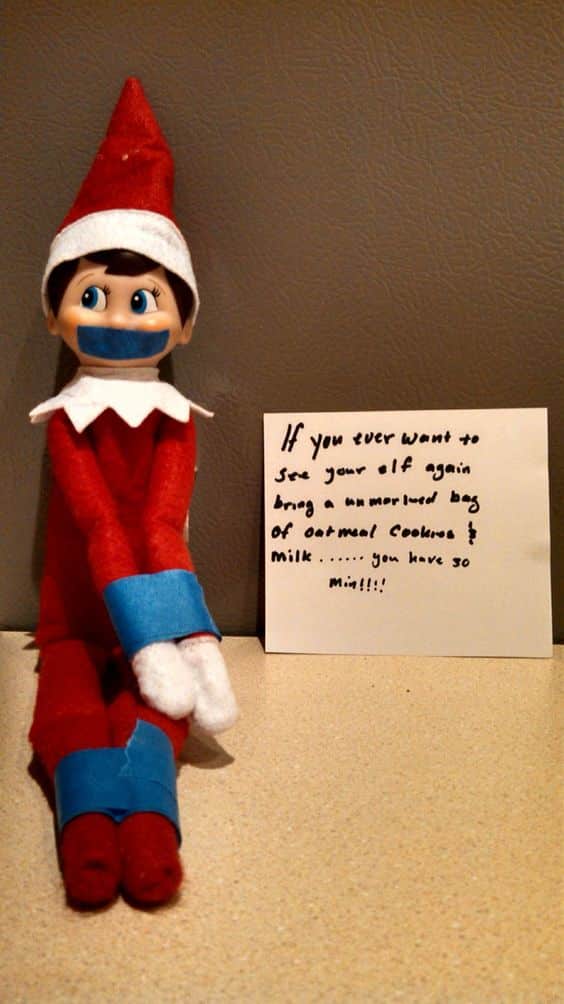 Oh no, you faced an injury! Wrap your Elf in bandages to give the impression that they have suffered a minor injury and require first aid care. Everyone will be drawn to your Elf's cute "injury" and rush to their aid when they see it.
23. Decorating Baking Bonanza with The Elf on The Shelf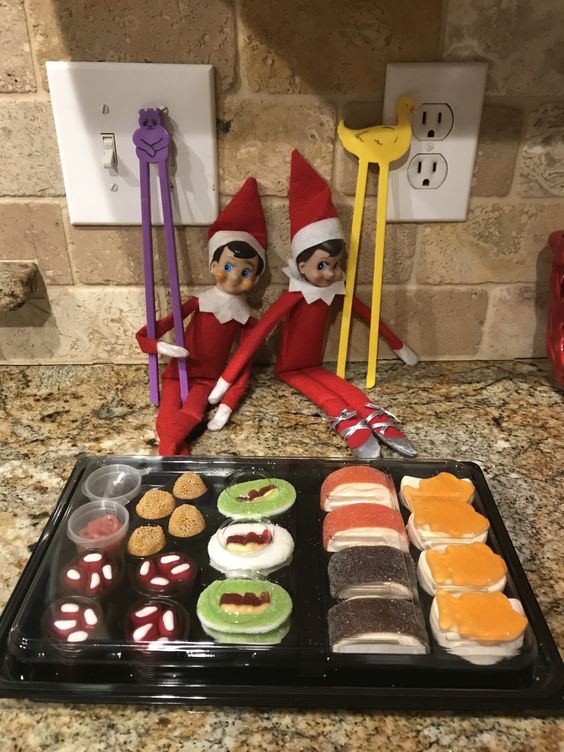 You create a miniature baking station with icing, sprinkles, and cupcakes. Your Elf will become an expert cupcake decorator in a bit, bringing a delightful touch of originality to the festive season.
24. Selfie Time with Elf on The Shelf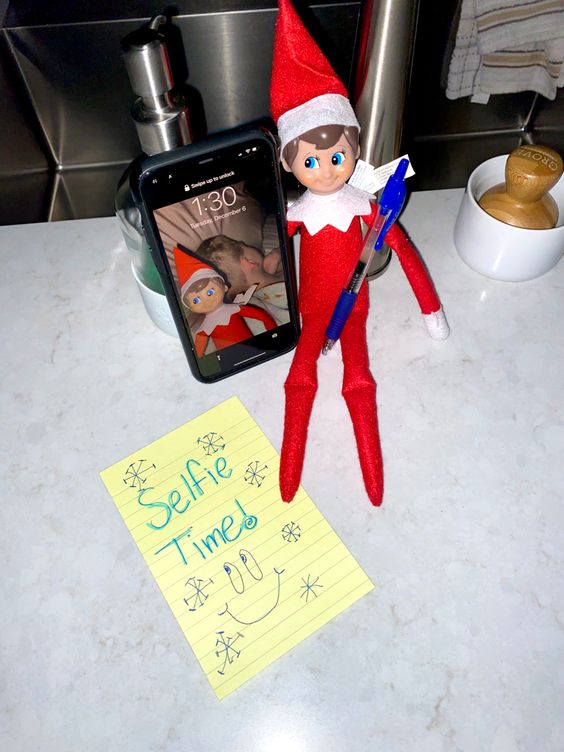 Put a miniature smartphone or toy camera in your Elf's hands and take a selfie with them. Your Elf will surely be a pro at taking humorous selfies that commemorate their Christmas escapades.
25. Hide & Seek with An Elf on a Shelf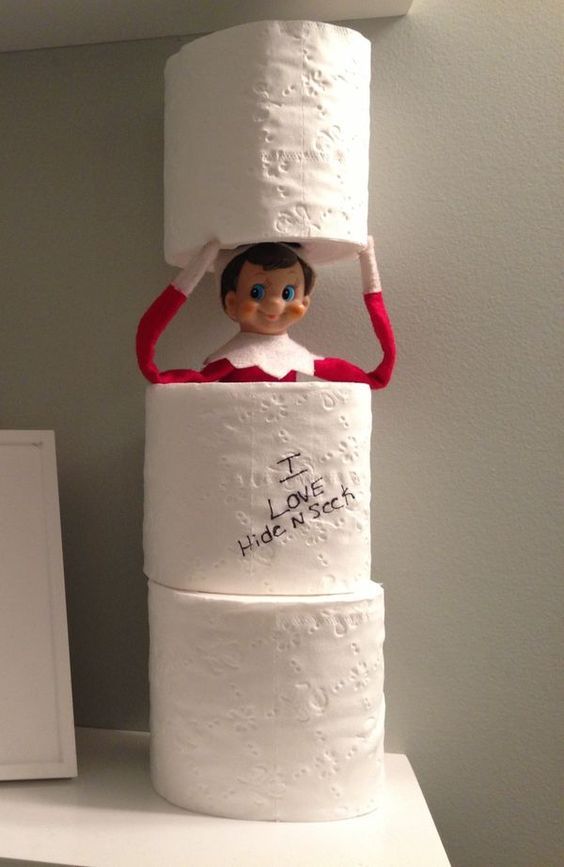 Have some hide-and-seek fun with your Elf. Please leave a note for the kids daring them to discover their cheeky little companion and hide your Elf in an unexpected location. The thrill of the quest will infuse the festive season with a touch of mystery and joy.
26. Time for Tea with Elf on The Shelf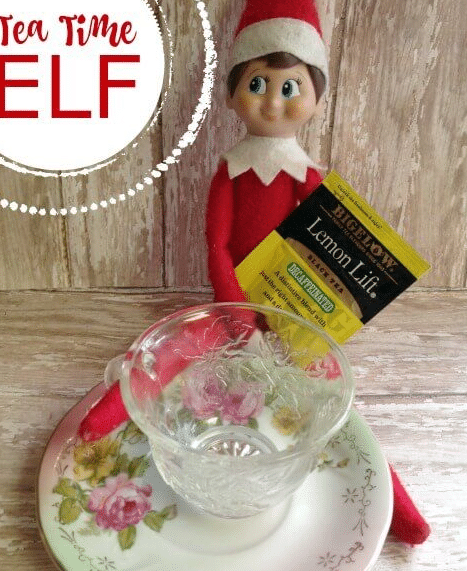 It's time for a tea party! Create a charming tea party setting with your elf seated amid some toy creatures. It's a tea party appropriate for a small guest of honor, complete with tiny cups and saucers. The tea party's elegance and charm will cheer people up and warm their hearts.
27. Snow Globe Trapped Elf on a Shelf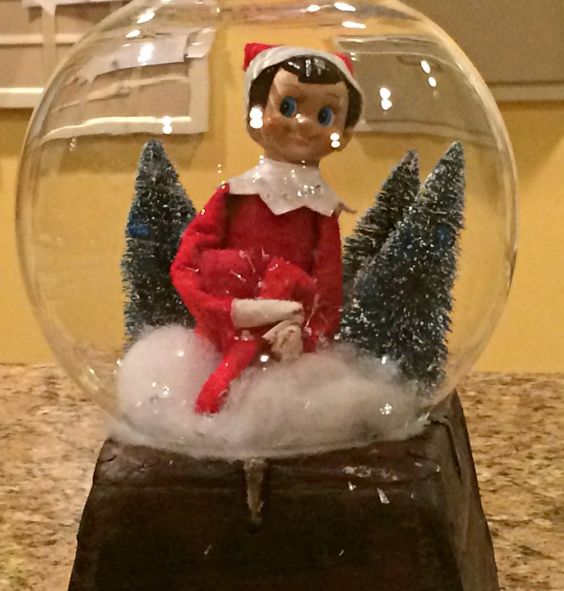 Enter a paradise of winter delight! Place your elf in a clear plastic container filled with snow to create a charming snow globe look. Everyone will be whisked away to a merry and magical land of holiday happiness by the alluring look of your elf amidst a snowy environment.
28. Christmas Cookie Sneak from Elf on a Shelf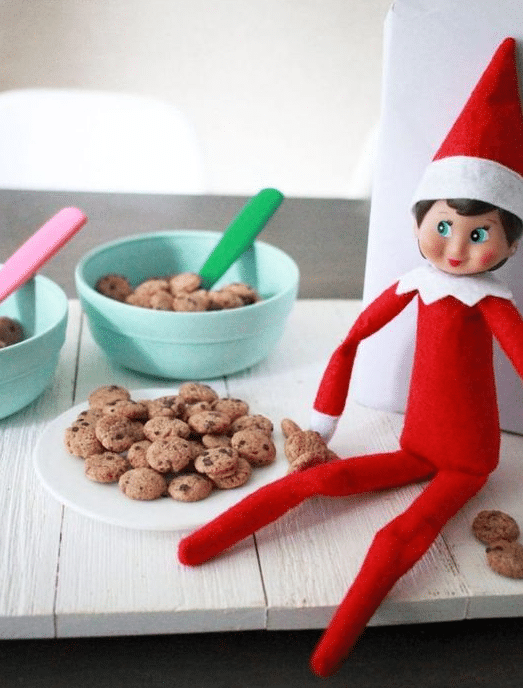 Watch out for cookie thieves! Create a scenario where your elf is apprehended while attempting to steal some just-baked cookies from the kitchen. Thanks to their sweet tooth, they'll become a cookie expert, and everyone will be in stitches over the naughty cookie antics.
29. Elf on a Shelf Selfie Obsession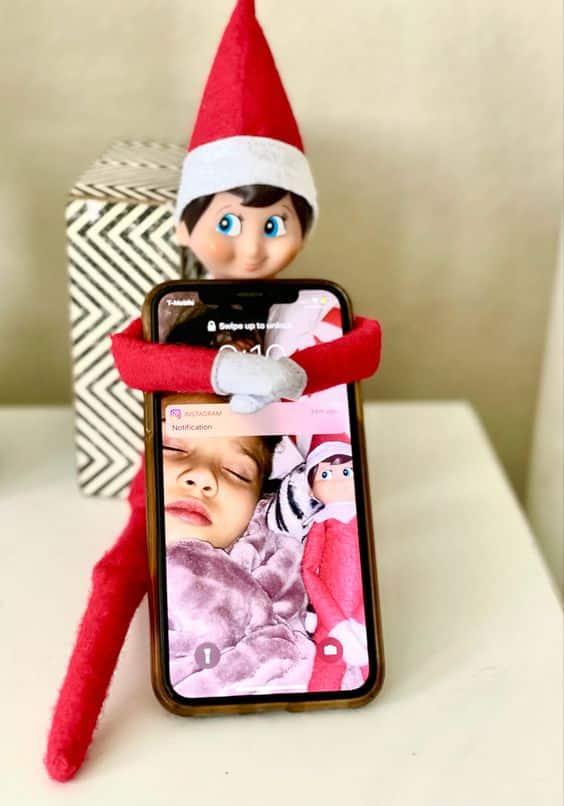 Pose Coz it's selfie time! As though they were fixated on documenting their every action, print up miniature photos of your elf and post them all over the house. With their lovely selfies, this amusing and self-aware elf will go viral on social media, bringing joy and laughter to everyone.
30. Fruit Loop Necklace from Elf on a Shelf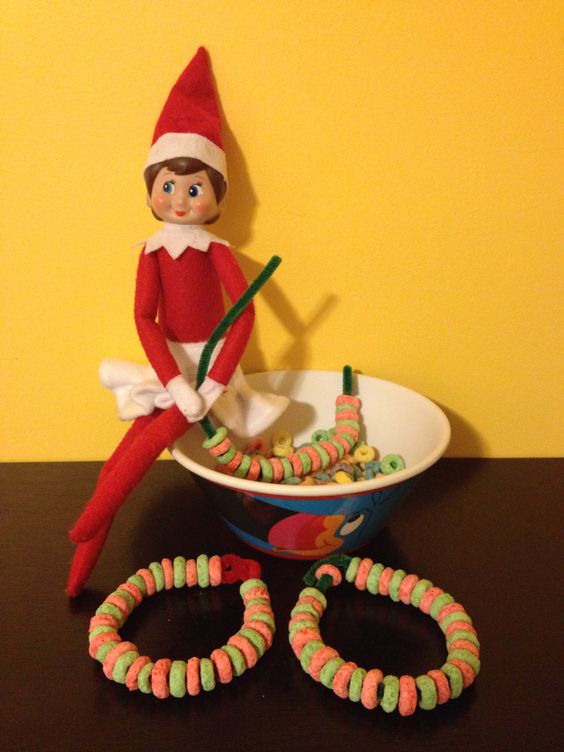 It's time to style your accessories! To build a fun necklace for your elf to wear, string a variety of fruit loop colors together. Thanks to this delectable piece of jewelry, they will become true fashion icons, turning heads and bringing a smile to everyone's faces.
31. Elf on a Shelf's Bubble Bath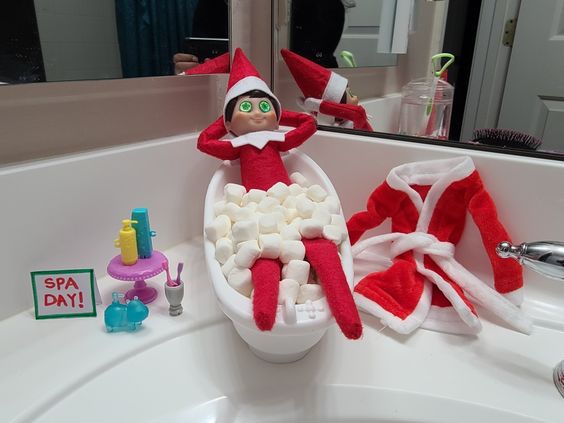 Splash While you are taking a bath! Place your elf inside a tiny dish filled with marshmallows and have them act as though they are taking a sparkling bath. Everyone will laugh at this adorable bubble bath scenario, which perfectly captures the notion of the season.
32. Elf on a Shelf "Gift Wrapping" Extravaganza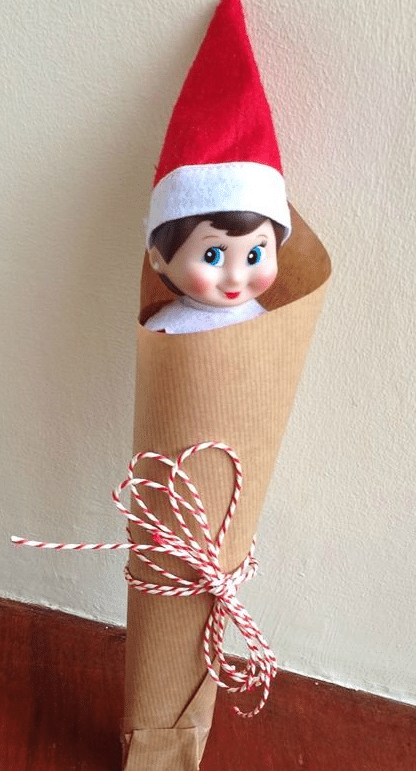 Finish it off with a smile! Even if the results are hilariously sloppy, let your elf try to wrap various items in the house with wrapping paper. Thanks to this wrapping magic, the holiday preparations will be spiced up with lighthearted comedy, making the gift-giving season even more enjoyable.
33. Elf on a Shelf Art Heist Thief Shelf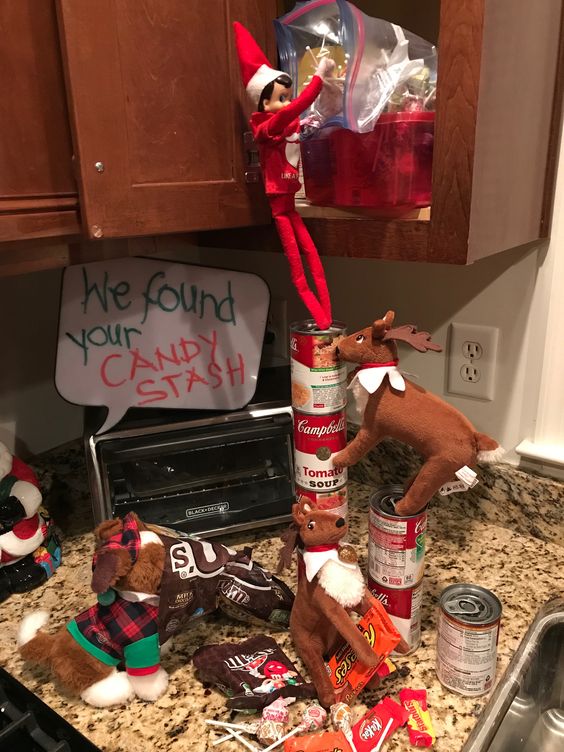 Set up a situation where your elf, decked out in a black mask and holding a tiny sack, is attempting to steal a small toy. The family will be in stitches as they witness the naughty theft and admire the elf's spirit of exploration.
34. Snow Angel from Elf on a Shelf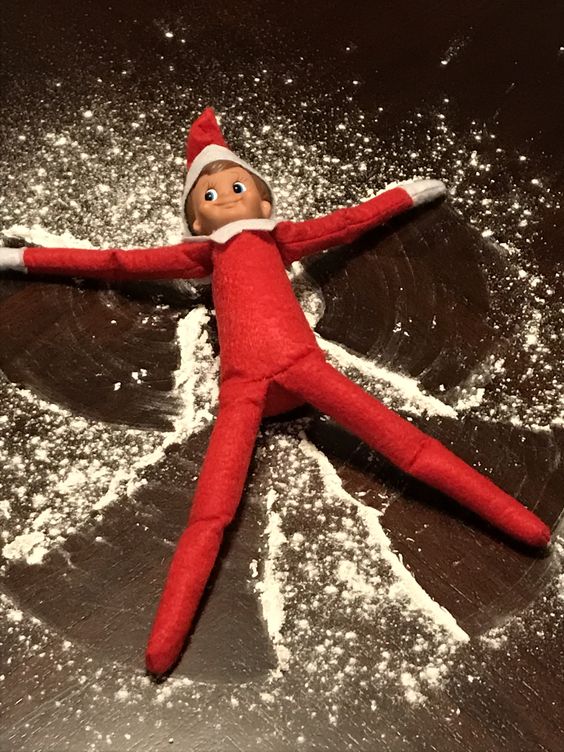 Angels in the snow are fun! Use flour or powdered sugar as the snow for your elf's little snow angel scenario. This lovely sight will serve as the ideal reminder of the holiday season, arousing sentiments of warmth, joy, and togetherness.
35. Elf on a Shelf Exercise Routine
Stay active over the holidays! Put your elf in a yoga stance or in the middle of a jump to demonstrate their dedication to exercise. They'll explain the value of being active even during the hectic Christmas season, motivating everyone to maintain their health and happiness.
Contribution of Elf on the Shelf to the Magic of the Holiday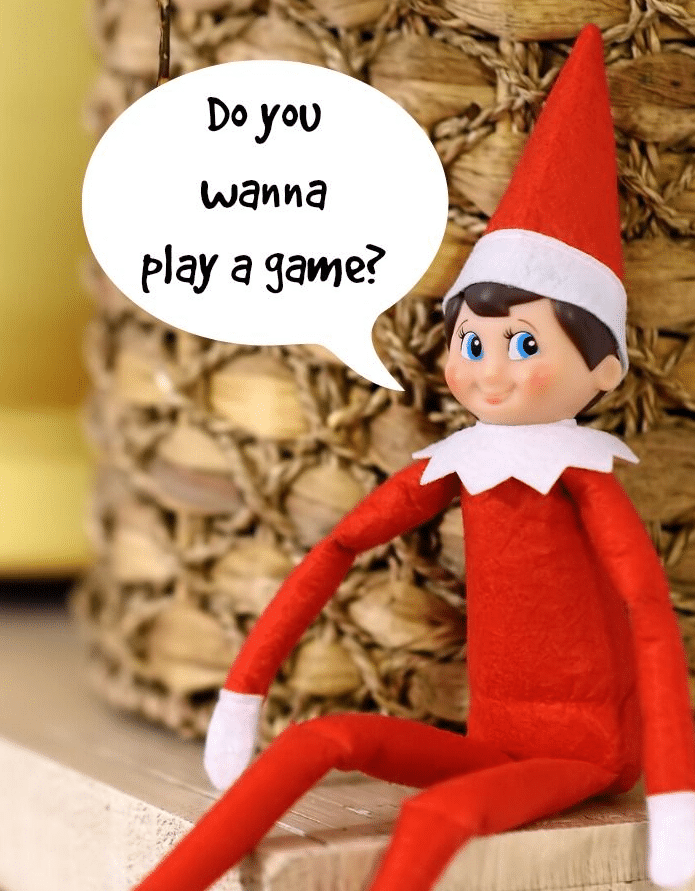 Elves are unnecessary, but because of their capacity to infuse the holiday season with a sense of magic and excitement, they have grown to be a well-liked and adored addition to many families Christmas traditions.
The idea of elves, especially the Elf on the Shelf, has become very popular for several reasons.
1. Encouraging Good Behaviour
The Elf on the Shelf tradition frequently involves the entire family planning and enjoying the Elf's excursions, strengthening family ties. It becomes a shared activity that encourages closeness among family members and brings everyone together playfully.
2. Promoting Nice Behaviour
The Elf on the Shelf custom presents a fun strategy for encouraging kids to act appropriately over the holiday season. The thought that the Elf informs Santa every night can motivate children to behave well and provide a new level of excitement and anticipation to the days leading up to Christmas.
3. Holiday Traditions
Many families value the idea of developing unique holiday customs, and including an elf in Christmas celebrations is one such custom for many families. For kids and parents, anticipating the Elf's daily exploits can become a priceless memory.
4. Maintaining the Spirit
The romance of the holidays and faith in Santa Claus may fade as kids age. For adults and older children, the Elf on the Shelf custom helps preserve the Christmas spirit and sense of wonder.
5. Spreading Happiness
The Elf's naughty and humorous actions make the house happy and full of laughter. Children find them amusing and exciting, and they may create even the most tedious jobs into joyful surprises.
Ultimately, it's up to you whether or not to include the Elf in your holiday festivities. Families have various options for making the holiday season unique and memorable, including The Elf on the Shelf. The most crucial thing is to establish rituals and experiences that will enrich your family's time togetherness and joy during this particular season.
Tips to Compliment the Above Elf on The Shelf Ideas
1. Make a Plan
Spend some time coming up with the Elf on the Shelf ideas before the Christmas season starts. List humorous and imaginative situations you can build up every night. Making preparations in advance will save you time and guarantee that the travels of your Elf will be enjoyable the entire season.
2. Retain It Age Appropriate
When arranging the Elf's adventures, consider your kid's ages and sensitivities. Ensure the scenarios are amusing, enjoyable, and suitable for the entire family.
3. Always Involve the Family
Participate in enjoying the Elf on the Shelf with your entire family. Encourage each family member to think of their suggestions for the Elf's antics. Thanks to this team effort, the ritual will become even more unique and delightful for everyone.
4. Consider Including Educational Themes
Use the Elf on the Shelf custom as a springboard to discuss moral or educational principles. By having the Elf take part in actions that reflect these qualities, you can construct scenarios that encourage generosity, sharing or the enjoyment of reading.
5. Keep the Moments
Record the Elf's everyday adventure with photos or movies for enduring memories. To bring holiday cheer, you can put them together in a fun holiday album or send them to loved ones.
Remember that the joy and fun your family experiences from Elf on the Shelf matters most. Take advantage of the magical and enjoyable times you have with your mischievous Elf, and let the tradition help build priceless memories that your kids will love for years.
Conclusion
All in all, humor and creativity are limitless in the enhanced realm of Elf on the Shelf. These 35 humorous Elf on the Shelf suggestions have provided a peek into the realm of festive mischief that these cute little elves bring to our homes over the holiday season.
Therefore as the Christmas season draws near, embrace the spirit of inventiveness and playfulness that Elf on the Shelf represents. Let these funny and charming ideas inspire your imaginative stories where your favorite Elf appears as the endearing and funny start to show.
As you begin this endearing tradition, remember that the beauty of Elf on the Shelf rests not only in the delight it offers but also in the joy of spending time with loved ones and cherishing the priceless moments that make this holiday season unique.
May the naughty Elf on the Shelf bring love, fun, and lasting pleasure into your household.
Frequently Asked Questions
What is Elf on The Shelf?
A little elf doll that makes house visits over the holiday season is the subject of the well-known Christmas tradition called "Elf on the Shelf." Each night, the Elf magically moves to a different location by the morning after engaging in fun and naughty actions all over the house. The concept is that the Elf is informing Santa about the Children's behavior and advising him to treat them nicely in the run-up to Christmas.
What Should I Tell My Family About Elf on The Shelf?
Starting the Christmas season off with Elf on the Shelf is a fun idea. The Elf might be welcomed into your home as a unique visitor from the North Pole who is coming to bring cheer and report back to Santa. To explain the custom and prepare your kids for the arrival of their Elf, you could read the accompanying Elf on the Shelf book to them.
What Time Should I Begin the Elf on The Shelf Custom?
Beginning on December 1st, the Elf on the Shelf custom usually lasts until Christmas Eve. However, you can modify the business to accommodate your family's preferences and schedule. Depending on their holiday plans, some families prefer to start a few days into December, while others pick a shorter or longer time.
What if I Forget to Move the Elf on The Shelf One Night?
It happens to the best of us, so don't worry! It's okay if you forget to move the Elf one night. State to your kids that the Elf must have been so worn out from all the excitement from the previous night that they required a little additional snooze. The following night, be careful to relocate the Elf to a new location.
Do You Allow for Original Elf on The Shelf Ideas?
Absolutely! Elf on the Shelf is fun because it encourages creativity. Please feel free to create original and hysterical humorous Elf on the Shelf ideas that fit your family's hobbies and sense of humor. The options are unlimited, and your Elf's mischief could be a priceless part of your family's Christmas Customs.