Are you looking for a list of things to do when bored kids? Kids get bored of doing the same things over and over again. It becomes problematic when they shift to digital games solely as a source of entertainment and become couch potatoes. Parents have to find creative ways to keep their kids entertained. There is no end to ideas regarding keeping a kid entertained.
Parents can touch on different aspects of creativity to avoid the boredom of their children. Variations of painting, outdoor adventure, indoor crafts, cooking, etc. can be done to keep children engaged.
The following list has been carefully curated to give you enough options to entertain your kid.
Things to Do When Bored for Kids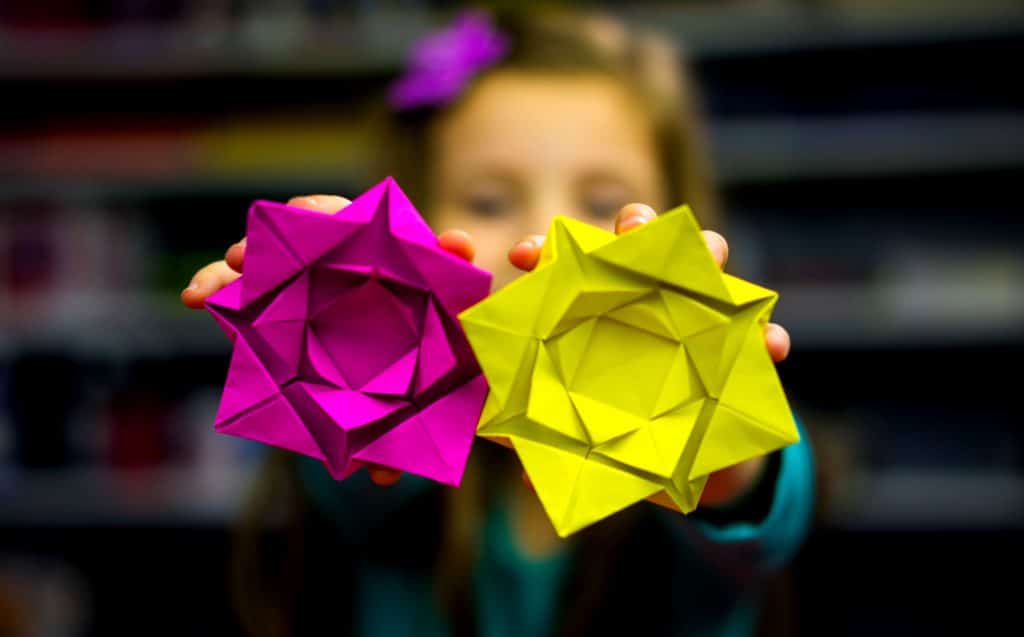 OrigamiCreations: Learn origami and create paper animals and shapes.
Outdoor Scavenger Hunt: List items to find in your yard or nearby park.
DIY Slime: Create your slime with glue, baking soda, and contact solution.
Puzzle Solving: Work on jigsaw puzzles.
Nature Art: Collect leaves and twigs and create nature-inspired art.
Rock Painting: Paint and decorate rocks.
Gardening: Plant flowers or vegetables in small pots.
Shadow Puppets: Use a flashlight to create shadow puppets on the wall.
Homemade Playdough: Use flour, salt, water, and food coloring.
Marble Run: Create a marble run using cardboard tubes and boxes.
Bike Ride: Go for a bike ride around the neighborhood or park.
Lego Challenge: Build something unique with Lego bricks.
Reading Time: Read a book or a comic.
Cooking: Help make a simple recipe in the kitchen.
Board Games: Play board games with family or friends.
Yoga: Try kid-friendly yoga poses.
Drawing Contest: Have a drawing contest with friends or siblings.
Treasure Map: Create a treasure map and go on a treasure hunt.
Balloon Volleyball: Play volleyball indoors using balloons.
Bubble Blowing: Make and blow bubbles.
Potato Sack Race: Have a potato sack race in the yard.
Magic Tricks: Learn and perform simple magic tricks.
Kite Flying: Fly a kite in an open field.
Bird Watching: Spot and identify different birds.
Face Painting: Paint faces with washable paints.
Dance Party: Have a dance party in the living room.
Sock Puppets: Make and play with sock puppets.
Hopscotch: Play hopscotch outside.
Tie-Dye Shirts: Create your tie-dye shirts.
Museum Visit: Visit a local museum.
DIY Bracelets: Make friendship bracelets.
Obstacle Course: Set up an obstacle course in the yard.
Astronomy Night: Learn about constellations and stargaze.
Memory Game: Play the memory card game.
Bowling at Home: Set up a bowling alley using plastic bottles and a ball.
Animal Safari: Go to a zoo or create a pretend safari at home.
Sudoku Puzzles: Solve kid-friendly Sudoku puzzles.
Camping in the Backyard: Set up a tent and camp in the backyard.
Skating: Go roller skating or skateboarding.
JokeTelling: Learn and tell jokes.
Pantomime: Play charades with family or friends.
Nature Hike: Go on a nature hike and explore trails.
Photography: Take pictures of interesting things around you.
Finger Painting: Create art using finger paints.
Fish Watching: Visit an aquarium or set up a fish tank at home.
Cartoon Drawing: Learn to draw cartoons.
Singing: Have a karaoke session.
Sand Art: Create art with colored sand.
DIY Bird Feeder: Make a bird feeder and watch birds come to feed.
Baking Cookies: Bake cookies with a guardian.
Indoor Fort Building: Build a fort using blankets and cushions.
Juggling: Learn the basics of juggling.
Fishing: Go fishing at a nearby pond or stream.
Mini Golf: Play mini-golf indoors or outdoors.
Cloud Watching: Lie on the grass and watch the clouds.
Story Writing: Write a short story or a poem.
Science Experiments: Conduct simple science experiments at home.
Math Games: Play math-related games.
Musical Instruments: Learn to play a musical instrument.
Recycling Craft: Make crafts using recycled materials.
Hide and Seek: Play hide and seek indoors or outdoors.
Paper Mache: Create paper mache sculptures.
Puppet Show: Put on a puppet show for family or friends.
Play Dress Up: Dress up in costumes and put on a play.
Herb Garden: Start a small herb garden in the kitchen.
Beading: Make jewelry using beads.
Picnic: Have a picnic in your yard or living room.
Maze Drawing: Draw and solve mazes.
Window Art: Use washable markers to draw on windows.
Yarn Crafts: Create crafts using yarn.
Hula Hooping: Have a hula hoop contest.
Spelling Bee: Organize a spelling bee with your family.
Homemade Ice Cream: Make ice cream at home.
Sidewalk Chalk: Draw pictures and write messages on the pavement.
Crayon Art: Melt crayons to create art.
Magnetic Letters: Use magnetic letters to form words on the fridge.
Playdough Sculptures: Create sculptures using playdough.
Zoo Visit: Spend a day at the zoo.
Fitness Challenge: Create a fitness challenge and compete.
Balloon Animals: Learn to make balloon animals.
Aquarium Visit: Spend a day at an aquarium.
Basketball: Play basketball in the driveway or at a park.
Pine Cone Crafts: Collect pine cones and make crafts.
Cooking Class: Take a cooking class for kids.
Book Club: Start a book club with friends.
Tea Party: Host a tea party with stuffed animals.
Diorama: Create a diorama of a scene from a book or movie.
Friendship Cards: Make friendship cards and give them to friends.
Dominoes: Set up and knock down dominoes.
Coloring Books: Spend time coloring in coloring books.
Memory Jar: Create a memory jar with notes and trinkets.
Plant Pressing: Press flowers or leaves in a book.
Scratch Art: Create art using scratch paper.
Snow Globe Making: Make a homemade snow globe.
Tambourine Making: Create a homemade tambourine.
Frisbee Golf: Set up a frisbee golf course in the yard.
Bug Catching: Catch and release bugs in the yard.
Trivia Game: Play trivia games based on interests.
Animation: Try basic animation using apps or software.
Swimming: Go swimming at a local pool or beach.

Pet Care: Learn about and help take care of a pet.
Weather Station: Set up a homemade weather station.
Jump Rope: Have a jump rope contest.
Pizza Making: Make homemade pizzas.
Choreography: Create a dance routine.
Handprint Art: Make art using handprints.
Science Museum: Visit a science museum.
Glow Stick Party: Have a party with glow sticks.
Model Cars: Build and paint model cars.
Water Balloon Fight: Have a water balloon fight.
Vision Boards: Create vision boards with magazines.
Comic Book Making: Create your comic book.
Miniature Fairy Garden: Make a miniature fairy garden.
Time Capsule: Create a time capsule to open in the future.
Fossil Hunting: Go fossil hunting at a nearby site.
Bow and Arrow Crafting: Craft a simple bow and arrow from sticks.
Solar System Model: Make a model of the solar system.
Candle Making: Learn the basics of candle making.
Sticker Art: Create art using stickers.
Film Watching: Watch family-friendly movies or documentaries.
Learning Magic: Learn and perform simple magic tricks.
Playing Cards Castle: Build a castle using playing cards.
Online Learning Games: Play educational games online.
Volunteering: Volunteer at a local community center or animal shelter.
Clay Modeling: Model figures or objects using clay.
Sports Practice: Practice a sport like soccer, tennis, or baseball.
Botanical Garden Visit: Visit a local botanical garden.
Build a Maze: Build a maze using cardboard.
Write a Song: Write lyrics and compose a simple song.
Plastic Bottle Crafts: Reuse plastic bottles for various crafts.
Library Visit: Spend time reading at the local library.
Ice Cube Painting: Paint with colored ice cubes.
Carnival Games: Set up carnival games in the yard.
Outdoor Movie Night: Set up an outdoor movie screening.
Play Podcast Host: Create a pretend podcast and record episodes.
Sensory Bins: Explore sensory bins with different textures.
Historical Site Visit: Visit a local historical site or monument.
Puzzle Making: Create your puzzles by drawing and cutting.
Capoeira: Try the basics of the Brazilian martial art Capoeira.
Sprinkler Fun: Run through the sprinklers.
Sea Shell Collecting: Collect sea shells at the beach.
DIY Lava Lamp: Make a homemade lava lamp.
Basket Weaving: Try simple basket weaving techniques.
Visit a Farm: Spend a day at a local farm.
Dinosaur Digging: Bury toy dinosaurs in the sandbox and excavate them.
Magic Carpet Ride: Use a blanket as a "magic carpet" and imagine a journey.
Digital Art: Experiment with digital drawing and painting.
Rube Goldberg Machine: Create a complex machine to perform a simple task.
Bottle Rocket Launch: Launch a homemade bottle rocket.
Escape Room Challenge: Create a DIY escape room challenge at home.
Kaleidoscope Making: Craft a simple kaleidoscope using mirrors and beads.
Virtual Zoo Tour: Explore a zoo virtually online.
Leaf Rubbing Art: Use leaves and crayons for leaf-rubbing art projects.
Aerial Kite Photography: Attach a camera to a kite and capture aerial photos.
Seesaw Building: With supervision, build a simple seesaw in the backyard.
Paper Plane Competition: Design different paper planes and compete for distance or accuracy.
Constellation Projector: Craft a DIY constellation projector using a cardboard box.
Tin Can Stilts: Create stilts using large tin cans and strings.
Wearable Art: Design and create wearable art from recycled materials.
Spy Games: Develop secret codes and disguises and go on spy missions.
Microscopic Exploration: Explore the microscopic world with a beginner's microscope.
Glow in the Dark Bowling: Set up a bowling alley using glow sticks and plastic bottles.
Letter Writing: Write letters to friends, family, or pen pals.
Insect Hotel: Build a small insect hotel for the garden.
Circuit Creations: Learn about circuits and create simple electronic projects.
Periscope Building: Craft a periscope using mirrors and a cardboard box.
Go Karting: Visit a go-kart track and race against friends.
Mural Painting: Paint a mural on large paper or a designated wall.
Themed Dinner Night: Help organize and cook for a themed dinner at home.
Sensory Walk: Walk barefoot on different textures and describe the sensation.
Cardboard Castle: Build a large castle using cardboard boxes.
Morse Code Messages: Learn Morse Code and send messages to friends.
Recycled Orchestra: Create musical instruments from recycled materials.
Penny Boat Challenge: Build a boat out of foil and see how many pennies it can hold.
Pasta Art: Use pasta to create artwork and jewelry.
Family Tree Research: Research and create a family tree.
DIY Wind Chimes: Create wind chimes using different materials.
Watercolor Experimentation: Experiment with watercolor painting techniques.
Soap Carving: Carve shapes and figures out of soap bars.
Crayon Lip Balm: Create lip balm using crayons and coconut oil.
Homemade Popsicles: Make popsicles with fruit juice.
String Art: Create geometric designs using string and nails.
Edible Playdough: Make and play with edible playdough.
Language Learning: Start learning a new language.
Egg Carton Crafts: Use egg cartons for various crafting projects.
Paper Bead Making: Make beads from rolled paper and create jewelry.
Lawn Twister: Play Twister game on the lawn using spray paint.
Salt Dough Ornaments: Make ornaments or figures using salt dough.
Felt Storyboard: Create a felt storyboard and characters.
Pet Rock Adoption: Paint and adopt pet rocks.
Water Gun Painting: Use water guns filled with paint to create art.
Cave Painting: Draw cave-like paintings under a table using chalk.
Wind Sock Crafting: Craft a colorful wind sock for the garden.
Paper Bag Puppets: Create puppets using paper bags.
Solar Oven S'mores: Make s'mores using a homemade solar oven.
Straw Maze: Create a maze using straws and a shoebox lid.
Coffee Filter Art: Use coffee filters and markers for chromatography art.
Pipe Cleaner Sculptures: Sculpt figures using pipe cleaners.
Marble Painting: Use marbles and paint to create abstract art.
Toothpick Structures: Build structures using toothpicks and marshmallows.
Summing It Up
Even if you have enough ideas of your own to keep a kid engaged, you will run short of ideas someday. The list above has various ideas and caters to children with different interests. Whether your children enjoy cooking or outdoor adventures, whether they have an artistic mind or scientific approach, the list promises something for everyone.
The ideas have been meticulously designed to stir creativity, expand imagination, and ignite intriguing and exploring abilities in children of different ages.
Dive into the plethora of ideas, and watch your child discover a new-found passion for various activities. These activities will be a learning experience for your kid, and these will add fun to their lives.