Are you preparing your older child for your new baby's birth? Nothing can do better than a thoughtful big sister gift and some TLC. Giving gifts to the older child during the younger sibling's birth is not new. It helps to keep them calm and feel they are important too. A big brother or sister gift can make the transition more smooth and fun for the older kid. It will help you involve them in the new baby's birth preparation.
But what could be the definition of a big sister gift? Well, a perfect big sister gift with them to see the positive and fun changes waiting ahead and make the process super exciting for your kiddo.
Still confused about good big sister gifts? Keep reading; here, we will discuss 30 amazing big sister gift ideas to try in 2023.
Why is the Importance of Big Sister Gifts?
The tradition of giving big brother/ big sister gifts to the older child is decades old. Also, it has a strong significance to the older siblings' lives. Do not forget welcoming a second child is not only a big step in your life but also a decision that changes the entire world for your older child. They can feel stressed, anxious, or low. Only you can help them through the process.
Giving a gift that celebrates the journey of a big sister is a great way to prepare your kid for the big role waiting for them.
Top Big Sister Gift Ideas of 2023
When it comes to choosing a suitable big sister gift for your little princess, it can be hard to decide. Not all kids are the same, and so are their choices. You must consider their likings and preferences to pick the right personalized gift for them.
Here are the 30 best big sister gifts that you can try to surprise your little girl.
1. Customized T-Shirt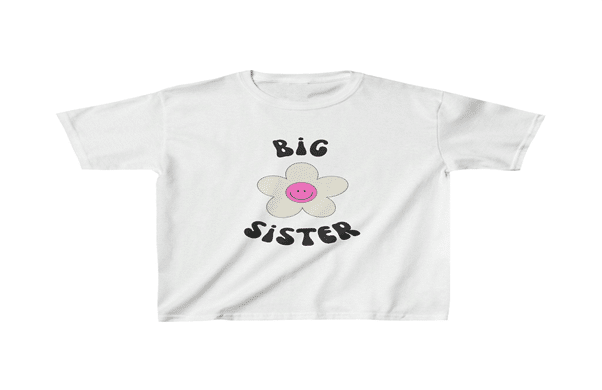 Gifting a customized t-shirt to the new big sister is one of the best ways to help your kid understand her new role. Being a parent, you can make the t-shirt more adorable by just embroidering 'big sis' in front of the t-shirt. This specific embroidery will give it a personal and sentimental touch. But make sure to go with the beautiful cotton T-shirt to ensure comfort. Choose your toddler's favorite color and add some glitter to represent her beauty.
2. Doll House sets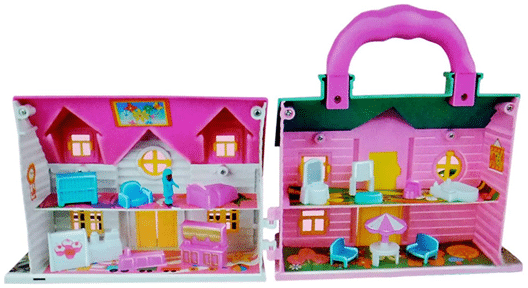 A doll house set can be a great option for big sister gifts, especially if your child loves to play with dolls. It is a beautiful gift option that your child can use for years. You can get various dollhouses, from city apartments to fairy tale or cottage style. You can also include a family setup with one elder and one younger sibling. It will prepare them for a new family environment. Also, they can use the doll house set to pay for their younger siblings.
3. Personalized Photo Frames with Unique Design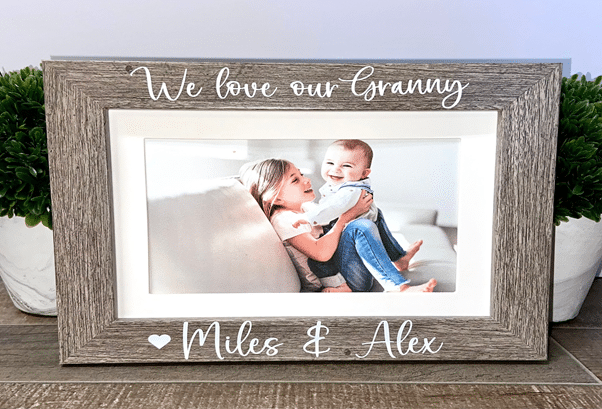 Personalized photo frames with unique designs are also popular big sister gift ideas to try. A personalized photo frame featuring the picture of your older and younger kid together is a heartwarming gift. You can find various interesting frame designs that look like an indication of the big sister theme. It can be written in the alphabet across the frame or with sibling figures on it. Try Big sister photo frames by Lawrence Frames that are beautiful and elegant.
4. Customized Big Sister Pendant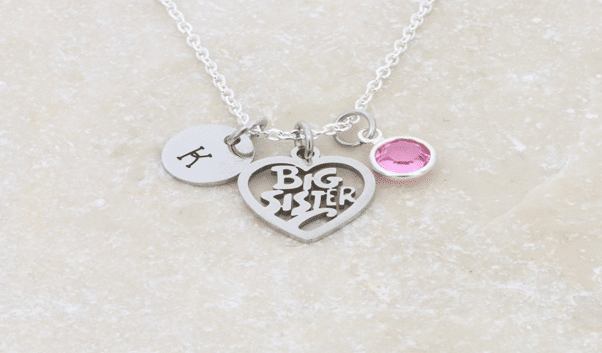 Most little girls love jewelry like necklaces, pendants, rings, etc. So, a customized big sister pendant can be an excellent option to surprise your little girl. A customized pendant announcing 'I am a big sister' or 'Big Sister' can be a beautiful gift option. The customized big sister pendants look chic. Also, you can find various interesting designs for it. You can also use a picture of the siblings instead of writing to make it more personal.
5. Magical Ride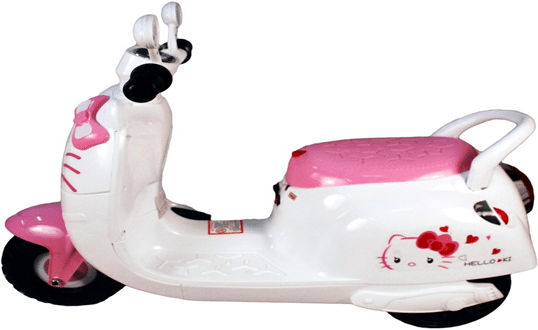 A magical ride is something that can make your child scream in joy and excitement. Toddlers will enjoy it to the fullest since it will be their very own magical steed. The cozy pink and comfortable rocking ride can be one of the well-imaginative new big sister gifts. Research adequately and shop a beautiful, magical ride with a sturdy yet soft design to ensure the child's safety. Believe it or not, it is also a cost-effective option since the new member can also play with this in the future.
6. Personalized Gift Box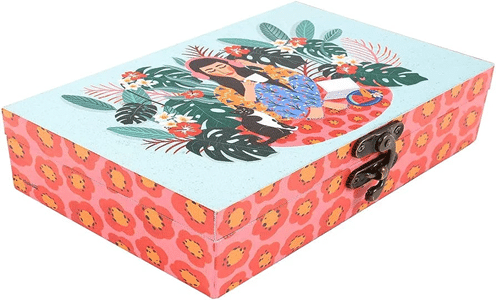 A meaningful present can be given to the newly appointed big sister after the birth of a new baby. This gift ensures that she is not forgotten within all the excitement. The gift comes in a box equipped with a handle for easy portability. Additionally, the box is available in various colors that can be selected from a drop-down menu. Its approximate dimensions are 15cm by 10cm by 9cm (6″ by 4″ by 3.5″). When personalized, the box can include the words "Big Sister" followed by the recipient's name.
7. Doodle Board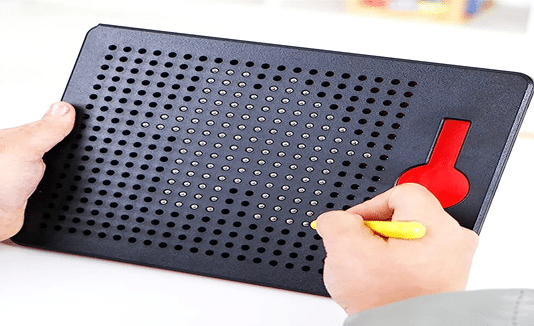 The Doodle board is an ideal present for your artistic sister who enjoys crafting three-dimensional objects. Its user-friendly printing pen is easy to use and has creative abilities. The pen comes in various colors, enabling your sister to bring any imaginative idea to life. This gift suggestion is particularly well-suited for an approximately 11-year-old sister. Additionally, this magnetic pad boosts the imagination and creativity of children using magnetic beads, which can be manipulated with colorful magnetic tips.
8. Clothes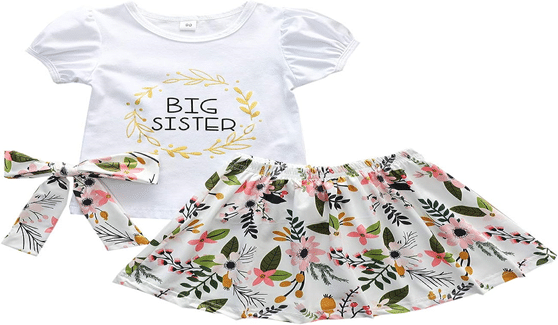 Welcoming a new baby into the family is a big event, but it becomes an even more momentous occasion when an older sister prepares to become a big sister. The personalized clothing for the big sister is not only adorable but also holds the potential to create lifelong memories. Additionally, the clothing features a beautiful floral and sparkle design in attractive colors, making it a desirable gift for the new big sister. Many choices are available in sizes suitable for toddlers and provided to girls of different ages.
9. Drawing Accessories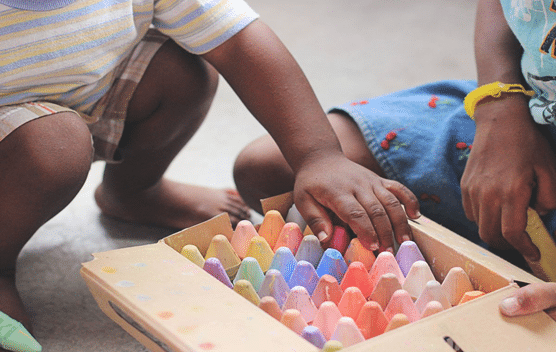 The drawing accessories with a creative doodle mat are among the best big sister gifts. With it, your beautiful daughter will keep occupied in productive work while enjoying every bit of it. So, it is a win-win situation for both parents and the kid. The sweet sea animals and letters with funny designs will help her gain knowledge about them. The colorful surroundings of the drawing board allow your kid to have a playful education about different colors as well.
10. Kid Touch Camera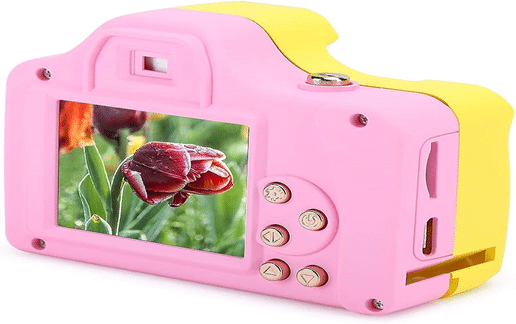 The shock-resistant digital camera with the HD touch screen is another unique gift idea for the new big sister. It can be an awesome present for your playful kid as it allows them to capture each and every moment of her big sister's journey. Later, you can keep all of them as a sweet memory of both sisters being emotionally intimated. However, purchase the kid touch HD camera from a reputable site that guarantees safety. Pay attention to the sturdiness and used materials to determine whether it suits the kid.
11. Cute Kid Purse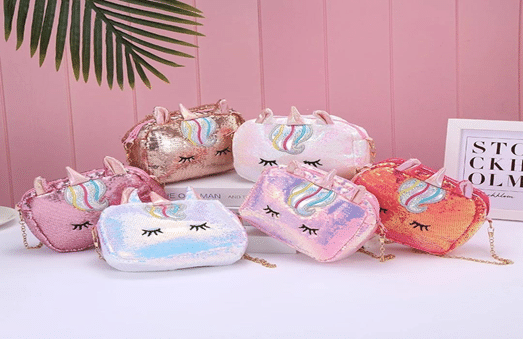 A fancy, spacious, cute kid purse can be another eye-catching gift idea for the new big sister. You can either go for a normal purse with no slings or buy furry sling bags. Purchase a glittery purse for your shining star, or buy soft furry sling bags that represent her innocence. Always keep your eye on the compact and small purse so your child can easily carry them. However, it will be a useful gift that your girl can carry anywhere, be it a birthday or picnic party.
12. Bags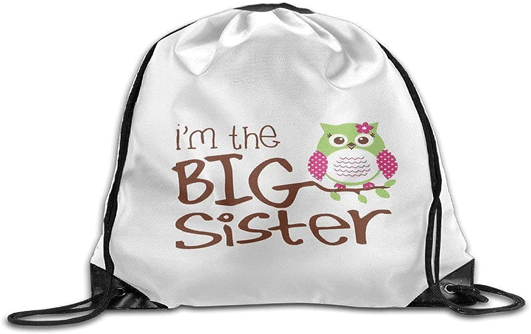 A personalized or customized backpack will surely bring a big smile to your kid's face. Since you will become busy caring for your little ones, gifting an adorable backpack can inspire them to become independent. Select from different options, designs, sizes, and patterns to gift your toddler the most beautiful customized backpack. To add a personal touch, you can even add a monogram or her initial letter. However, you can also surprise her by gifting them a backpack in her favorite color, which will double up her excitement.
13. Teddy Bears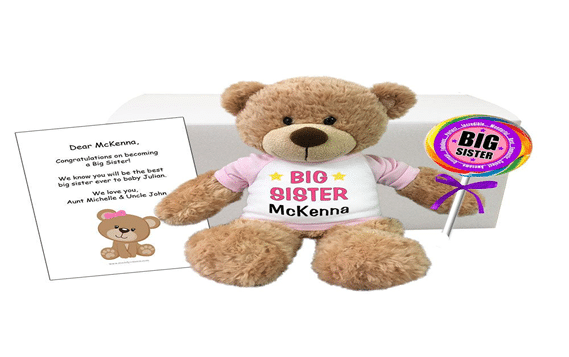 Teddy bears are a classic gift option for kids. It can be a great option for big sister gifts as it helps your baby girl transition. When you give a teddy to her, tell her to treat it as a baby. It will help her to understand how to be around a baby and how they can care for their younger siblings. You can gift a baby teddy bear or a set of teddy bears to parents and siblings.
14. Walkie-Talkie for Infants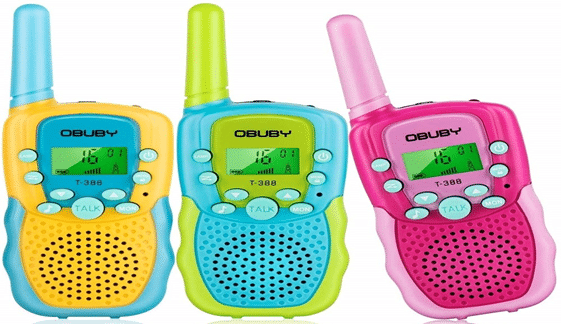 Another fun and cool gift option for big sister gifts is the kids' walkie-talkie set. The walkie-talkie for infants looks super cute. It also involves multiple players, making it ideal for siblings. Your little girls can use these walkie-talkies to play with their younger siblings and enjoy being with them. Kids walkie talkies available in various interesting colors and designs. Pick their favorite shade, and your kiddo will go crazy for it.
15. Customized Bracelet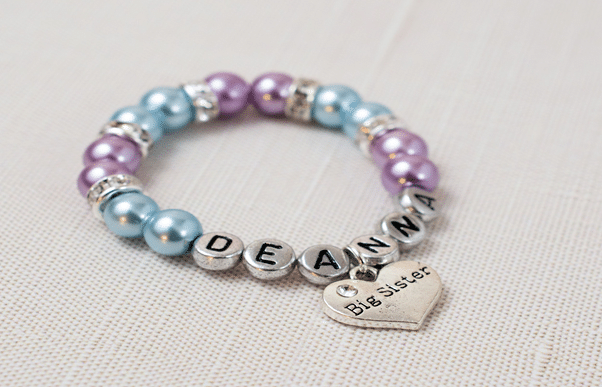 Customized bracelets are very trendy these days. They look chic and appealing for all ages. A customized bracelet with 'big sister' writing can be a cool way to announce her new big sister status. Lemua Big Sister Gift can be a great option that looks incredibly chic. You can find materials like metal, wood, or beads with beautiful colors and themes. But remember that this gift item is not appropriate for infants. Only give them to big kids and instruct them for safety.
16. Different Showpieces for Babies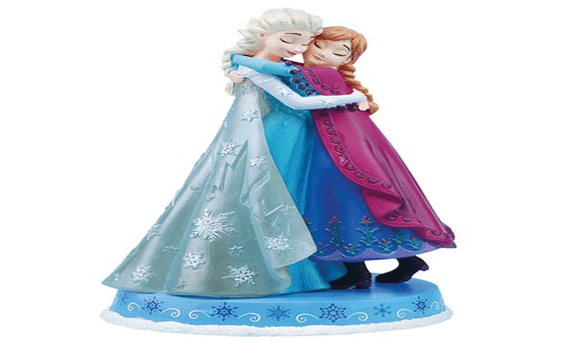 Baby and sibling figures or showpieces are also popular for big sister gifts. They look incredible and convey the message you want to share. A baby or sibling showpiece will influence their mind. Also, they can keep it as a memory of being a big sister and cherish it for the rest of their lives. It will be wise to choose metal or wood as you will give the showpiece to a kid.
17. Puzzle Box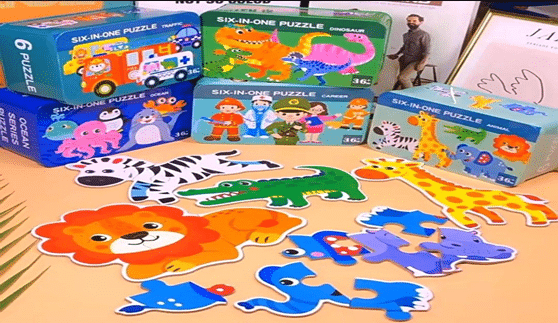 Kids love to play puzzle games. It boosts their brain and feeds their curiosity. You can use this item to make a beautiful big sister gift for your kid. Select a sibling theme puzzle or any puzzle game that celebrates the big sisterhood theme. Your kiddo will love the puzzle game when she completes the sibling picture. They can also include their younger siblings and complete the puzzle together. It will strengthen the bond between the siblings and make sisterhood fun.
18. Big Sister Customized Sipper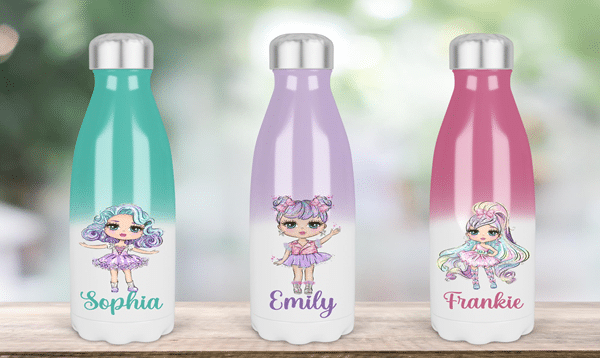 Looking for some beautiful yet practical big sister gift ideas? You can try the big sister customized sippers. They convey the message and help your child flaunt her new big sister status. Also, it will work as a practical gift that your child can use at home or take to the classroom. Customized big sister sippers add a personal touch when you use the photo instead of the text.
19. Cute Shoes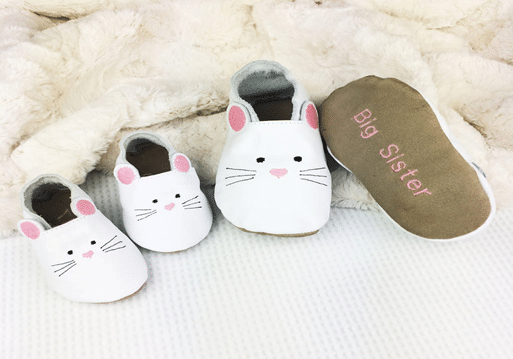 Cute baby shoes are also an amazing option for big sister gifts. A set of cute, fluffy bunny shoes with 'big sister' and 'little sister' tags will excite your little girl to wear them together and showcase them to others. The shoe set looks adorable on kids and is available for all sizes. You can also find other unique designs and shades for the cute big sister shoe set
20. Book and Doll Bundle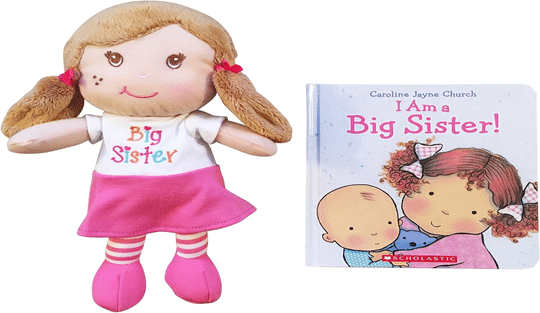 The ideal present for new older sisters is a bundle containing a doll and a book. The book, bundled with the doll with a personalized touch, creates a unique and heartwarming story that brings joy and warmth. The customized book with a sister and newborn baby's first name can become a lifetime memory bundle for a big sister. This thoughtful gift is a way to make the new baby's sibling feel special when welcoming them into the family. The bundle must include some moments of big sister with its siblings.
21. Sibling Growth Chart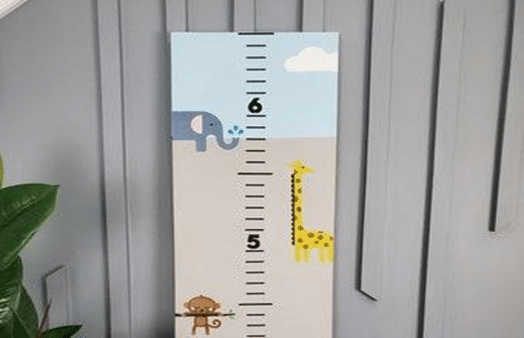 A sibling growth chart is an ideal choice for big sister gifts. A growth chart helps to track the growth of your kid. In contrast, a sibling growth chart offers a fun twist where both siblings can check their growth and compare. It is a beautiful gift for your little girl that she can use to boast her big sister status and have fun. Sibling growth charts are available in various unique designs that can fit with kids' playrooms and bedroom interiors.
22. Tablets for Kids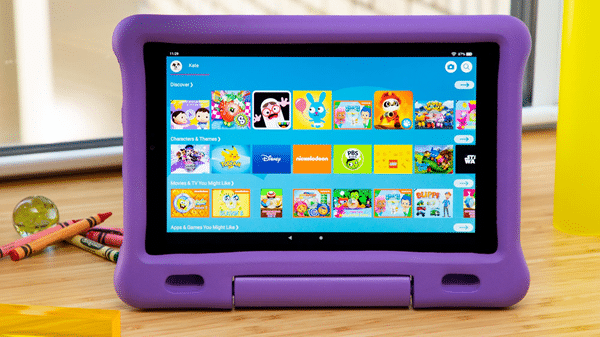 Tablets for Kids is a practical gift for your little girl to celebrate her new role. It is a great tool that has multiple benefits. Kids can use it to read stories and books, learn about new things, and watch birds, plants, and animals to enhance their general knowledge. They can also use it for entertainment, like playing video games, watching cartoons, or listening to music. It will keep them occupied for a good amount of time. Try NORTH BISON Toddler Tablets for good-quality and cost-effective kids' tablets.
23. Accessories Play Sets for Little Girls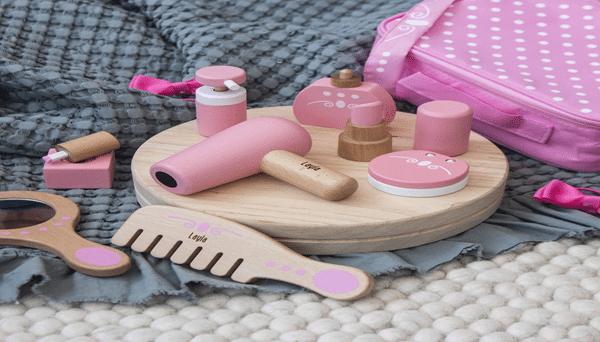 Treat your little girl like a princess and allow her to engage in fun activities with accessories and play sets. This specific accessories set comes up with a pretend makeup kit, credit cards, cash, a stylish purse, car keys, a mobile phone, etc. So, your cute princess can doll up any time like a classy individual. It is mostly best for those toddlers who love to wear different stylish clothes and enjoy their mommy's makeup session. If your child has a similar trait, nothing can be more beautiful than this.
24. Big Sister Personalized Blanket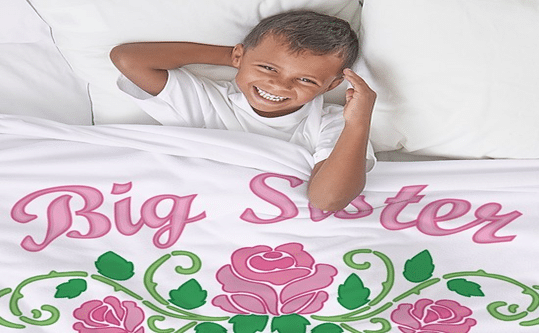 The big-sister personalized blankets are trendy and look very cute. It can contain quotes, messages, and pictures. You can decorate the blanket with suitable massages and print cute pictures of the duo. Your little girl will love this beautiful gift piece. Also, it is a practical gift that your kid can use for a long time. Also, you can select different color themes to make it more interesting. But always check the child-friendly material tag to ensure your kid's safety.
25. Story Book Sets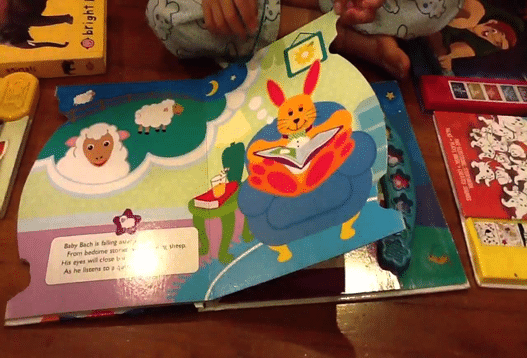 A Storybook set is also an interesting option for little kids. It is one of the popular big sister gifts that most parents prefer. If your little girl loves bedtime stories, then it is worth trying. They will love the beautiful kids' story collection. Super Incredible Big Sister – Personalized Children's Story set can be a great choice for big sister gifts. If your child is too young to read independently, give her a picture or stuffed storybook set. And if your kid can read, they can read stories to their younger siblings when they grow up.
26. Big Gift Baskets with Crayons and Other Accessories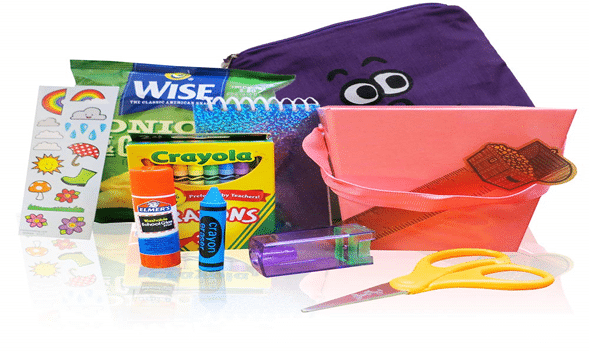 A big gift basket with crayons and other accessories can brighten your kiddo's face. And if your baby girl loves sketching and drawing, they will jump with joy when they see it. It helps their creative thinking and occupies most of their time. They can also use the colors and accessories to play with their younger siblings and enjoy doodling together. You can also customize the gift basket with other things that your child loves.
27. Educational Toys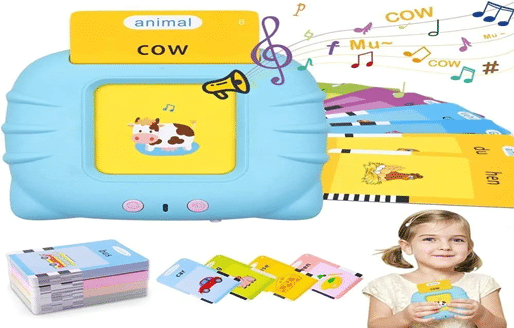 Educational toys are the best gift to keep a new sister engaged and prevent them from losing interest due to boredom. The educational toy set is a fun way to actively engage children and make them feel involved in household activities. It allows them to play alongside their parents, and encouraging cooperative play also helps to develop a strong bond and sense of responsibility early on. It can easily develop a sharing and caring relationship with their siblings.
28. Small Table and Chair Set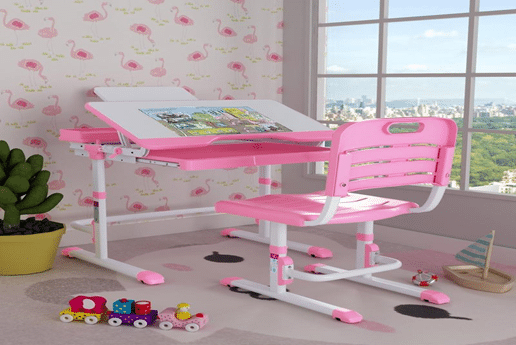 A colorful and comfortable chair and table set is an interesting gift for an older sister. This personalized set for toddlers is a great way to make her feel included in the daily routine. The option to customize the set means it is one-of-a-kind, and she can sit next to mom or dad while the baby is nursing or napping. These chairs and tables are cozy and come in different styles to suit your child's preferences.
29. Cute Caps for Babies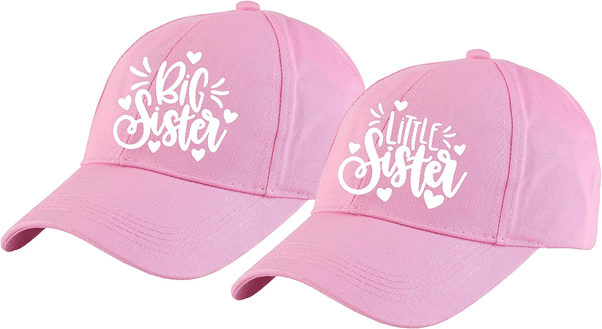 These adorable baby caps are lovely, and you can choose from various sizes and colors to find the perfect fit and style. The special caps designed for big sisters will add an extra touch of the moment to having siblings. You'll be pleased to see how happy the little one will be, as these caps perfectly capture the significance of her new role as a big sister. In addition, these caps are cute and comfortable and match those designed for big sisters, making them the ideal gifts for her.
30. Chocolate Box Sets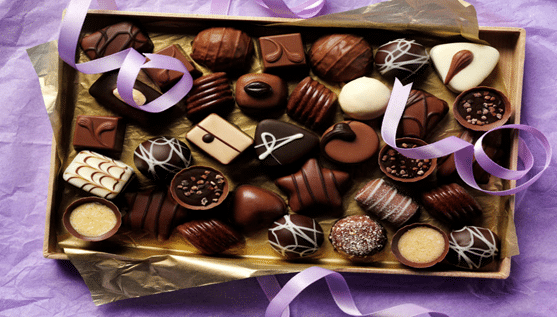 Chocolates are a universally appreciated gift, capable of bringing a smile to anyone's face. It makes them the perfect choice to present to your new older sister. If she is fond of chocolates and you are unsure of what gift to give her, chocolates will surely make your arrival a sweeter and more memorable experience for her. There are numerous options available when selecting this delightful present for your sister.
Is It a Good Idea to Give Your Big Sister Customized Gifts?
The personalized big sister gift is the most effective way to communicate feelings. A customized gift for them carries a more heartfelt and sentimental value. It shows that the gift explains a careful significance, effort, and emotional attachment.
The customized gift stands out from the rest as it is not commonly found in stores. Adding a personal touch to the gifts makes them even more special. Your older sister probably will understand you better than anyone else, but finding the ideal present for her is still challenging. Finding something new and distinctive you haven't already given her may seem difficult.
Customized big sister gifts are the perfect choice as they showcase her style and characteristics. Adding a personalized touch to the gift creates a heartfelt and nostalgic experience. Ultimately, your sister deserves the very best.
Personalized gifts are in high demand because of their sentimental value, making them popular. They offer an ideal means to preserve cherished memories with your big sister offline. Celebrating and honoring your sister daily by presenting them with the beauty of personalized gifts is important. By gifting your big sister personalized presents, you can give her a beautiful memory cherished for life.
Reasons to Give Gifts to Your Big Sister
Big sister gifts are a fantastic way to express love and appreciation for your important sibling. Selecting the perfect gift for your older sister is a meaningful way to demonstrate how much you care for her and value her role in your life.
Emotional Support: When a young girl becomes a big sister, she may experience mixed emotions, such as happiness, excitement, jealousy, and curiosity. Acknowledging and validating these emotions is crucial as she adjusts to the changes in her life. Giving the new or soon-to-be big sister gifts can help her feel noticed, especially when a new baby receives a lot of attention and gifts.
Building A Strong Bond: This act can contribute to strengthening the bond between siblings in the future. Even at a young age, the older sister will appreciate sentimental, practical, and personalized gifts that emphasize her importance and the love she receives within the family.
She Will Help You to Grow: By sharing all her knowledge of cool music and joyful playtime moments, she will mentor you in your growing journey. She will take on the responsibility of guiding and caring for you with the experiences gained from her life experiences.
She Will Become Responsible: Providing a personalized big sister gift establishes a sense of responsibility in her. It enables her to handle certain situations effectively. You can always trust your older sister to care for many things concerning you responsibly.
Summing It Up
All in all, big brother or sister gifts are very trendy these days. It helps your older child transition and prepare for the new child's birth. A big sister gift makes the role of being a big sister more fun and endearing. The ideal big sister gift must be attractive, engaging, and, most importantly, have a personal touch. A big sibling's gift can come from the parents to congratulate them on the new role. Or it can be a gift from the new baby to their older siblings.
Also, you can get endless options for big. Above, we have shared the 30 best big sister gift ideas of 2023. So, have you found any suitable big sister gifts for your kid? If you have, don't wait; buy it today and surprise your older kid for the upcoming celebration.
Also, share your thoughts and suggestions in the comment section below.
Frequently Asked Questions
What Kind of Big Sister Gift Can Make My Elder Child Feel Special?
When you prepare for a new baby, it is important to make your older child feel important and needed. You can gift them a customized gift basket, doll set, doll house, toys, etc., with a personal touch, like warm messages, pictures, and wishes.
How Can I Prepare My Girl to Be a Big Sister?
You can try intentional gifts, which are great tools to prepare your kid for the transition. You can gift them books about babies and siblings. You can also get them role-playing toys and other indicative gifts.
What to Consider While Choosing Big Sister Gifts?
The first and foremost important factor you must consider while choosing your kid's big sister gift is their choices, like what they like and what not. You should also consider their age, cost, product quality, and comfort.