Do you want to make your father feel extra special on the occasion of Father's Day? Then, these Father's Day crafts are going to get you covered. We assure you that at the end of the blog, you will be rushing to get the necessary supplies for your favorite craft idea.
Father is such an important figure in our life. He is the only person in this whole wide world whom we look forward to when the times are tough and who will always have our back no matter the circumstances.
So it's essential that you leave no stone unturned to make him feel special as well. The craft ideas mentioned are not unique and special but are also extremely easy to do!
So, let's begin!
List of Fabulous Father's Day Crafts for Kids
1. Popsicle Father's Day Card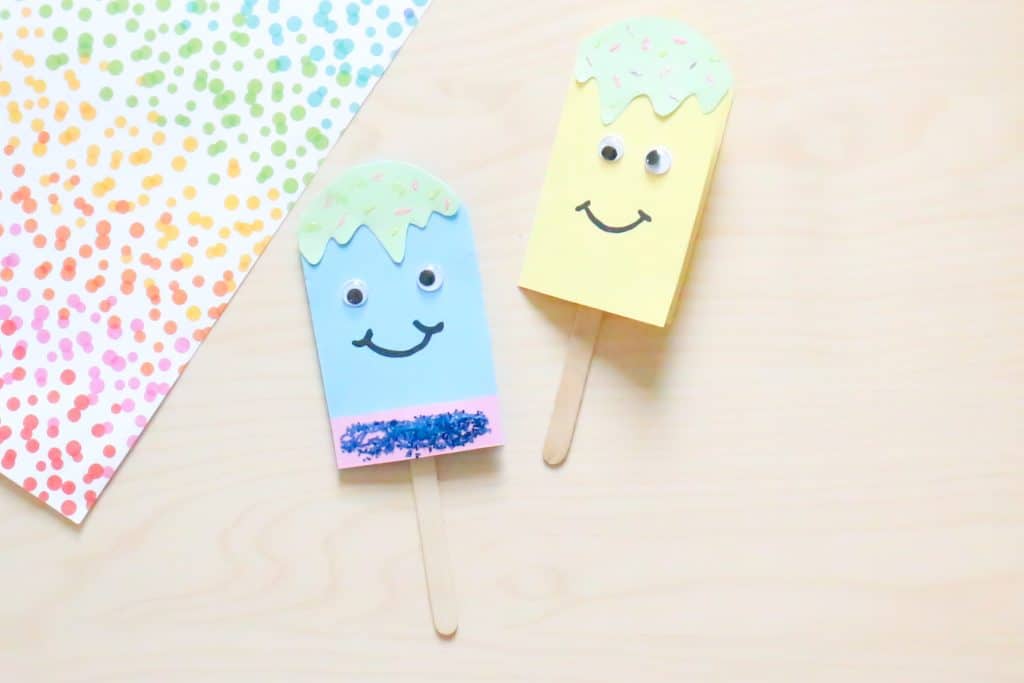 Popsicles are fun and colorful, and you can easily DIY popsicles and turn them into something creative to make your father feel special. In this Father's Day craft, you need to make the popsicle vibrant with different colors, add a mustache if your dad keeps it, too, or write a small message for your dad! Tell Dad how much you mean to him by this cute craft.
You can even make this craft online by using the freely available templates. Get it printed out and surprise your dad.
2. Best Dad Award Craft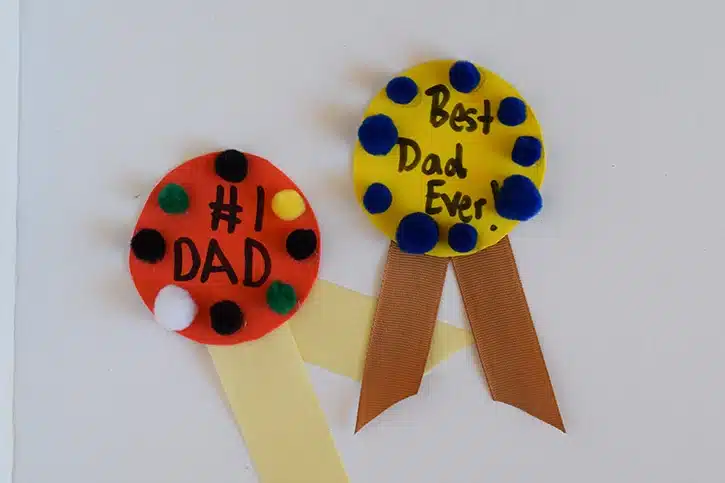 Every dad deserves an award for being the best and most selfless human ever to exist. Shower him with love on this Father's Day with this Father's Day craft idea. You don't need to go all out on getting expensive stationary supplies. Simply use an award ribbon that has Best Dad of the Year written all over it, and when your dad comes home from the office, stick that on his shirt and watch his smile peak at that moment.
Or you can have a cardboard cut in the shape of a trophy, color it golden, and then award your dad with this cute Father's Day craft.
3. Handmade Picture Frames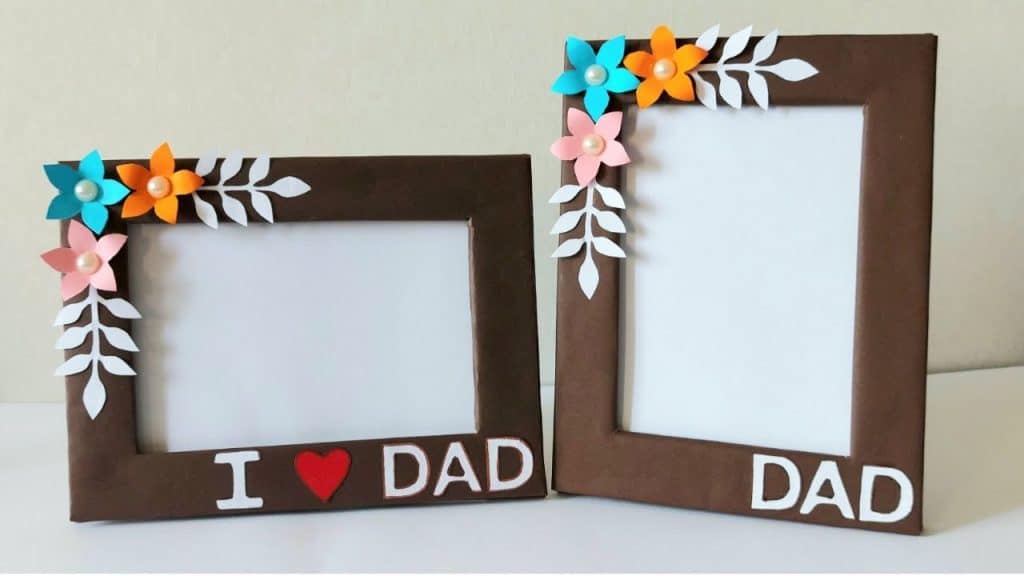 Remember the trip that you took, which had nice photos of your dad? Why not take out some of those photos, collage them, and make a handmade picture frame to give your dad this Father's Day? You can write a 'fantastic father' on the frame, as shown in the picture above, or any other message you want to give to him.
This Father's Day craft will require you to get sturdy cardboard, glue, and scissors to make his day. A good tip would be to incorporate all the candid photos that he didn't know you had to surprise him even more.
4. Customized Trinkets for Dad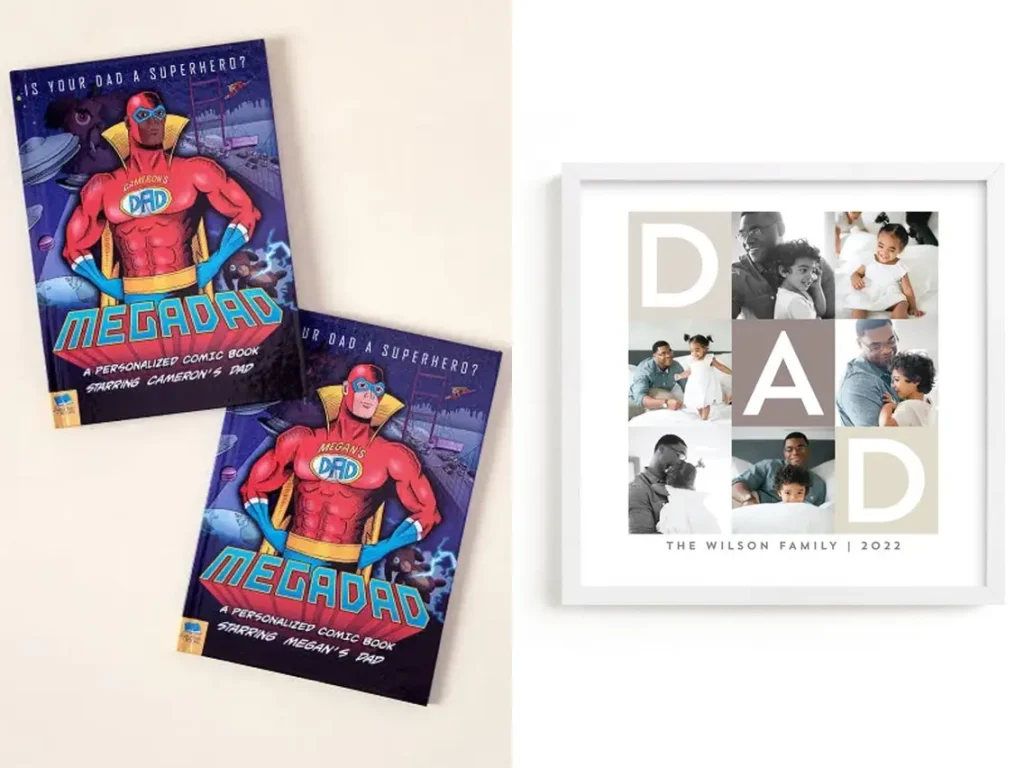 Technically, trinkets are small ornaments or small pieces of jewelry usually used for gifting purposes. So the sky's the limit here as with this Father's Day crafts, you could go for making a ring, an art piece showcasing a miniature version of him. This gift will surely show your efforts, and your father will appreciate this gift the most.
Besides doing a statue, you can get a tiny houseplant and write something on the pot for your dad. As we said, it's all up to you, so get creative as much as you can.
5. Dad is a Superhero Craft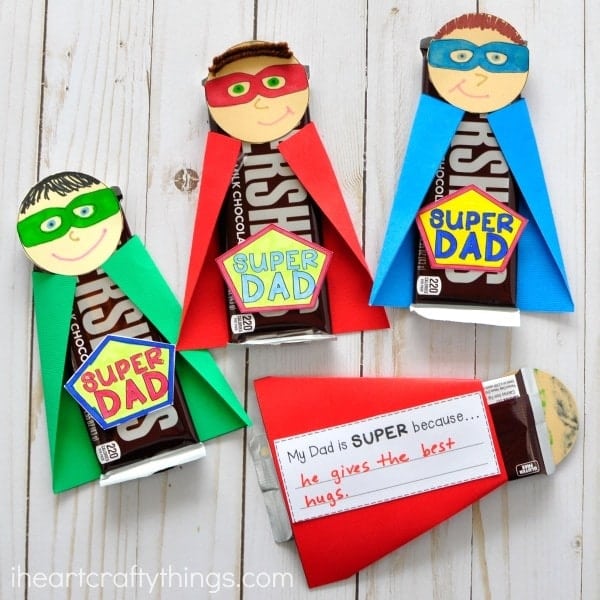 Well, Dad is a superhero, and it's about time that you thank him with this cute Father's Day superhero craft idea. It's very simple to do. You need to get chocolate of your dad's liking, be it Hershey's, wrap it in colorful capes, attach a face to it with the help of cardboard, and you will have a superhero craft ready. Write a message on the back of the cape to surprise him even more.
If your dad likes some superhero, you can try and make that character. It will be highly personalized, and Dad will know how much you listen to him when he talks.
6. Dad – You Rock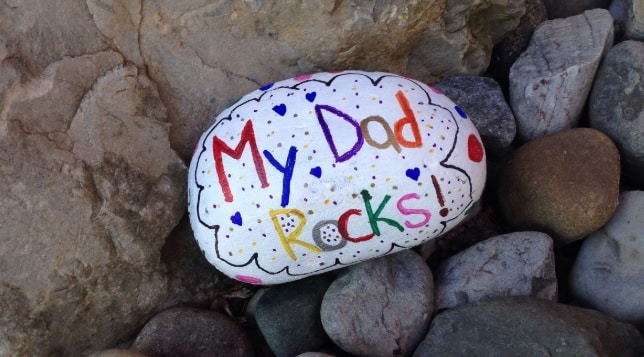 These are perfect Father's Day crafts on a special day. It symbolizes that your father is a rock, too, whom you can rely on in your low times. To nail this Father's Day craft, you simply need to pick a well-polished rock and color it with whatever you like. And wrap a craft paper on it saying, 'Dad, you are my rock,' we assure you this will be so heartwarming. Moreover, if you cannot get a real rock, you can draw the same on your cardboard and frame it appropriately.
This Father's Day craft is durable and can work as an art piece, making your dad feel proud and happy whenever he looks at it.
7. Father's Day Tie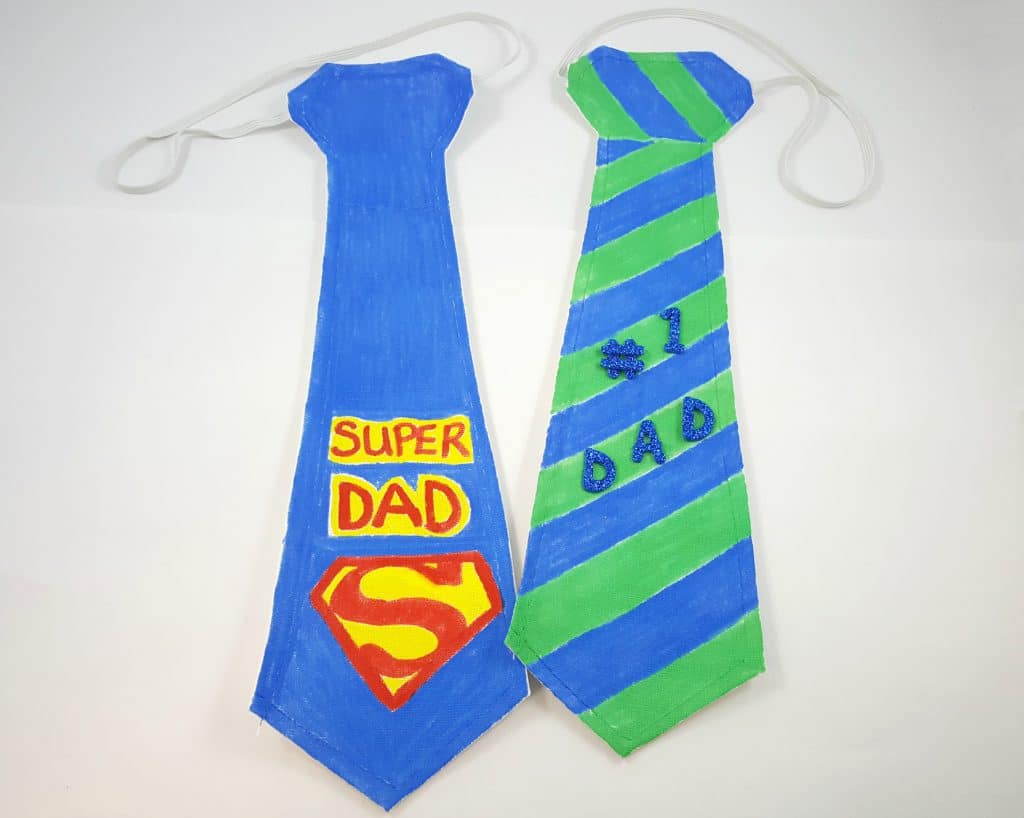 Why not be creative enough with Father's Day crafts and make your father a tie that he can show off in his office? It won't take much off your efforts, but it looks extremely quirky and creative. You need to get a tie that your dad doesn't wear anymore and get your coloring supplies ready, i.e., fabric markers, craft paint, stickers, etc.
Color the tie as creatively as possible, and give it to your dad when he returns home from the office. Let him know how much you adore him by giving him this DIY tie.
8. French Fry Father's Day Crafts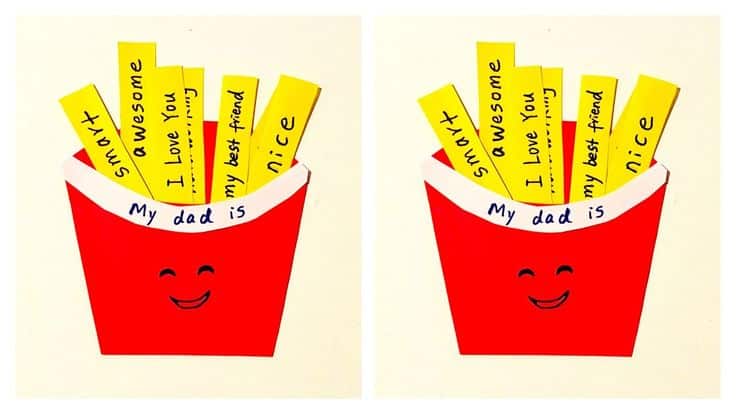 This has to be one of the most creative Father's Day craft ideas on this list. In the YouTube video above, you will learn how to make a box of French fries by just using cardboard. Once done, you're almost done with this Father's Day craft. Think of some adjectives for your dad, write them on a piece of paper shaped like a French fry, and insert them in the box!
On the cover of the French fry, you can write a personalized message for your dad, making him feel special. It is a little bit time-consuming, but a super cute idea that your dad will absolutely adore, especially if he loves French fries!
9. Hand-paint a Coffee Mug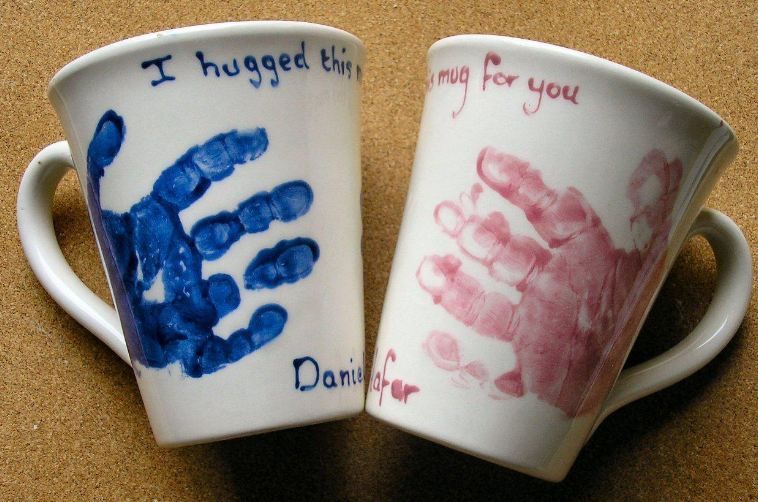 A classic Father's Day craft idea that hasn't disappointed in years. Get a coffee mug, preferably use an old one in your home that no one uses anymore and color it. You can even add your fingerprints for a more creative and personal touch. Draw up your dad and yourself holding hands, and let the paint dry for at least a day.
Make sure the color is of premium quality so that it stays on the coffee mug for a longer duration. But if not, you can always make another one.
10. Best Dad Trophy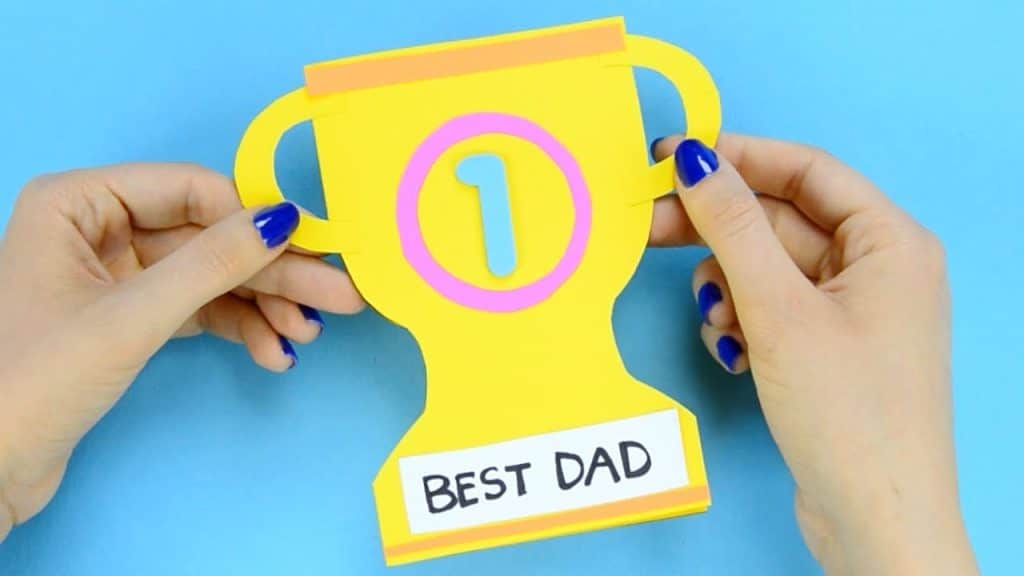 We all like to be awarded when we achieve a successful feat. So why not make the best dad trophy for your dad? Get a basic trophy cup online, then start the decoration yourself. You can look at the above image for reference in case you feel stuck in this Father's Day crafts idea. Attach your photo with your dad at the base to give it a personal touch.
You can keep it on the dinner table; when your dad comes home, he will light up like anything else. Award him for always being there for you.
11. Custom Print Shirt for Dad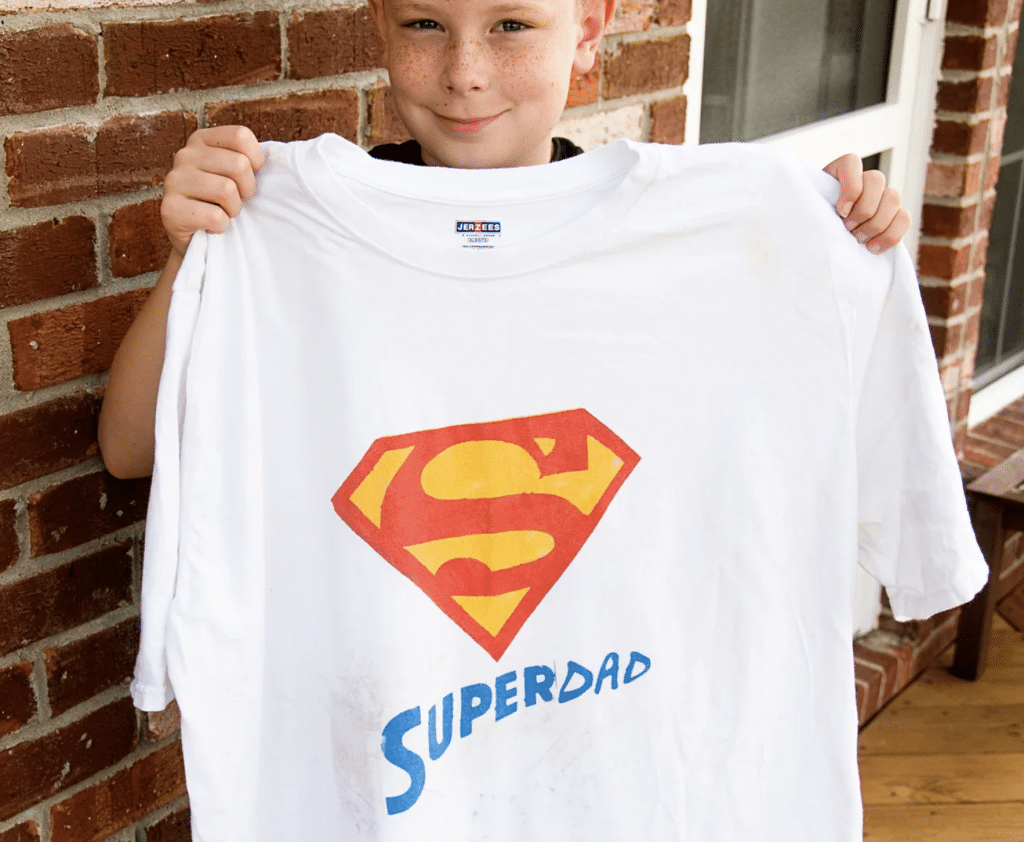 This Father's Day craft idea is so simple yet so thoughtful. It won't require much of your time. You can contact the local stores near you to get a custom shirt for your dad on Father's Day. Some online stores do the same, but they charge higher as well. You can write something cool like it's shown in the image above.
For instance, just write 'super dad' on the t-shirt and get it printed with a Superman logo. Ensure the print is good quality and nonstick; otherwise, the print might not be durable.
12. Toolbox for Dad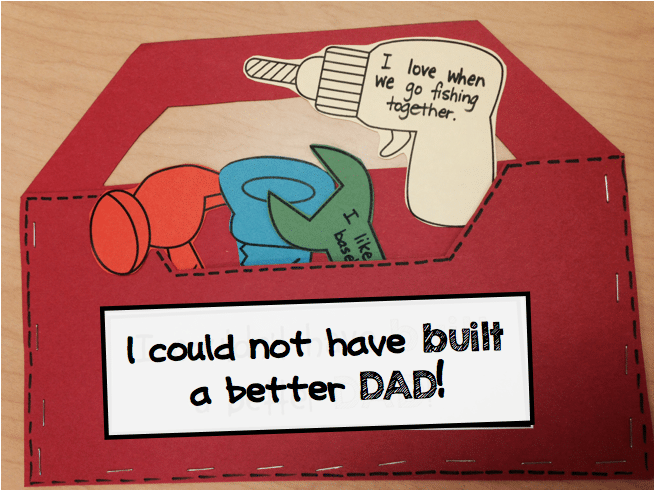 We know right how dads all over the world have all the technical skills needed for survival. However, now it's your time to build him a toolbox. This Father's Day craft idea will test your creative thinking and cutting skills to extremes, but it will all be worth it.
As shown in the image above, you can create a pouch-like toolkit similar to the one you learned in the French fry section above. Keep some tools with compliments written on them. Keep your cute toolkit with the original toolkit to surprise your dad.
13. Paper Roll Craft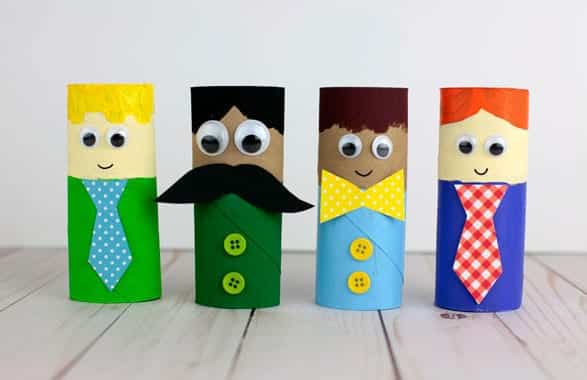 We all have empty toilet rolls in our homes lying around, or if you don't have one yet, start collecting them because this Father's Day craft idea is all about rolling them in colorful craft paper or using craft paint like it's shown in the image above. You can incorporate your dad's physical personality and facial expressions to make it more unique.
It's an easy Father's Day crafts DIY, which can later be used as an item of home decor. Consider making them in pairs or triplets if you want to keep them as decor later on.
14. Craft Cubes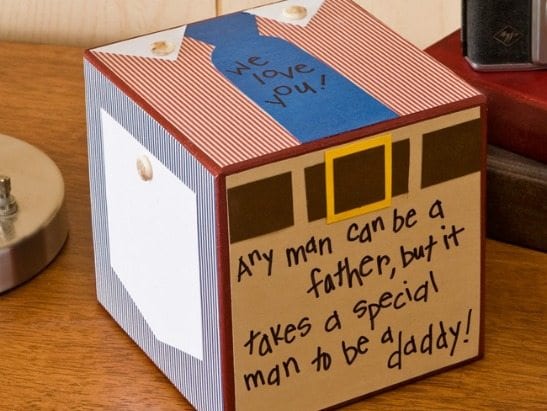 How about crafting a gift for your father, which can also act as a paperweight in his office? This will also be a frequent reminder of how great your dad is! You can make the cube yourself by using cardboard and fixing it together like a puzzle. However, it's a very long and tedious process. To tackle this, you can order readymade cubes online. This will make your job simpler as you just have to wrap the craft paper on the cube.
On each side of the cube, write a message or different compliments that you always wanted to give him but could not speak out loud.
15. Dad's Photo and Poem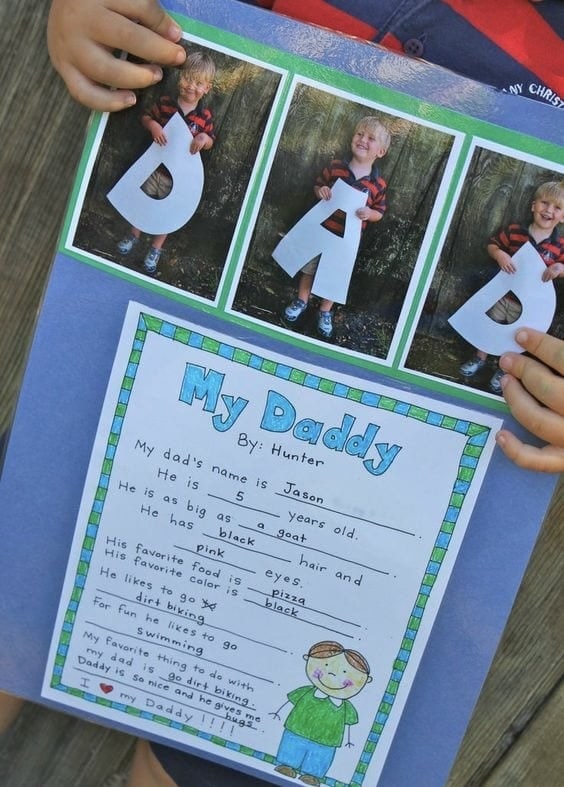 If you love writing poems, this Father's Day craft idea is the most suitable for you. You don't have to be a well-renowned poet to make your dad feel special. So even if you are not that confident in writing a poem. Actually, he will appreciate the broken English even more. To start with, get a thin cardboard, paste some photos of your dad, write a poem in the center, and decorate it all over with stickers.
This Father's Day craft idea will make your Father's Day as this will be highly unexpected. Moreover, it shows every effort you have put into the gift.
16. Themed Coasters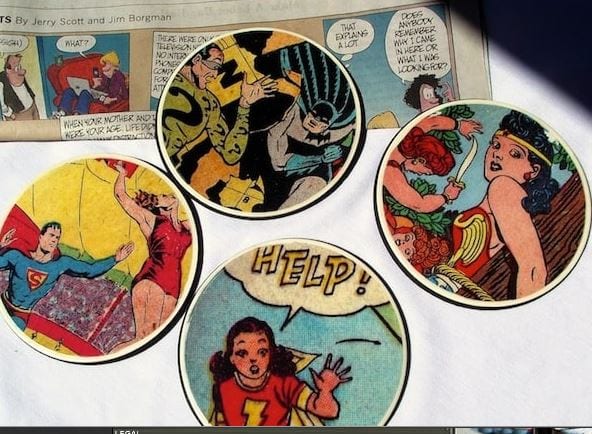 If your dad is a fan of some anime, TV show, or movie, then consider making a themed coaster. We agree this cannot be easily done, but if done right because it requires spray paints, but remember, coasters can be used for a long time. Or just simply buy the posters or comic books, cut them, and wrap them around the coasters cut from the cardboard.
This will be a cool and aesthetic addition to your dinner table, which will also remind your dad how much you think of him.
17. A Paw-Fect Father's Day Crafts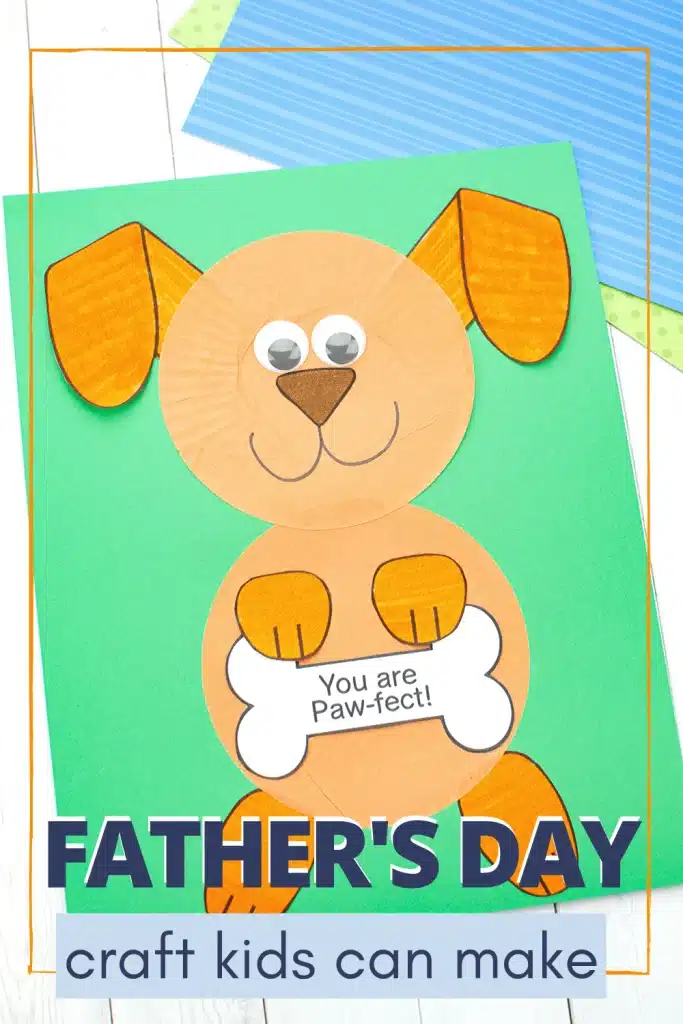 If your father is a pet lover, then this Father's Day craft is going to mean a lot to him. Dads rarely get compliments, which is why they do get compliments. It makes your dad feel out of this world. To make this craft on your own, make a bunny on cardboard using colorful craft paper, as shown in the image above. After that, just simply write 'Dad, you are paw-fect,' and your card will be ready.
To surprise your dad, slide this in his office bag; this will be the first thing he sees when he reaches the office. This craft is very cute and won't take much of your time.
18. Painted Father's Day Plate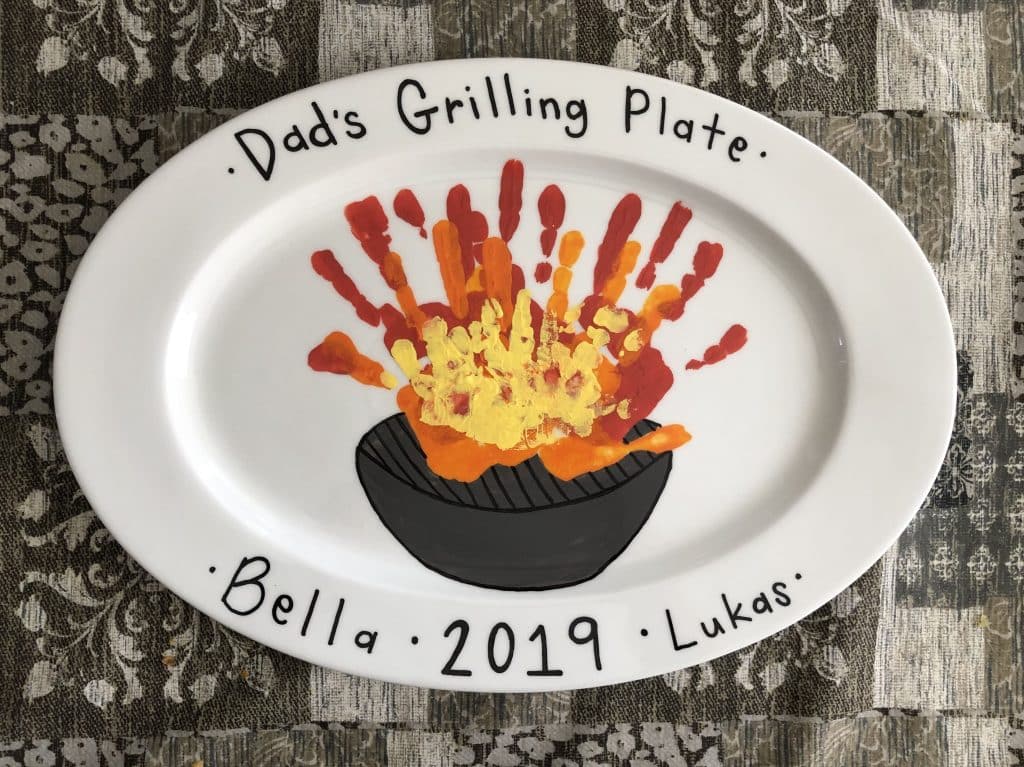 This has to be the simplest Father's Day crafts idea in this article. Everyone has paper plates in their homes; if not, they are easily available online. You just need to invest a few hours and paint the paper plates in a cool design or write something for your dad. If nothing comes to your mind, then simply write happy father's Day. We are sure your father will be happy to see your gift.
Use waterproof colors if you want to safeguard the plate for a longer period of time, or the colors might fade in just a few days.
19. Sports Fathers' Day Donuts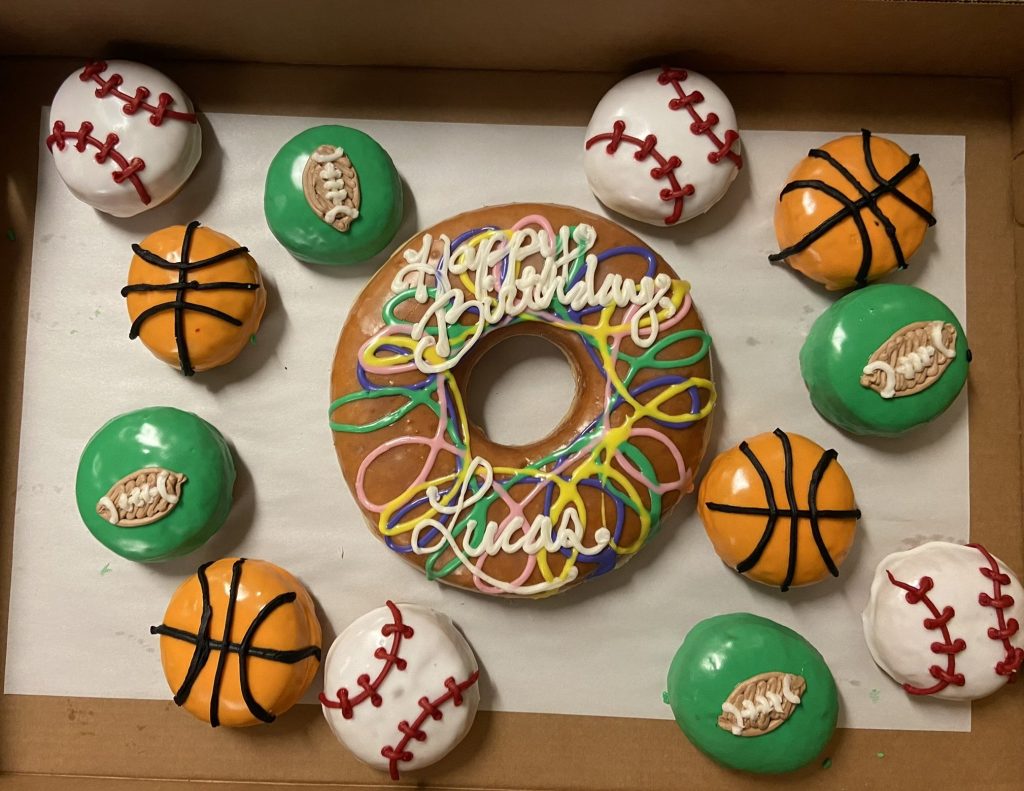 If your father is into sports, nothing matches this idea of Father's Day crafts. Also, this makes for a perfect snack after dinner. Preparing all this at home will be hard for you unless you are into baking or cooking. So you can call a nearby desert shop and get these sports-shaped donuts custom-made for your dad.
Serve your dad these thoughtful and tasty donuts right after dinner. Don't forget it hugs him and wishes him a happy Father's Day.
20. You're My Hero Card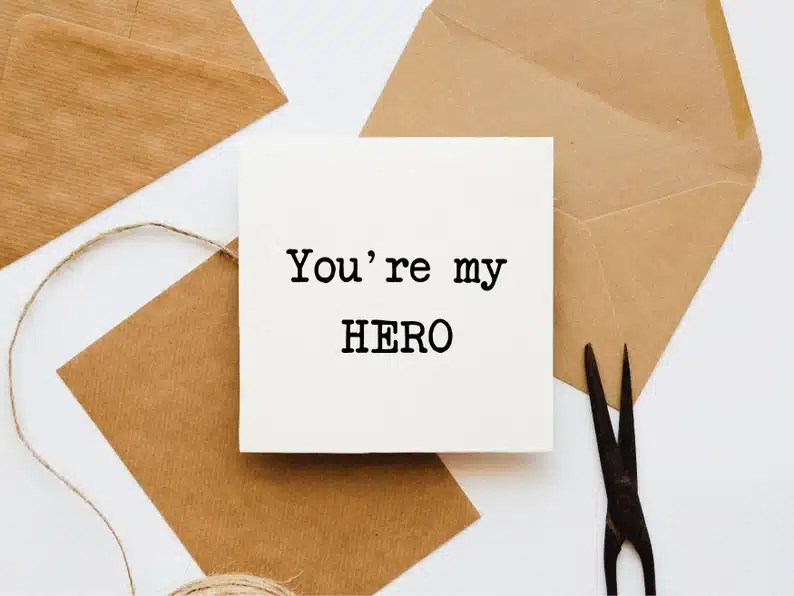 Bring a smile to your dad's face by making this cute sandwich with colorful craft paper. Write a message complimenting your dad and what you feel about him. This Father's Day craft idea will not take much effort, but it sure does test your cutting skills and creativity. You can make many such cards just by using thick craft paper or cardboard. After cutting all the layers, paste them on plain craft paper, which will be the outer layer of the sandwich.
This Father's Day craft idea will require some time, so starting early is advisable so you don't miss the deadline.
21. Hero Stones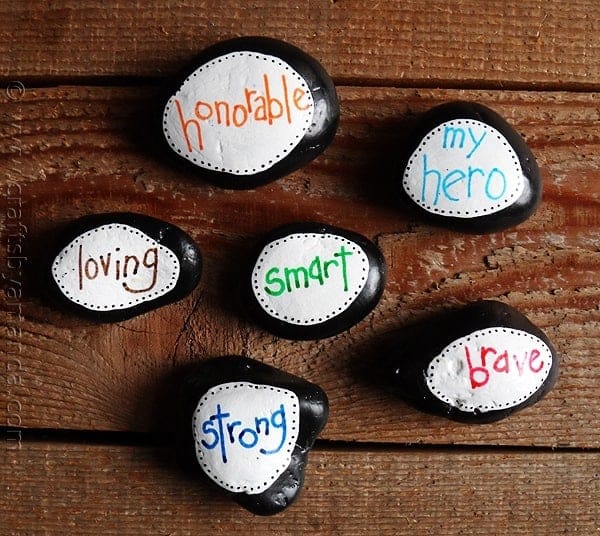 Stones can be used as an item of home decor as well. For this Father's Day craft idea to turn into reality, you need polished stones, preferably black in color. Wrap them with craft paper, and write qualities of your dad that you really adore and feel inspired by. This gift will perfectly convey to your dad what you feel about him.
Make sure you use at least three stones. Your dad can use these stones as a paperweight, keep them on their office desks, etc.
22. We Love Dad Banner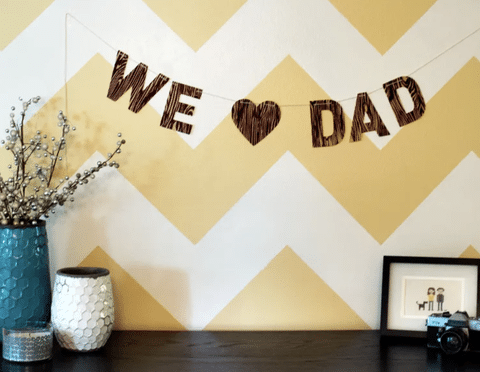 Designing a banner on your own is not an easy task at all. You will need many supplies for this Father's Day craft idea. For instance, contact paper, double-sided tape, different alphabets, a silk string, tape, scissors, and so on. But you know what? Designing your own banner will give you the creative freedom to make the banner personalized. Look at the image above, and you can do as simple as that.
Or you can also consider adding various images to the banner to make it look better. The best place to hang this would be at the main door entrance or his bedroom.
23. Crafting a Keychain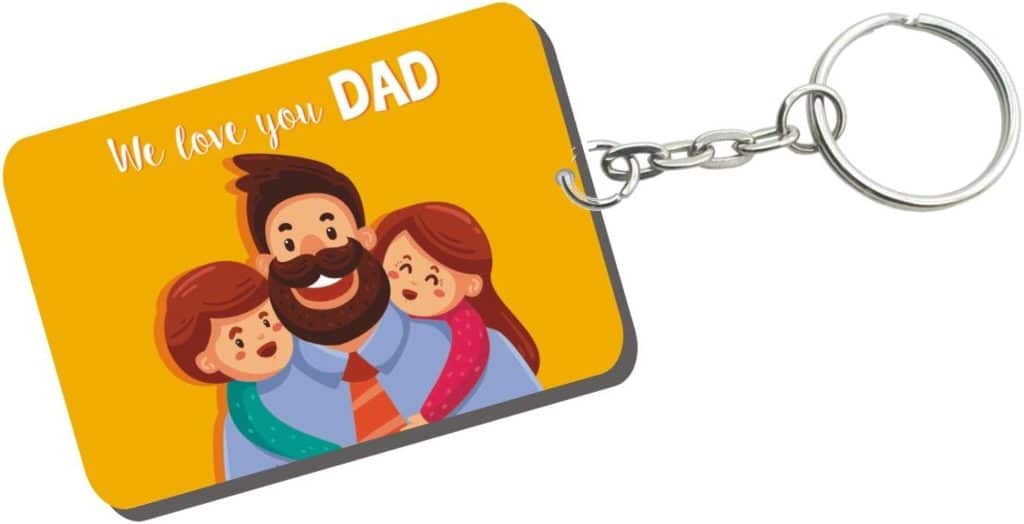 Keychains are very thoughtful gifts, as they stay with us the longest. This Father's Day craft idea is very easy, and you can buy many Father's Day-themed keychains online. However, if you put in a little more effort yourself, you will save some money, and your gift will also have a much more sentimental value. In the image above, in addition to a normal keychain, a cute keychain showing 'No.1 Dad' looks absolutely adorable.
However, it's pretty big and cannot be easily carried in the pocket. So, think of some keychain ideas that are also small enough to carry around in pockets.
24. Scribble Mug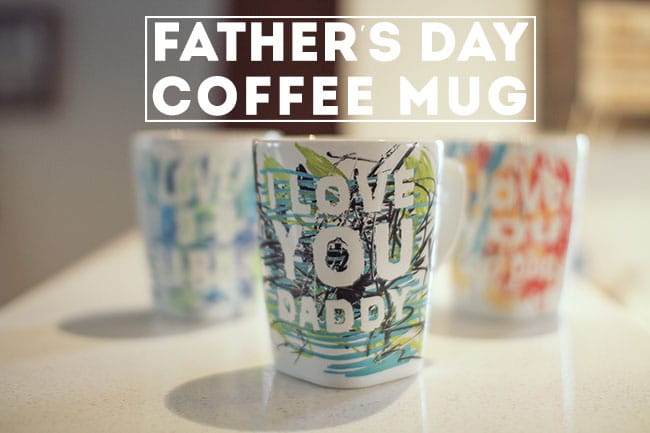 Shower your dad with this quirky, thoughtful, and highly creative gift. How can you make a mug better? By just scribbling on it with appropriate markers. This Father's Day craft idea is fairly easy to do and not time-consuming. You will require certain items like a plain mug, stickers, and paint markers. You don't have to show perfection; just scribble anything you like, and on the white backdrop, chances are it will look aesthetic.
Take inspiration from the above image for this fathers Day craft idea. Every morning, your dad will drink his coffee from this cup only to feel more and more proud of you.
25. A Heartfelt Hug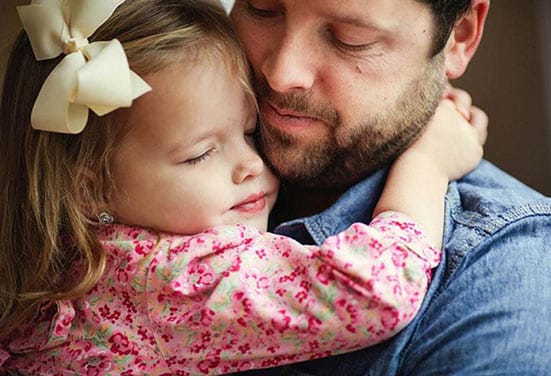 No gift can come close to your father's happiness when you genuinely hug him and wish him a happy Father's Day. And tell him how great a father he has been so far. No amount of crafts can actually take over. And you know what? This requires no preparation from your side and doesn't cost anything. Just appreciating your dad for who he is will be enough to make his day.
Needless to say, you can also hug him with all of the above ideas. But if you didn't feel like doing any of the above Father's Day craft ideas, then you know a hug can do wonders as well.
Final Thoughts
Father makes us feel special, pamper us, takes care of us when we are sick, and many more things that always go unnoticed. It's our responsibility that at least on Father's Day, he feels special, and you thank him for being so selfless and kind.
Gifting is one such way to make your dad feel special. We are sure that by going through this Father's Day craft idea with us, there is at least one idea you want to try for the upcoming Father's Day. Always remember that it's not that the idea should turn into reality perfectly. In other words, even if you need some of the crafts above, it's totally okay, as it's the effort that counts the most.
Don't forget to enjoy with your dad that day and spend some crucial and loving quality time with your family.
Frequently Asked Questions
How Can I Make My Father's Day Special on a Budget?
Make your gift highly thoughtful and personalized. You don't need to spend lavishly to make your father feel special. Remember that it's the thought and depth behind the gift that counts. So, find something that he really likes but never got for himself or anything he is passionate about.
How Can I Surprise My Dad on Father's Day?
To surprise your dad on Father's Day, give him something which he really cannot expect from you. Or simply get him something you know he will never buy himself. For instance, a new phone, a shirt that he really liked but didn't get, and so on.