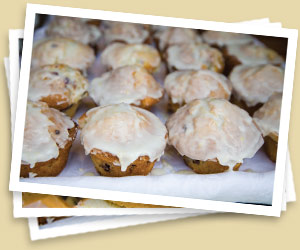 Picture Perfect
Are you the Van Gogh of Greek Salad or the Monet of Muskoka Berry Pie? Uncover your 'inner chef' with the simple and easy recipes found in Marty's World Famous™ Cookbook. We want to be as awed by your creation as your family and friends. Email pictures of your masterpiece and share your success with us! Inspire others to cook with the confidence, passion and delight that comes from cooking from the zone!

Along with your picture, please include your name, a title for your photo, and a desciption of your work. Please keep your description under 200 words if possible. Please read the disclaimer at the bottom of this page before submitting.
Disclaimer
By participating in the Marty's World Famous(TM) project known as 'Picture Perfect' and submitting your photo all participants grant Maty Curtis, Marty's World Famous™ Cafe, Marty's World Famous™ Cookbook, and www.martysworldfamous.com (MWF) its affiliates and assigns, the right to print, publish, broadcast, and use in any manner MWF deems appropriate worldwide, in any media now known or hereafter developed, including, without limitation, the World Wide Web, at any time or times, the participant's name, photographs and any language contained therein, for public information without additional consideration or compensation. Participants further release MWF, its affiliates and assigns from any and all liability, claims, or damages arising out of or relating the participant's submission. All photographs submitted become the property of MWF and will not be returned to the entrant.

Not yet 18? If you'd like to participate you may still submit a photograph to us via postal mail. The only catch is that you'll need to include a letter in which your parent or legal guardian gives us formal written consent to use your photo in the 'Picture Perfect' Photo Gallery. Send your photo and your consent letter to the following address:

Picture Perfect
c/o Marty's World Famous Cafe
5 Manitoba Street
Bracebridge, ON P1L 1S4

We ask that participants ONLY sumbit ONE (1) photo for use on the photo gallery. We also strongly encourage participants to submit their photos via the e-mail link provided instead of sending in a physical photograph via snail mail, unless of course you fall into the "Under 18" category, in which case you must submit your photo via snail mail. Thank you.