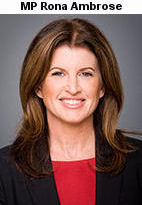 The current Conservative party interim leader until 2017 Rona Ambrose has been talking up ridiculous reefer madness for several years now. In 2015 the Conservatives spent 7 million on anti marijuana legalization advertising campaign, using Health Canada in an attempt to legitimize their reefer madness nonsense. They went so far as to accuse Justin Trudeau of wanting to make cannabis easily available to children, by selling it in corner stores near schools.
Canadian doctors at the College of Family Physicians and Surgeons, the Canadian Medical Association and the Royal College of Physicians and Surgeons of Canada refused to endorse the Conservative reefer madness advertising campaign stating the messaging was clearly political.
So it did come as a surprise when the media headline published by Civilized Life on January 21 was "Surprise! Rona Ambrose Changes Her Mind On Legalization". The comment by Rona Ambrose in an interview by Simi Sara of Vancouver's CKNW on Jan. 20 was "I hope that the faster they move on this (legalization), the better because the proliferation of pot dispensaries is quite large. So it's moved now not just in Vancouver but across the country. And they're unregulated. So the sooner they can move on that the better to protect kids." Ambrose claimed the Conservative 7 million spent on the anti marijuana legalization (reefer madness nonsense) advertising campaign was the evidence she could provide..
Now to be fair to Civilized Life and other media reports many people did find some of the Ambrose's comments during the interview confusing. Add Gerald Butts, Trudeau's principal secretary wrote on Twitter with the hashtag "#chutzpah." "Health minister who spent millions of your $ on misleading ads against pot wants us to legalize faster,".
---